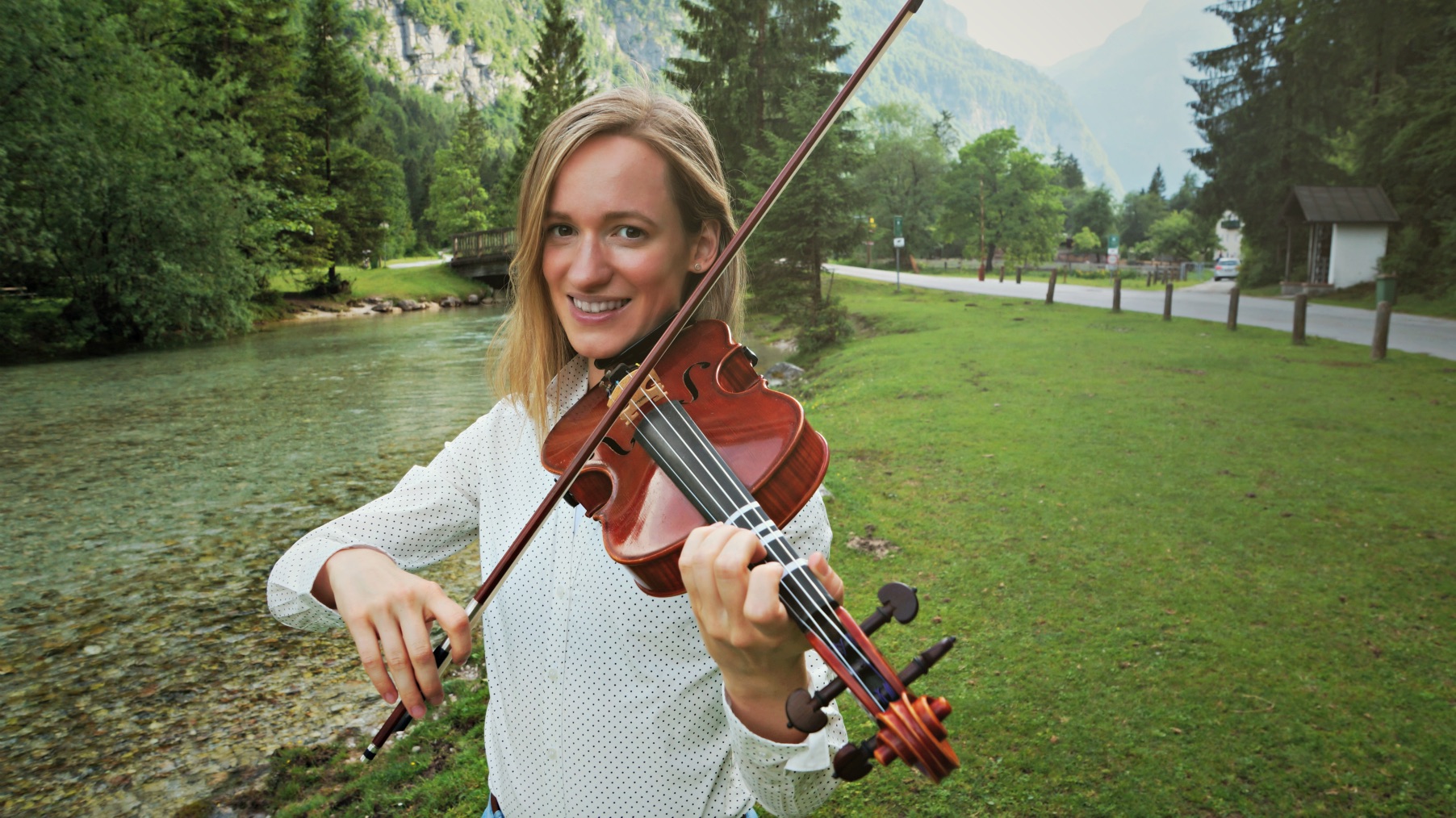 Beginner Bootcamp
Learn all the basics of violin playing

Challenge yourself and surprise yourself with the results you will see!
LEARN THE VIOLIN IN YOUR OWN TIME
In this course, YOU get to choose how much you'd like to practice. Get a customized practice plan that fits YOUR schedule. Choose between two options: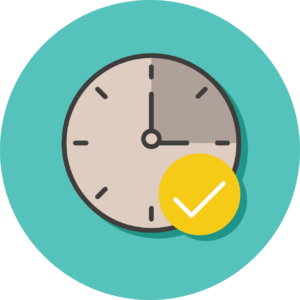 15 MINUTES A DAY
A practice schedule that's tailored to busy moms & dads, people working jobs, animal lovers that need to take care of loads of animals and other people that just don't have that much time to practice the violin.
You will get a practice plan that helps you to finish this in a slow and steady pace and incorporate violin practice in your daily life.
In 5 weeks you'll be able to finish this whole online course and proudly show off your new violin skills!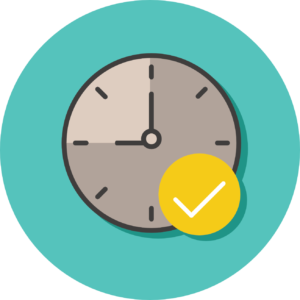 45 MINUTES A DAY

The perfect practice plan for violin fanatics that want to jumpstart their violin adventure.
In this diehard program, I will challenge you to practice 45 minutes a day. Bring your playing to the next level and challenge yourself to finish this course in just 2 weeks…
THERE'S NO FALLING BEHIND

Start this course whenever you want and take as long as you want to move through it.
Do you like to take a break or practice one module longer? No problem! The practice plan works without any time limits. YOU can choose how much time you'd like to take for every exercise. Decide yourself when and for how long you will practice. The flexibility of this program allows you to fit your violin practice perfectly in your daily life
---
THE ADVANTAGES OF THE BEGINNER BOOTCAMP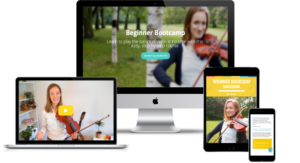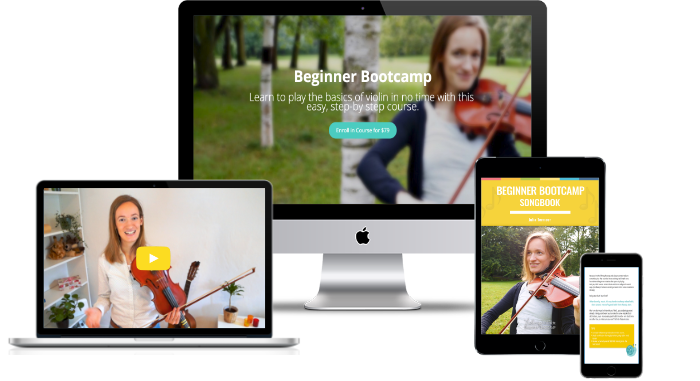 Beginner Bootcamp is an online program. That means, that you are able to access 24/7 across all devices, whenever and wherever you want. You can also download videos for offline use.
You have access to all videos & learning materials anytime you have an internet connection or open your downloaded files. That allows for maximal flexibility!
---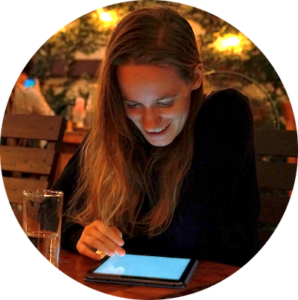 Instead of figuring everything out on your own with random YouTube videos, save time by letting me show you exactly what to practice, when to practice it and which mistakes to avoid. I won't leave you on your own with this: during the course, you can ask me questions anytime. Make use of the guided support of a violinist with over 15 years of playing experience!
---
SIMPLE, STEP BY STEP PROGRAM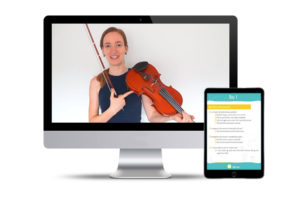 No overload of complicated exercises and 'expert information' that just leaves you confused about what to practice. This program will give you effective, short lessons with actionable exercises after each lesson. You'll get a practice plan that will show you exactly what to practice & what to master before moving on to the next lesson.
---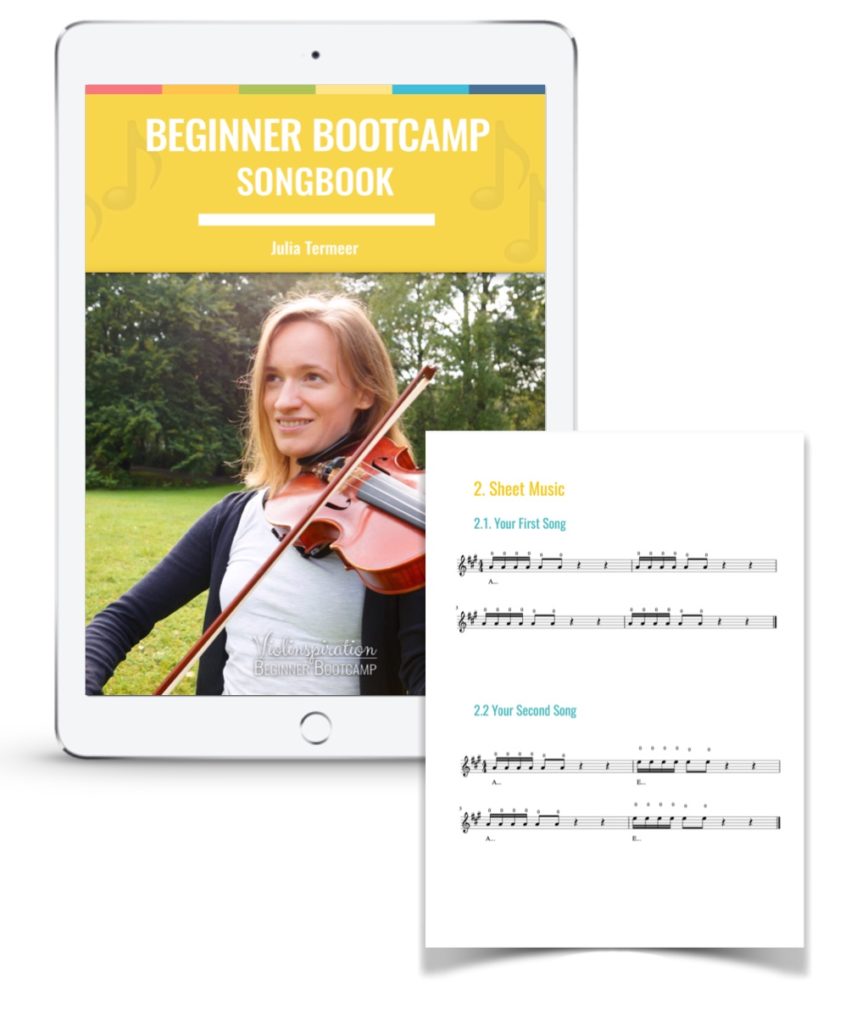 I won't bore you with endless information about reading notes and technical information that you don't need to know in order to play songs anyway. You'll get access to the Beginner Bootcamp Songbook, so you can start learning your first songs right away! In this way, learning the violin is much more fun! Plus you'll learn to actually PLAY the violin as soon as possible.

Become the violinist
you always wanted to be.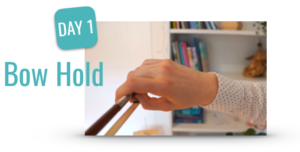 Finally Fix Your Bow Hold (for once and for all)
On this first you'll learn the right bow hold. So many people still struggle with the bow hold after years of playing. We will practice several exercises and discuss the 4 most common bow hold mistakes, so you'll finally learn to hold the bow the right way.
Get a Beautiful Violin Hold
A great violin hold is the basis of a beautiful tone: it makes sure your arm is relaxed and frees up your left hand to play.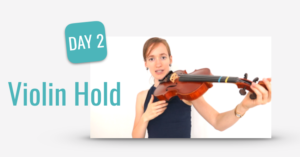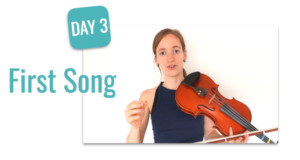 Don't Hit Other Strings – First Song Challenge
In your first song, our focus is to learn to play on one string at the time and NOT hit other strings
Change Strings Like A Pro…
Learn to move from one string to another without making scratchy sounds. Learn a very easy method to change strings!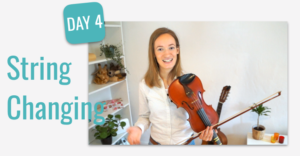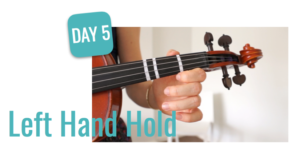 Fix Your Left Hand Hold
Learn the right left hand hold from the very start, so you'll be ready to learn vibrato, higher positions and other advanced techniques in the future!
Cure Your Scratching & Squeaking & Learn A New Song
Learn the 3 most common reasons for scratching & squeaking, so you'll get a beautiful violin tone in all songs you play. Also we'll be learning Mary had a Little Lamb and practice the techniques with this song.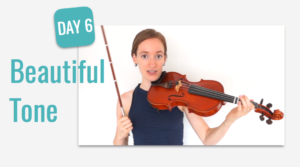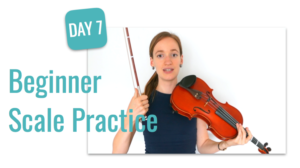 First Beginner Scale
On this day we will first create our own fingerboard stickers (DIY). After that we will learn to play in tune with our left hand with this super easy and effective beginner scale practice!
Speeding Up Your Fingers
For adult beginner violinists, the ring finger often doesn't want to move along when playing faster songs. So on the 8th day you'll be working on your ring finger speed. You will learn 2 essential exercises that will help you to speed up your finger!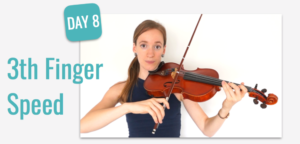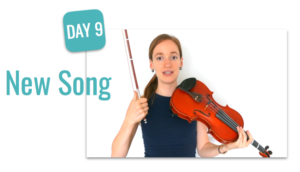 Learn Twinkle Twinkle Little Star
On day 9 you will learn the a classic beginner song on violin: Twinkle Twinkle Little Star. We'll be working on bow division, playing in tune and making sure you'll learn to play the tune without scratching!
Learn Row, Row, Row Your Boat
On this day you will finish the beginner challenge with your  last song: Row, Row, Row Your Boat. Also you'll get tips what to practice after Beginner Bootcamp ends.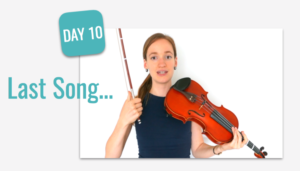 AND TO MAKE SURE YOU'RE SUPPORTED EVERY STEP OF THE WAY
YOU'LL ALSO GET ACCESS TO:
EXCLUSIVE BONUS #1
THE BEGINNER BOOTCAMP FACEBOOK GROUP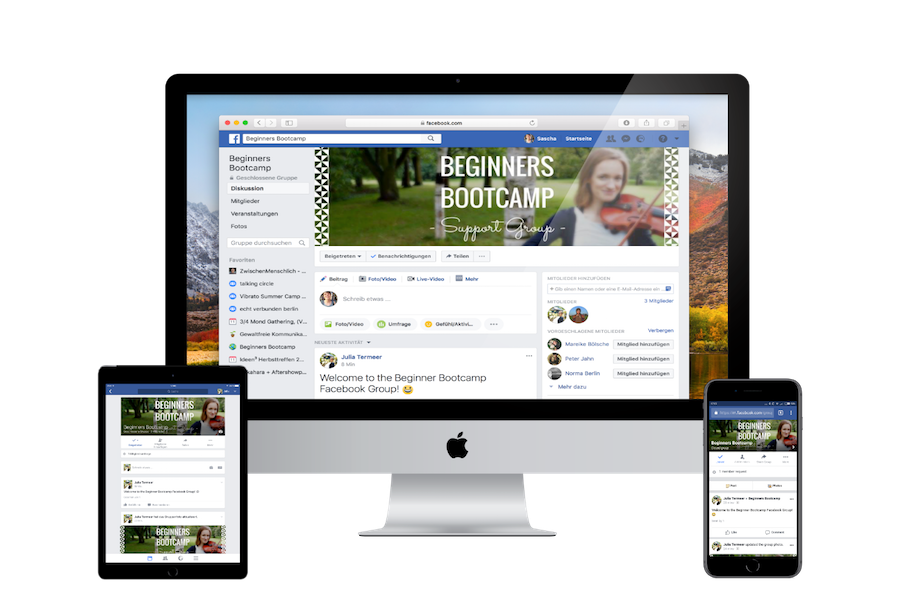 This is a fun group of motivated violin enthusiasts committed to learn the violin.
This is a group with all violinists that joined Beginner Bootcamp, that will support you on your journey to learn the violin!
You can use this group to:
Share your accomplishments! Reaching new goals is so much more fun if you can share them with others.
Get support from others when you get stuck, so you will keep on practicing if you are facing challenges.
Get an extra set of eyes on your videos and valuable advice on how to improve your practice.
Find new motivation to practice and progress on your violin.
Form new friendships and connections with other violinists from all over the world.
---
EXCLUSIVE BONUS #2
MY TOP 4 TIPS TIPS FOR BEGINNING VIOLINISTS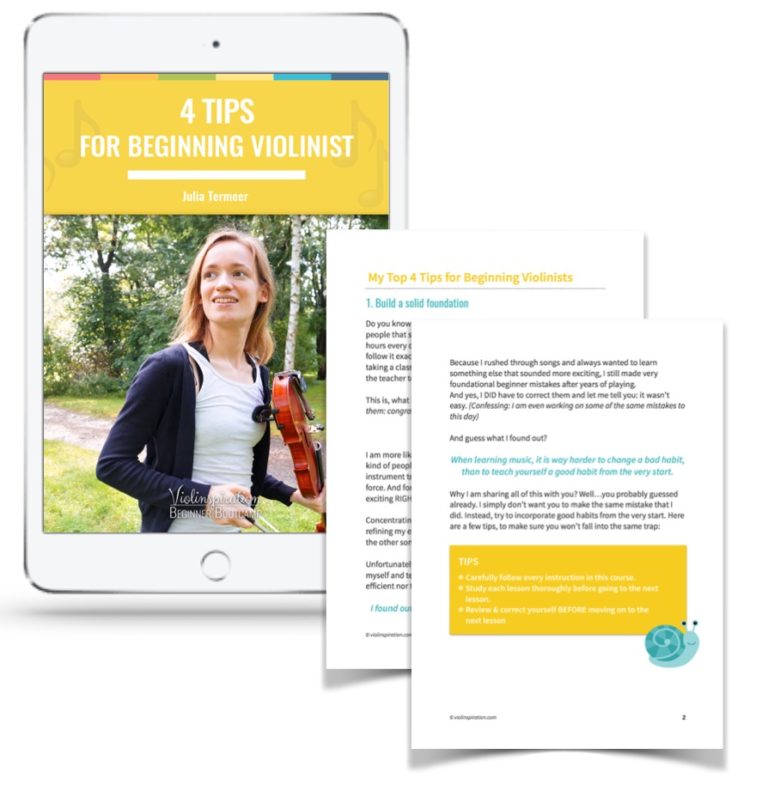 I wished I had knew this before I got started.
This is a document in which I share my personal 4 tips for starting violinists.
GET A SNEAK PEAK INSIDE...
Have a look at this sneak peak inside Beginners Bootcamp!
WHAT PEOPLE SAY ABOUT ME
★★★★★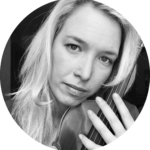 "For me, Julia is the most inspirational, charismatic and fun violin teacher."
She has committed so much time to her students and it shows. As an adult beginner, her lessons are filled with challenges and fun. Julia's love for music and the violin only echoes in her lessons. Her instruction suits a wide range of learning styles and her enthusiasm is contagious!"
– Carmen-Joy Holloway, Horse riding instructor, Scotland
"I will repeat myself, but I must say it again: I truly love your videos, and I think that the huge passion and love which just emanates from you, makes you so special. Absolutely outstanding, amazing and idiosyncratic! Thank you, Julia. Thank you so much, for sharing your passion with us!"
– Dominika Modzelewska, Analyst and PhD student, Poland
"Julia helped push me to new limits that I had previously not known I could climb to."
Her young, vibrant and eager personality makes her a wonderfully great teacher that comes up with inventive new ways to help her students learn new songs. I enjoyed the time that I spent with Julia and anyone that has her as a teacher is lucky to have her."
– James van Eperern, Student, USA
"Julia is an excellent teacher."
Julia taught violin technique and improvisation skills to students in my studio when she was in Omaha, Nebraska for a summer. Her positive energy is very encouraging to students of all levels. My students LOVED her! I miss her and what she brought to my studio."
– Mindy Hunke, Violin Teacher, 2014 "Outstanding Private Studio Teacher" Nebraska ASTA
A 30-Day Money-Back Guarantee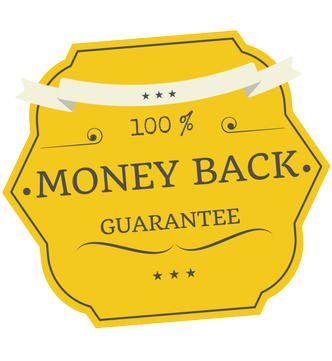 I've done everything in my power to make this the simplest and most fun way to learn the basics of violin playing possible.I am convinced that my program will equip you with everything you need to start playing your first songs on the violin.
But it is important to me that all my students LOVE my lessons. So if you finish the course, practice with all my lessons, and don't see any results, then you can email me within 30 days of purchase (1 whole month!) for a full refund.
Frequently Asked Questions
When does the course start and finish?
It is a completely self-paced online course – so you can decide when you start and when you finish.
How long do I have access to the course?
How does lifetime access sound? After enrolling, you have unlimited access to this course for as long as you like – across any and all devices you own.
How much do I need to practice?
Since you have the possibility to follow the course at your own pace, you can take whatever time you prefer to practice each day.
What if I am unhappy with the course?
I would never want you to be unhappy! If you practice with all my lessons, and don't see any results, you can email me within 30 days of purchase for a full refund.
Buy Now and Get Instant Access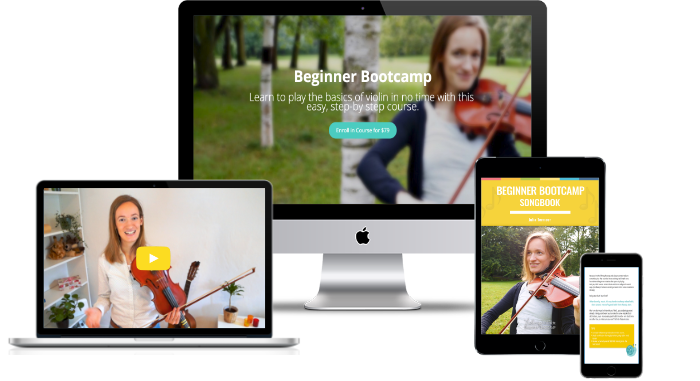 $97 (approx. €79.26)
Pay with Paypal or Credit Card.
Thanks for putting your trust in me to help you learn the violin. This is going to be fun!
-Julia
PS: This is a self-paced course, so even if you can't start immediately, or you take things slower than normal, that's great. You'll get full access TODAY and can start when you want and take as long as you want to move through it.