STOP! DO NOT CLOSE THIS PAGE YET...

Congratulations! If you're seeing this page it means you will soon get your copy of The Ultimate  Songbook for Beginner Violinists! This e-book takes around 5 minutes to arrive in your email inbox.
In the meantime, watch my video message (below) that introduces my violin academy that has helped over 200+ adults like you learn to play their favorite songs on the violin and get confident playing for others.
People that are "way too old to learn", have busy lives and have decided they want to pursue their passion for violin playing ANYWAY!
Click play on the video below to hear about how Julia's Violin Academy can help you starting TODAY.
Julia's Violin Academy is Right For You If:
Stop wasting your practice time on random violin lessons.
Learning violin is a lot easier when you have a step-by-step system to follow. Julia's Violin Academy's Learning System is interconnected and organized to get slightly harder as you progress.
You watch a video lesson, play along, and then click a "Next" button to go to the next lesson. Lessons have multiple camera angles, sheet music, different speeds and everything else you need to learn.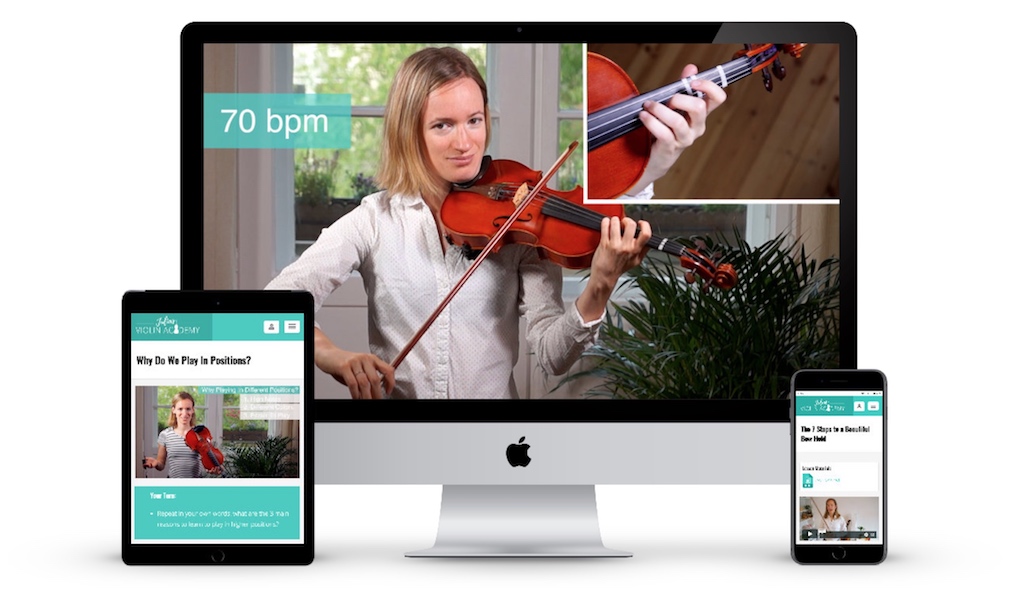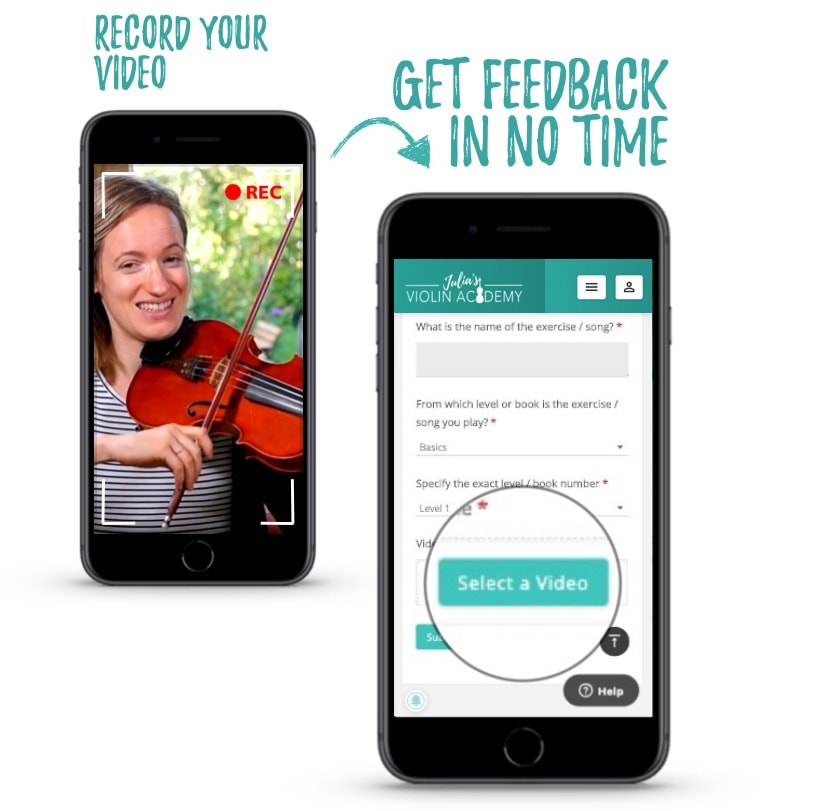 Are you ever doubting if you're "doing it right"?
Violinspiration Academy offers possibilities to submit YOUR student videos for feedback and join live classes that are dedicated to give answers to your questions.
We're here for you every step of the way.
Our number one goal is to make you a better violin player, and we will never give up on you!
When you become a student here at Julia's Violin Academy, no matter where you are on your journey to becoming a great violin player, you'll be able to connect with, get direct help, feedback, motivation and support from your fellow students every step of the way on our community forums.
Ask your questions, share your wins & connect with Julia and other students in the community forums.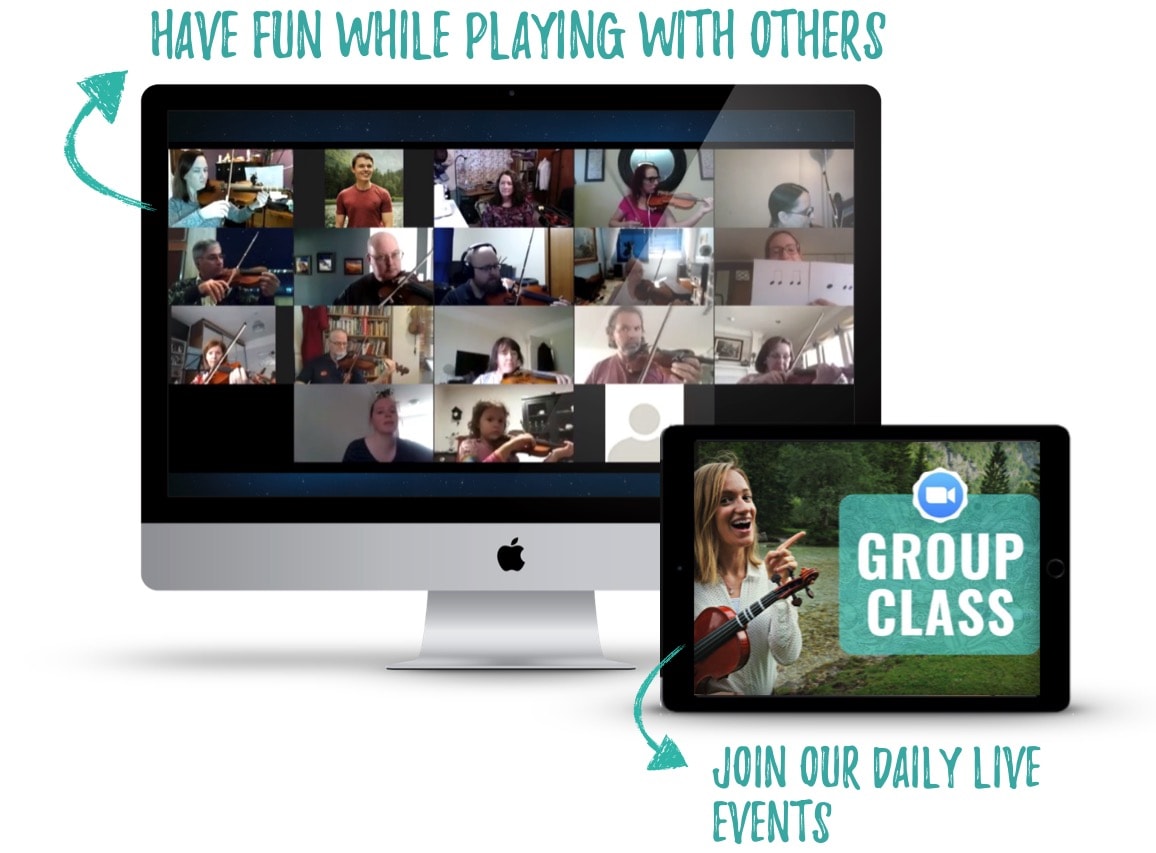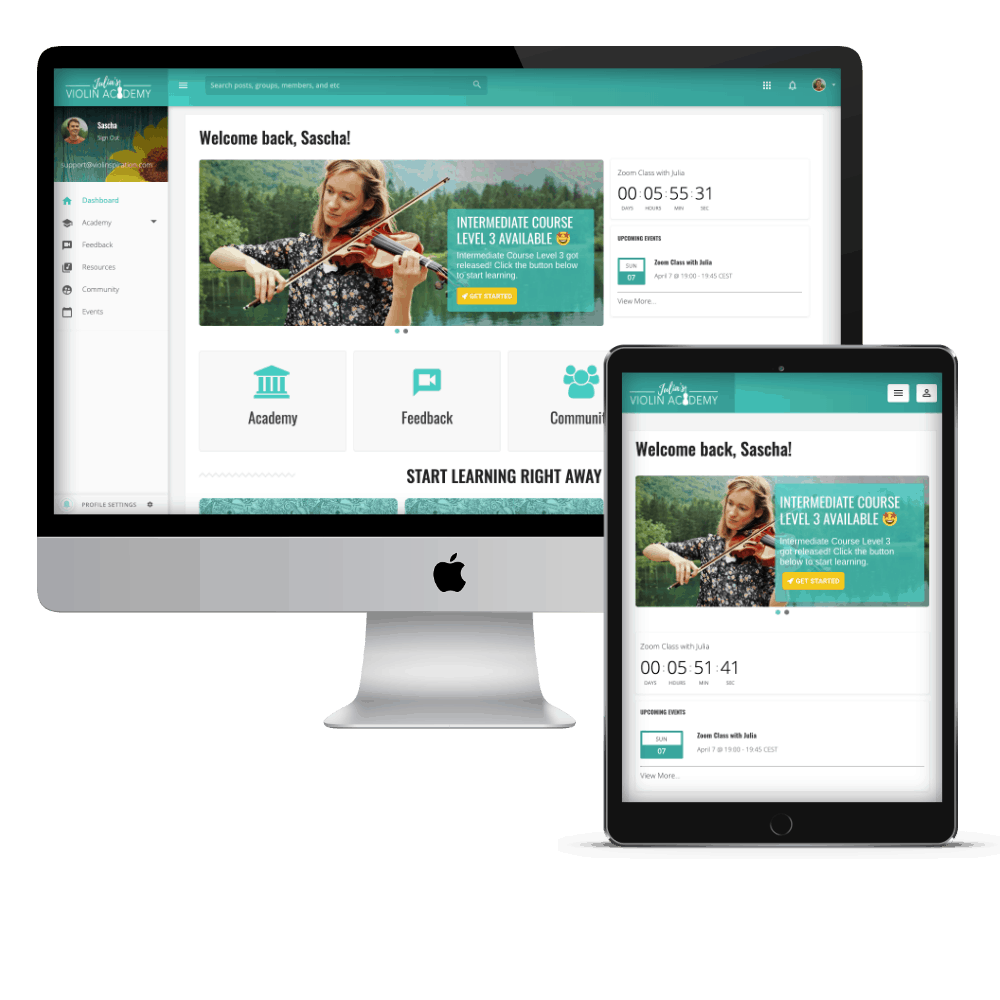 Our online events are a vital addition to Julia's Violin Academy. The events allow you to learn with Julia and our friendly academy members, in real-time from the comfort of your home.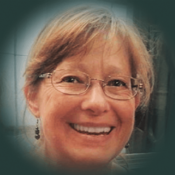 Barbara Shelton
Member of Julia's Violin Academy since 5 Months

"Joining the academy was the best investment I have ever made"
I am fulfilling a lifelong dream at 57 years of age. Bought a violin and started watching video tutorials hoping to learn to play. It was overwhelming with so many different teachers, styles and methods I soon became extremely frustrated and disheartened.
Then I found Julia Termeer and her amazing academy. Her enthusiasm, encouragement, step by step tutorials, online meeting sessions, structured learning method and so much more, just cannot be found anywhere else. Joining the academy was the best investment I have ever made. My violin playing is advancing in leaps and bounds. It has also enabled me to meet fellow students of all ages from across the globe.
Julia Termeer is so dedicated and her personal tutoring via video feedback is really instructional and is better than having a 'face-to-face' tutor. Being able to learn at my own pace by following a structured lesson plan instead of bouncing around not knowing what to do next has been a life saver (or should I say violin saver) for me. I also particularly love the fact that all the lessons in the academy are available to all students regardless of which course you chose.
If you miss an online tutoring/meeting session, not to worry. Julia records them all and makes them available to all students at anytime. If you love learning at your own pace, are looking for a personal 'online tutor', want to meet aspiring violinist from across the globe or are simply looking for encouragement and great feedback, you will love Julia's Violin Academy.
Julia's Violin Academy is a step-by-step learning system & community to learn the violin so you can become a well-rounded violin player and get confident playing with others
1. FIND YOUR LEARNING STAGE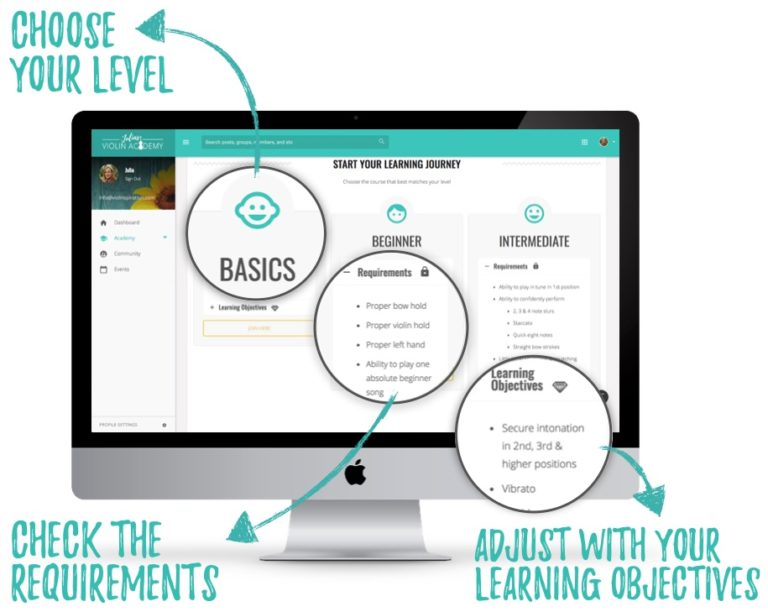 2. ACCESS YOUR WORKBOOK & PRACTICE PLAN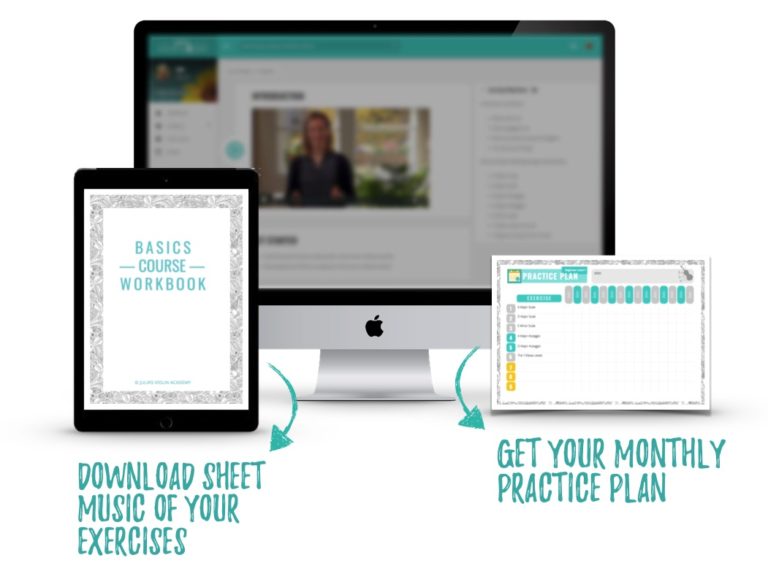 3. PRACTICE WITH THE VIDEO LESSONS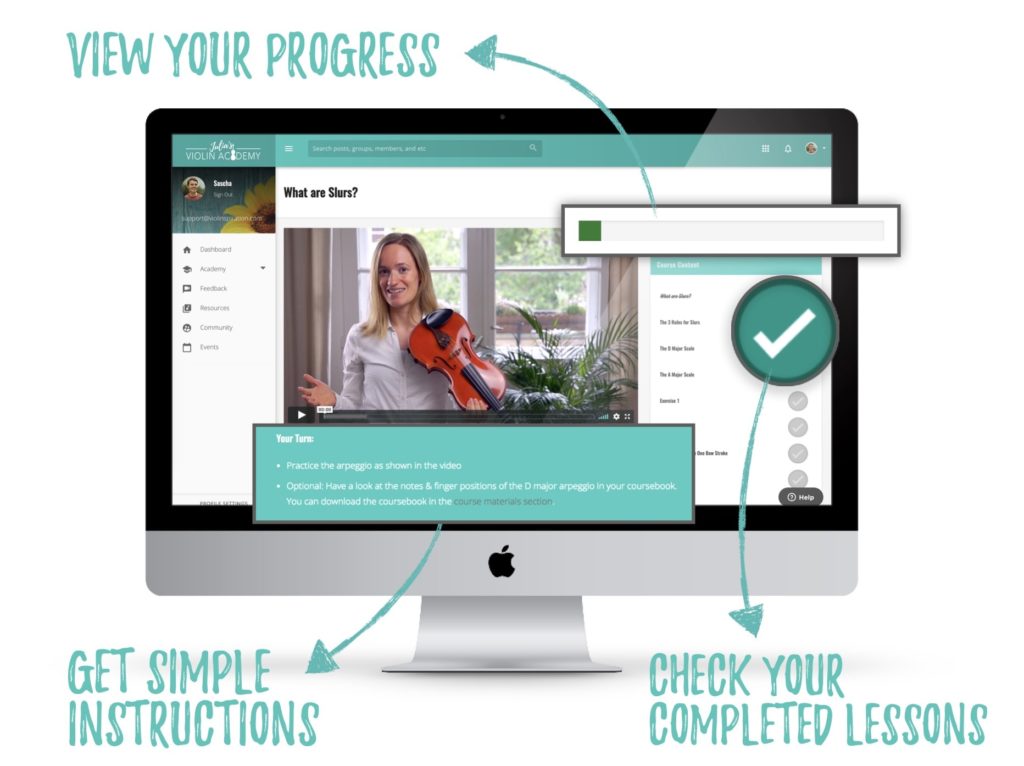 4. GET FEEDBACK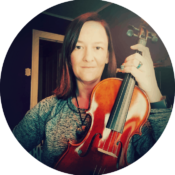 Melissa Lariviere
Member of Julia's Violin Academy since March 2019

"This Academy has been life changing for me!"
I will be totally honest, I was very skeptical at first. I didn't think trying to learn Violin like this online was really possible. I had so many questions!
"Is this legitimate?"
"Can I really learn like this?"
"Is the instructor REALLY going to be actively involved?"
"Is this really worth the money?"
The answers to my questions are all YES!
YES it is legitimate, YES I really can learn like this' YES Julia is very active in the group and the community is outstanding! YES it really is worth the money!
We have video live classes, we meet up almost daily for Practice Sprints where we practice for an hour together, we are able to post to the Facebook group and get real feedback from peers and even Julia! There is so much more this Academy has to offer as well!
I highly recommend this Academy whether you are a brand new beginner like myself or a seasoned player on a higher level like some others in the group.
I am so happy I found Julia's Violin Academy!
New Events & Lesson Packages Every Month
Every month, one new course gets released (contains workbook, practice plan & 15 lesson videos) + we organise many new live events, such as group practice sessions & classes every week.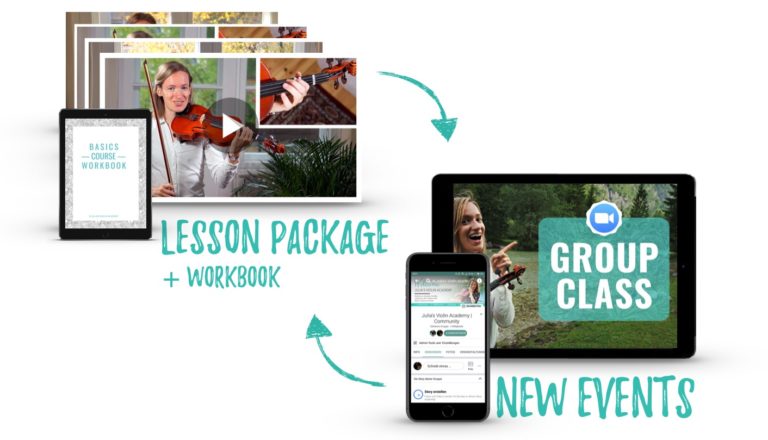 Your journey to becoming
a better violin player
starts here.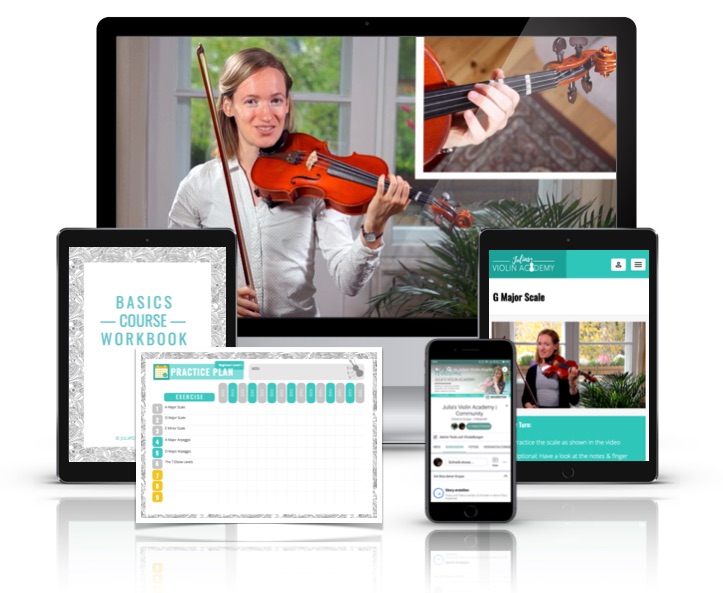 LIMITED TIME OFFER FOR NEW SUBSCRIBER
$1 / 7-Day Trial
Instant Access To All Video Lessons
New Lessons & Sheet Music Added Every Month
Accompanying Sheet Music For Each Exercise
Personal Feedback From Julia
Join Live Classes Every Week
You Can Cancel Any Time
30 Day Refund Period