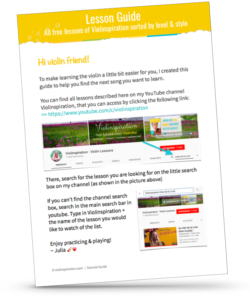 Free Violin Lessons Guide
One of the struggles many have, is looking for a suitable next song to learn on the violin.
That's why I created a little tutorial guide in which you find all beginner lessons I created and shared on my YouTube channel sorted by level.
In this way, you can easily find a new violin lessons to learn with!
>> Click here to download the free guide.
My personal recommendations
There are enough free violin lessons in the violin lesson guide & my YouTube channel to practice for days without stop, so it can sometimes be daunting to know where to start. Below is a selection of my best lessons: the lessons that have been the most popular, the most shared, or that I think are great to start with.
Beginner Violin Lessons
These are the violin lessons I recommend for beginners:
Remember, less important than which song you actually practice (there are many great beginner songs. And if you want to get an overview of all beginner songs, make sure to have a look at my violin lesson guide in which I list all songs I recommend for beginners) is what you do when you practice the songs.
If you want to progress effectively, make sure to pay most attention to these things when watching the violin lessons:
Are you playing in tune?
One of the biggest challenges when starting to learn the violin, is learning to play in tune. Since you are learning the violin with online lessons, there is probably nobody around you to check if you are playing in tune. That's why you need to listen very well to yourself! You might even want to record yourself and listen to yourself playing the songs that you learned in the online lessons. Did some notes sound out of tune? Try it again, and play it in tune this time!
Are you having the right bow hold?
Oh, I can't tell you how much I've been struggling with the bow hold. I know it's challenging. But make sure to pay attention to your bow hold from the very beginning. In this way, you will learn the right bow hold from the very start. When learning with the free online violin lessons listed below, make sure to have a look at your bow hold as often as possible. If you notice your bow hold got less beautiful than you hoped it to be, make sure you fix it again!
Is your left hand in the right position?
One of the most common mistakes beginners make, is not aligning their wrist and elbow. Make sure that when playing, your wrist and elbow are always aligned.
If you pay attention to these 3 things when learning with these beginner violin lessons you are already well ahead of most online violin learners. Well done!
Intermediate Violin Lessons
These are the lessons I recommend for intermediate violin players:
I would consider you being an intermediate player if you got the following things mastered:
Basic violin posture: bow hold and left hand position
Playing in tune in first position
Mastered the basics of bowing, (i.e. you don't hear squeaking/scratching)
The songs listed above are perfect if you
Want to work on longer songs
Learn various bowing techniques (such as legato: playing several notes on one bow stroke)
More complex string changing (changing from the G string to the A string quickly within a piece)
Complicated fingering. So fingering that makes you feel like this: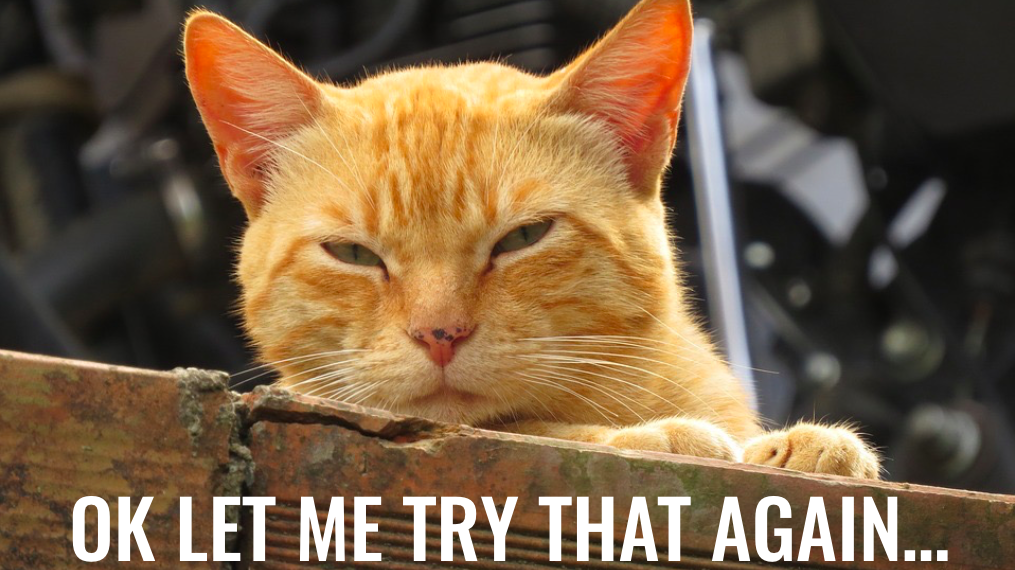 By the way, the picture above will be the general feeling you will always have when learning the violin, no matter which level you are.
Also I recommend getting into learning 3th position. You can do that by
Practicing simple scales in third position
Playing simple songs in third position.
And if you have no idea what third position is: it basically means you are playing higher up on the string (placing your first finger where normally your third finger would be, hence 3th position). If you still don't understand, don't worry about it just yet and first get into the other things listed above.
Advanced Violin Lessons
If you crossed my intermediate level, first and foremost well done!
I also recommend getting private lessons, since at this level it is very challenging to progress just with the help of the internet.
Yes, I am basically telling you here that you are too good for this website.
If you still feel like sticking around though, I recommend these tutorials:
Still here?
Read this page all the way until here? In that case you must be an absolute violin nut, just like me! Thank you for sticking all the way till the end.
If you want to get more inspiration to play the violin, I think you might like to download my free sheet music book. And you might like to be become a member of this website and get Violinspiration mail. In Violinspiration mail I share my latest violin lessons and inspiration & motivation to keep practicing.
And, after downloading the book & becoming a member there is online one thing left to do. Practice! So far the only proven way to get better at playing the violin.