Are you looking for the best violin teachers with YouTube Channels to learn the violin online? Look no further! Here's a list of all the YouTube channels you need to know about for each situation. Of course, there is no one "best" YouTube channel. It depends on your current learning goals, learning style, and personal situation which YouTube channel will be most suitable for you. That's why I ordered the YouTube channels by level, interest, and special features. In that way, you can find a YouTube channel that is most suitable for your needs. Before we start: It's also possible to subscribe to each channel within this blog post (see the video below).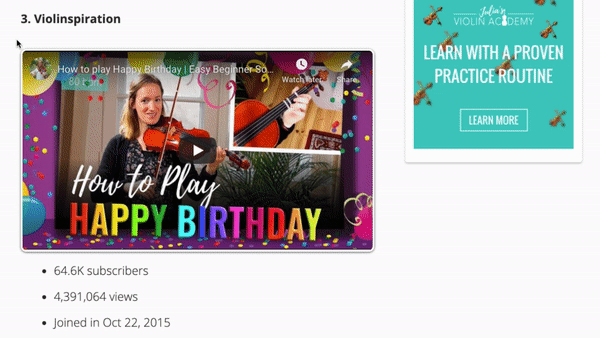 YouTube Violin Lessons for Beginner Violinists
The Online Piano & Violin Tutor
618k subscribers
61,378,678 views
Joined on Sep 22, 2011
Allison is an English violin and piano teacher that covers a wide variety of lessons. She provides her half a million viewers with song tutorials, step-by-step lessons, and more. Every now and then, she even gives sneak peeks in her personal life! One of the best parts of her challenge for violin players is the big library full of popular songs that you can find. For a small Patreon donation each month, you'll get the sheet music of all the pieces.
Violinspiration
100k subscribers
7,010,688 views
Joined on Oct 22, 2015
Violinspiration is my own YouTube channel! It is aimed at beginners – and more specifically adult starters. Next to my library on YouTube with free lessons, I also offer free sheet music of all the tutorials on my website. You can download the free sheet music that goes along the tutorials here: ➟ Click here to get book 1 (mostly pop and film music songs) ➟ Click here to get book 2 (mostly simple folk songs)
Violin Tutor Pro
76.7k subscribers
9,391,345 views
Joined on Nov 18, 2009
With over 1000 videos, Violin Tutor Pro is possibly the biggest channel for violin learners out there! Michael Sanchez, the teacher on the channel, has been teaching the violin on YouTube for over 10 years. Even though he hasn't been as active on YouTube recently, the video library is still a gem for any beginning violinist.
YouTube Violin Lessons for Intermediate Violinists
Violin Lounge by Violinist Zlata
21.3k subscribers
3,086,818 views
Joined on May 2, 2010
Zlata Brouwer is a Dutch violinist, who shares her violin tutorials and tips with violinists around the globe. Zlata's teaching studio specializes in the bowing technique – which makes her bowing videos especially worth having a look at. However, this is not the only thing she covers – on her channel, you can find over 400 lessons about all areas of violin playing.
Nicola Benedetti's YouTube Channel
49.8k subscribers
8,634,344 views
Joined on Jun 25, 2014
The next on our list of violin teachers is all the way from Scotland – Nicola Benedetti – also called Nicky. As a performing violinist, you can get an interesting sneak peek into her exciting life. She also uploads video tutorials to make sure her subscribers keep busy practicing themselves!
Violin Lab
100k subscribers
7,172,024 views
Joined on Jan 02, 2010
Beth Blackerby has been active on YouTube since 2010 – and is still active! On her YouTube channel Violin Lab, she shares a wide variety of tutorials about both violin techniques and classical repertoire. Her great attention to detail and way of articulating advanced playing concepts will leave you wanting to keep learning more.
YouTube Violin Suzuki Lessons
Cadenzastringsnyc
112k subscribers
39,913,082 views
Joined on Jun 9, 2010
Kevin Yen is a North Caroline based violin teacher that specializes in teaching the Suzuki method. In my opinion, his way of "not talking, only playing" is iconic – I actually had to search for his name to know what he's called, as he normally only plays! Kevin makes many play-along videos at different speeds, so Suzuki students can learn the Suzuki songs by playing along with a teacher
Red Desert Violin
39.4k subscribers
6,852,892 views
Joined on Apr 21, 2010
A USA violin teacher and the next on our list of violin teachers. Lora from Red Desert Violin specializes in creating Suzuki and Fiddle tutorials. Along with her video tutorials, she incorporates some "Band Rehearsal" and playing videos, that keep her followers engaged on what she's currently playing.
YouTube Violin Lessons for Advanced Violinists
Joy Lee
31.2k subscribers
2,622,880 views
Joined on Apr 7, 2015
Joy Lee is run by a violin teacher called Joy, who is an advanced violinist who creates violin tutorials on many advanced techniques, such as ricochet, chromatic runs, spiccato, and shifting in higher positions. Also, she covers famous violin pieces, such as the Vivaldi Four Seasons and violin concertos. Her amazing violin technique shows us, that she is not only a great teacher but also a true "practice addict" herself!
Nathan Cole
23.7k subscribers
1,800,713 views
Joined on Mar 9, 2011
Nathan Cole embodies exactly what it means to be a master violinist. Being the First Associate Concertmaster for the Los Angeles Philharmonic, he teaches both advanced violin technique and audition preparation skills to his viewers. He shares many invaluable tips for advanced violinists to bring their playing to the next level – and to make it truly sound extraordinary!
Violin YouTube Channels for Kids
Eva Alexandrian
26.4k subscribers
2,888,886 views
Joined on Dec 14, 2014
Eva Alexandrian is a Germany-based violin teacher who is not afraid to show creativity and unexpected elements in her videos. She posts violin tutorials with a playful and joyful character – without compromising the educative value of her lessons. Her playful and colorful tutorials make her the perfect choice for younger children!
Violin YouTube Channels with Play-Along Tabs
Fiddling with my Whistle
138k subscribers
35,473,515 views
Joined on Jan 2, 2018
The creator of "Fiddling with my Whistle" is a student of the violin himself – and he wanted to help fellow students with creating play-along tutorials! When watching one of his videos, you'll see a fun animation that shows you exactly where to place your finger on the fingerboard. The backing of the tutorials are usually midi files – unless the author already learned the song on the violin himself, then he'll play it as a backing track!
EasyViolinLesson
93.4 subscribers
19,074,276 views
Joined on Oct 25, 2014
EasyViolinLesson shares a library full of popular songs – you can learn to play the pieces through sheet music and the visual graphic tutorials they provide.
YouTube Channels to Learn Jazz Violin
Christian Howes
19.3k subscribers
2,568,058 views
Joined on Jan 16, 2009
Christian Howes is currently the biggest jazz violin YouTube teacher. He has an extensive library of videos, full of tutorials on how to learn jazz scales, improvisation, and more!
Eva Slongo
3.62k subscribers
514,643 views
Joined on March 05, 2013
Eva Slongo was one of my personal favorite finds of the year. If don't mind trying to de-code French (as she is teaching her violin lessons in French) and are in love with the Gypsy jazz style you'll love this channel.
YouTube Channels to Learn the Fiddle
Fiddlehed
35.1k subscribers
4,787,250 views
Joined on Aug 8, 2013
On the Fiddlehead YouTube channel, Jason Kleinberg features his passion for fiddle playing. His channel covers many of the most popular fiddle tunes and helps you to build your repertoire as a fiddle player. Plus, in my opinion, he definitely has the best channel intro song of all teachers!
Katy Adelson
50.5k subscribers
12,335,033 views
Joined on Jul 25, 2013
Katy Adelson is a violinist who specializes in Celtic folk music. She inspires her followers to practice by posting both fiddle tutorials and beautiful videos where she plays the fiddle herself.
YouTube Channels about the Violinist Lifestyle
Do you want to get inspired to practice? These YouTube channels feature talented violinists, sharing about their daily life as a musician. It will make you want to start practicing more!
Esther Abrami
171k subscribers
26,847,758 views
Joined on Sep 28, 2011
Looking for an inspiring violinist to follow? Both the beautiful violin performances and the entertaining videos of Esther's daily life are sure to put a smile on your face! Esther Abrami is a must-follow for any aspiring classical violinist.
Sumina Studer Violinist
144k subscribers
17,065,727 views
Joined on Jun 6, 2016
While we're on the topic of inspiring classical violinists… we can't leave Sumina Studer out of the picture! With both her exceptional performance videos and personal videos about her daily life as a violinist, Sumina's videos will inspire you to take your violin out.
Violin YouTube Channels to Have a Good Laugh
Sometimes, we need to relax from our practice! For that, we are lucky to have some violin channels we can watch to enjoy ourselves. Meanwhile, we will even pick up some valuable violin skills!
TwoSetViolin
3.5M subscribers
1,046,135,349 views
Joined on Sep 21, 2013
TwoSetViolin is a channel created by two Australian-based violinists named Brett and Eddy. The creators of the channel love making hilarious videos almost as much as playing their violin. Next to uploading regular videos, they also give live shows, in which they not only showcase their humor but also their amazing talent for violin playing. This channel is the creator of many "insider" violinist jokes that you don't want to miss! I had the pleasure to visit one of their shows in 2019 – and it's an experience I won't regret.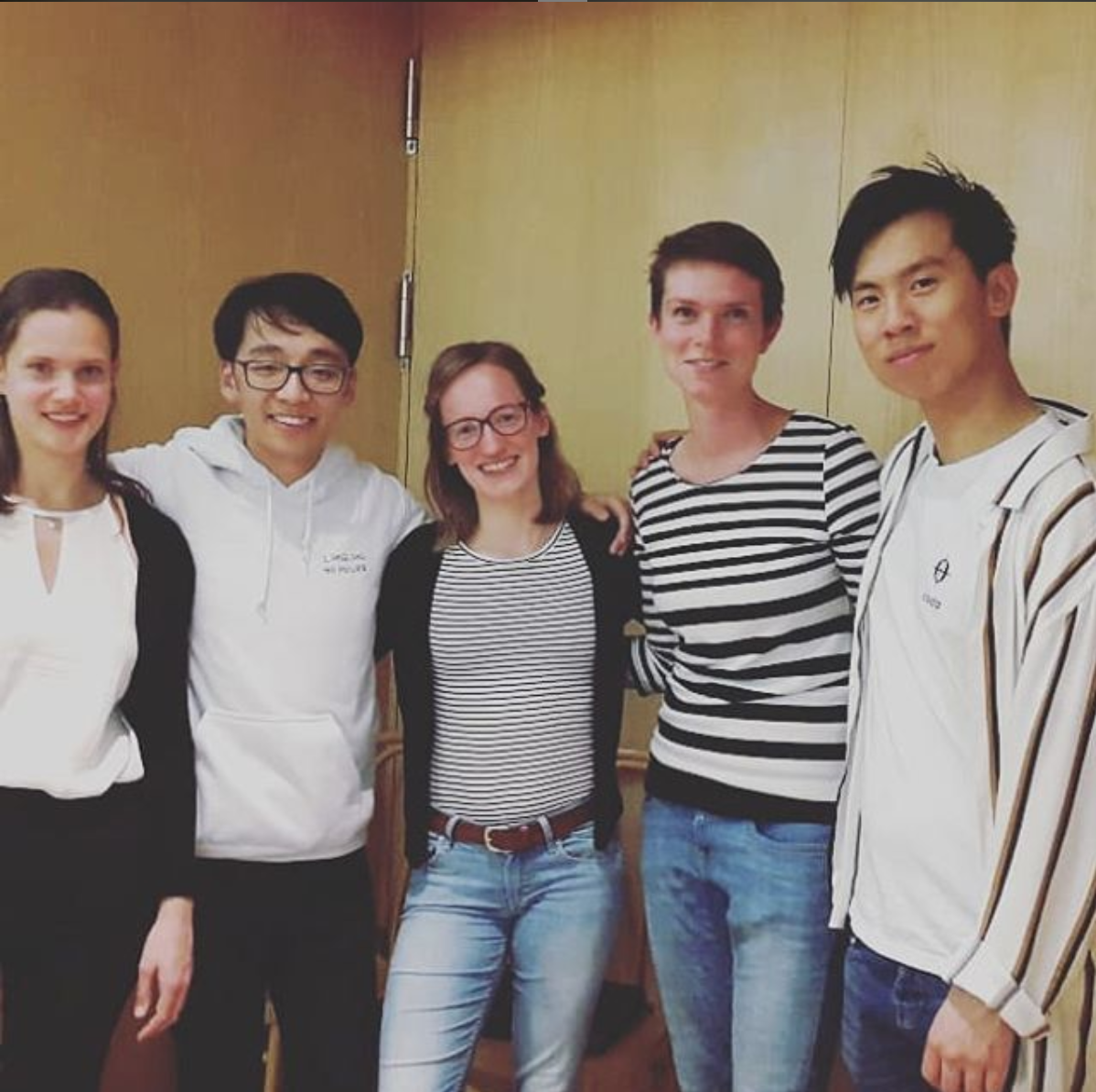 Ray Chen
236k subscribers
38,717,617 views
Joined on Sep 12, 2013
Ray Chen is not only a performing classical violinist, but he also loves to give his subscribers a good laugh. He was one of the earliest violinists to start creating humor videos – and was one of the inspirations of TwoSetViolin. He doesn't only post fun and educational videos where he plays himself but also gives his subscribers regular chances to submit their own videos for his reviews.
Which violin YouTube channels do you love to watch? Comment below!