This is an extensive list of the most beloved and famous violin pieces written for our instrument! If you have ever had the desire to explore the vast range and imagination of composers, or just want to know more pieces for the violin in general, look no further!
Top-10 Most Famous Violin Pieces
Choosing just 10 violin pieces from the classical music repertoire is difficult because there are so many to consider. I listed some of my absolute favorites and some of the most famous violin pieces which I hope you will love and enjoy!
#10. Vivaldi: Spring from the Four Seasons
#9. Elgar: Salut d'Amour
#8. Massenet: Méditation from "Thaïs"
#7. Bruch: Violin Concerto in G minor, Op. 26
#6. Saint-Saëns: "The Swan" from Carnival of the Animals
#5. Sibelius: Violin Concerto in D minor, Op. 47
#4. Tchaikovsky: Violin Concerto in D major, Op. 35
#3. Paganini: Caprice No. 24 in A minor, Op. 1
#2. Mendelssohn: Violin Concerto in E major, Op. 64
#1. Bach: The Chaconne in D minor
From the earliest period of music to the most recent, many exceptional pieces have survived the test of time and are now some of the most famous and well-recognized. Let's explore the violin repertoire more in-depth and travel through time to trace violin music through different eras and different settings.
Violin Solo with Orchestra
Composers love to write pieces for the violin and orchestra in duet with each other; this is called a concerto. Each time period expands the possibilities of our instrument, and I hope you will explore and enjoy the many languages of these composers!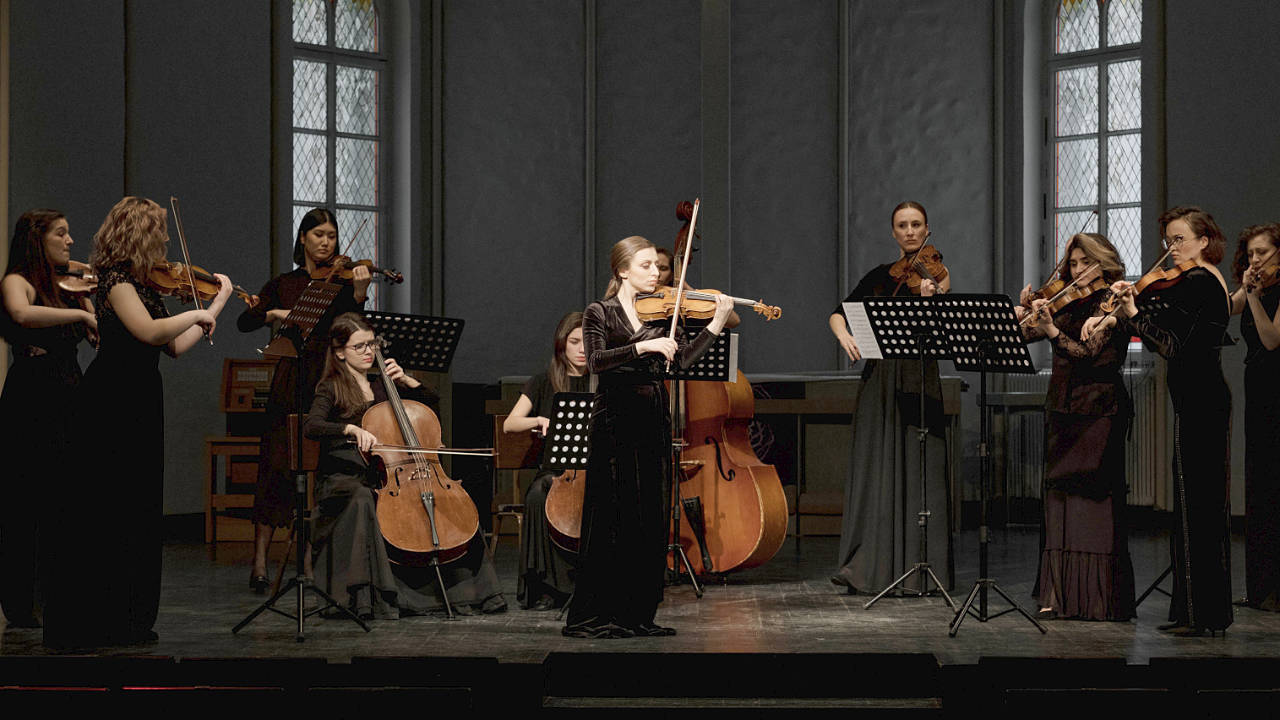 The Baroque Era Concertos (1580-1750):
The Baroque Era was a time when composers like Bach and Vivaldi were experimenting with instruments and ensembles. Many innovations from this era helped establish a foundation that helped music progress through history.
BACH: Violin Concerto in A minor, Brandenburg Concerto No. 3
Johann Sebastian Bach's Violin Concerto in A minor is one of the most fun concertos I had the chance to play. It's exciting and a great example of a Baroque violin concerto. The Brandenburg Concerto #3 is a large-scale concerto for four soloists comprised of the "principals" in each of the string sections: the first and second violins, the violas, and the cellos; everyone gets a solo!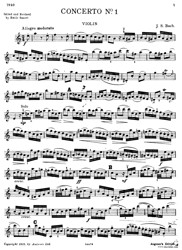 Bach – Violin Concerto in A Minor
Free Violin Sheet Music
VIVALDI: "Spring" from The Four Seasons and Concerto in A minor RV 356
Antonio Vivaldi's (1678-1741) most famous and well-recognized concerto is "La Primavera" (Italian for "Spring") from the "Four Seasons." This work is a set of four violin concertos, one dedicated to each of the four seasons of the year. Vivaldi even wrote poetry to accompany each of the seasons which you can find in the video above.
Click here to check out my video tutorial for Spring arranged for beginners. Here you can download the easy violin sheet music.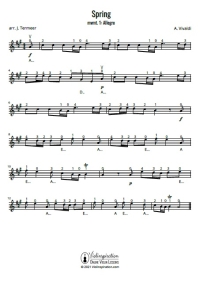 Spring, mvmt. 1: Allegro by A. Vivaldi
Free Violin Sheet Music
The Classical Era Concertos (1750-1820):
The Classical Era of Music is a period that derived from the enlightenment, where composers and the general public became significantly more aware of facts and science. Unlike the Baroque era, music from this era was concerned with symmetry and simplistic beauty rather than experimentation.
BEETHOVEN: Violin Concerto in D major, Op. 61 (1806)
Ludwig van Beethoven is the most recognized composer today which can be attributed to the "Ode to Joy" melody from his ninth symphony, the piano sonata "Für Elise", or perhaps even his fifth symphony.
His Violin Concerto in D major is an important contribution to the violin repertoire and has beautiful and memorable melodies just like his most famous melodies above. The concerto itself is one of the longest violin concertos written and is also one of the most challenging.
MOZART: Violin Concerto No. 4 (1775) & No. 5 (1755)
Wolfgang Amadeus Mozart was mostly known during his time as an opera composer and we can hear hints of this in his symphonies, quartets, and especially his violin concertos.
The fourth of five concertos, K.218 is in D major and is spritely in character. From the beginning of the first movement to the rondo finale, Mozart exudes his youth-like character into the music and invites the listener to have fun and play with him. The final concerto, K.219 in A major, is in the same fashion.
PAGANINI: Violin Concerto No. 1 (1817-1818) and No. 2 (1826)
Italian violinist Niccolò Paganini composed his first and second violin concertos which feature literal acrobatics and impressive violin technique. The composer inspired an entire generation of violinists to write works that were equally challenging and impressive. He is the first of a long lineage of violinist-composers who pushed the boundaries of what the violin and instruments, in general, could do.
The Romantic Era Concertos (1820-1910):
The Romantic Era is a period in which composers and artists began to compose music for themselves, reflecting their inner emotions and reactions to events around the world. Before, composers composed for the rich and elite. Now, composers detested this servantry and composed more organic and true-to-their-feelings music. (Hence, the "Romantic" title!)
ACCOLAY: Violin Concerto No. 1 in A minor (1868)
The Accolay Concerto in A minor is one of the very first concertos I played when I started practicing violin concertos. This piece is beautiful and fun for students and performers of all ages. It was written with the student in mind but also contains some brilliant sections for the violinist to show off!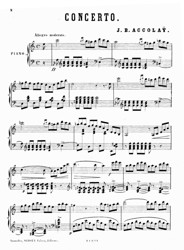 Accolay – Violin Concerto No. 1 in A Minor

Free Violin Sheet Music
BRAHMS: Violin Concerto in D major, Op. 77 (1878)
Johannes Brahms' Violin Concerto in D major is one of the most beautiful and challenging violin concertos written. This piece is typical Brahms and takes the audience on an emotional journey through love, sorrow, and happiness.
BRUCH: Violin Concerto No. 1 in G minor, Op. 26 (1866) & Scottish Fantasy (1880)
Max Bruch's first violin concerto in G minor is the first "big" concerto most students play. The piece is haunting yet filled with lightning virtuosity. Scottish Fantasy is a true piece of art and a great contribution to classical music. Both of these pieces are great, and ones you should definitely know!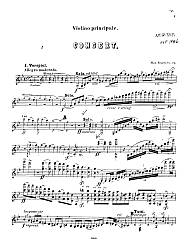 Bruch – Violin Concerto No. 1
Free Violin Sheet Music
LALO: Symphonie Espagnole (1874)
Édouard Lalo, like Saint-Saëns, composed Symphonie Espagnole for composer-virtuoso for Pablo de Sarasate. This piece combines the amazing technical feats of Sarasate with a Spanish twist. The solo violin part plays both "feminine" and "masculine" characters in dialogue with each other, an homage to Sarasate's home country.
MENDELSSOHN: Violin Concerto in E major, Op. 64 (1845)
Felix Mendelssohn's Violin Concerto in E Major opens with one of the most famous violin entrances for solo violin. Many people have loved this concerto since its premiere, and it remains an important piece of the violin repertoire.
RIEDING: Violin Concerto No. 2 in B minor, Op. 35 (1909)
Oskar Rieding, like Accolay and Seitz, kept their students in mind when writing their violin concerto. Featured on Itzhak Perlman's "Concertos from my Childhood", the Violin Concerto No. 2 in B minor is a great combination of virtuosity and singing melodies that hold an important place in the violin repertoire.
If you are a student of Julia's Violin Academy, you can study all three parts of this concerto here: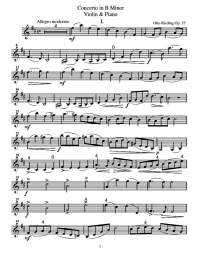 Rieding – Violin Concerto in B minor, Op. 35
Free Violin Sheet Music
SAINT-SAËNS: Violin Concerto No. 3 in B minor, Op. 61 (1880)
Camille Saint-Saëns (1835-1921) dedicated his Violin Concerto No. 3 to composer-virtuoso Pablo de Sarasate. Inspired by Sarasate's virtuosity and brilliance, Saint-Saëns' concerto features Sarasate's famous violin gymnastics combined with his own beautiful French melodies and harmonies.
SEITZ: Violin Concerto No. 2 in G major, Op. 13 (1893)
Friedrich Seitz's Violin Concerto No. 2 in G major is another "student concerto" which is both beautiful and challenging. It was also featured on Itzhak Perlman's "Concertos from my Childhood" and captures the spirit of a challenging violin solo piece that is both Romantic and virtuosic in nature.
SIBELIUS: Violin Concerto in D minor, Op. 47 (1905)
The Violin Concerto in D minor of Jean Sibelius is one of those pieces you'll never forget after listening to it. The solo violin part begins almost distant from the audience and slowly emerges triumphantly until it explodes into musical excitement. This concerto is demanding yet enjoyable to listen to and play.
TCHAIKOVSKY: Violin Concerto in D major, Op. 35 (1878)
Pyotr Ilyich Tchaikovsky's Concerto in D major is perhaps the most famous violin piece aside from Bach's Chaconne. The main melody is sweeter than a pastry, and overall, this piece is regarded as the pinnacle of Romantic music. Lovers of classical music especially love this concerto, and I hope you will too!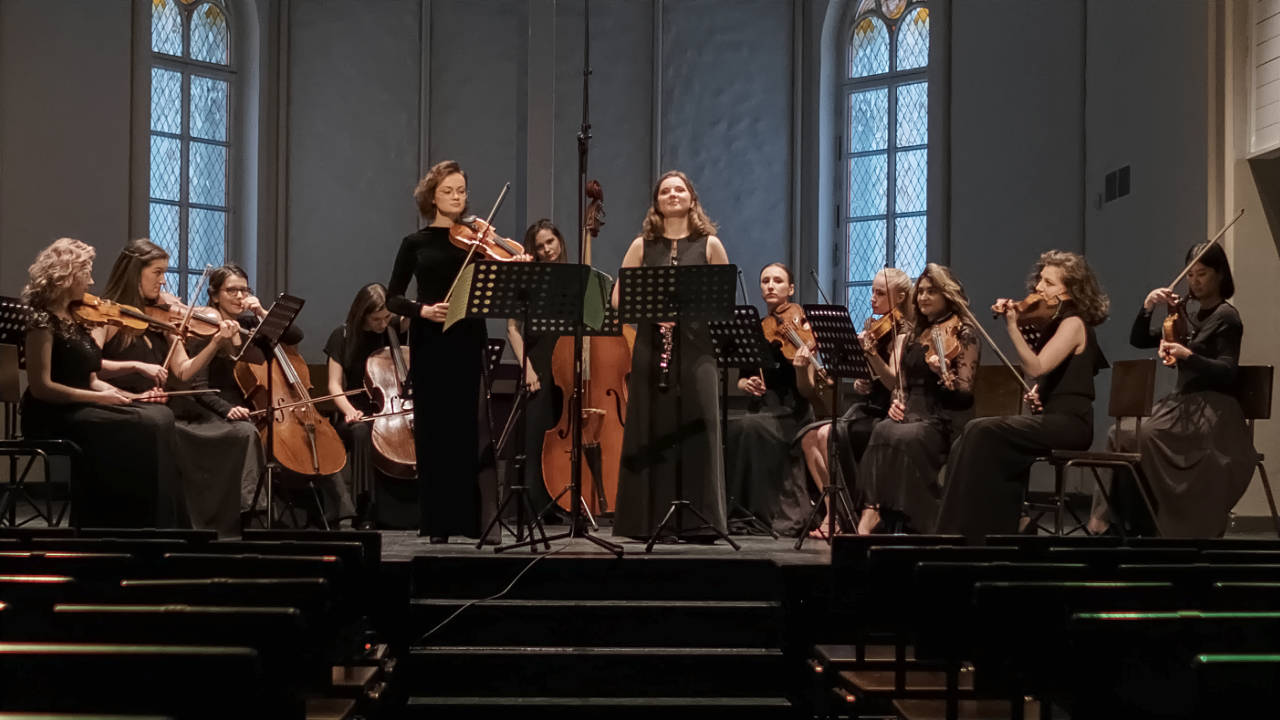 20th Century Concertos:
The 20th century is an extension of the Romantic Era but is noticeably different. The "old way" of writing mattered less and less to composers of this era. They were now concerned with composing pieces of music that they felt were innovative and progressive. Compare these concertos to the earlier pieces and you'll hear a striking difference!
BARBER: Violin Concerto, Op. 14 (1939)
American composer Samuel Barber was paid to compose his Violin Concerto by a rich businessman whose son was a violinist. Barber presented the first two movements of the piece to his patron who complained that the piece was "far too simple." Upon hearing this, Barber quickly wrote the third movement and presented it to the violinist who then complained that the movement was "far too difficult." Barber called on one of the student violinists at his institution who came to sightread to play the movement in front of his patrons, and the rest is history!
BARTÓK: Violin Concerto No. 2 BB 117 (1937-38)
Béla Bartók's Violin Concerto No. 2 is filled with Hungarian melodies and rhythms that are easily recognizable by people from Hungary. This piece is both challenging and exciting and has become an important part of the violin repertoire. Bartók is considered to be one of the most prolific and notable composers of the 19th century whose music is truly sublime.
KORNGOLD: Violin Concerto in D major, Op. 35 (1945)
Erich Korngold has an interesting life story, and his Violin Concerto in D major is a testament to his genius and talent. He was first known as an opera composer before signing an exclusive contract with the Warner Brothers for their films. Eventually, he composed his violin concerto and shook the world. The premiere was a success and has maintained a great stature in the violin repertoire since.
Violin Show Pieces with Orchestra
Violin Show Pieces are pieces that were composed for violinists to show off their capabilities and range of emotional performance. They are often light-hearted and single-movement pieces that impress the audience rather quickly.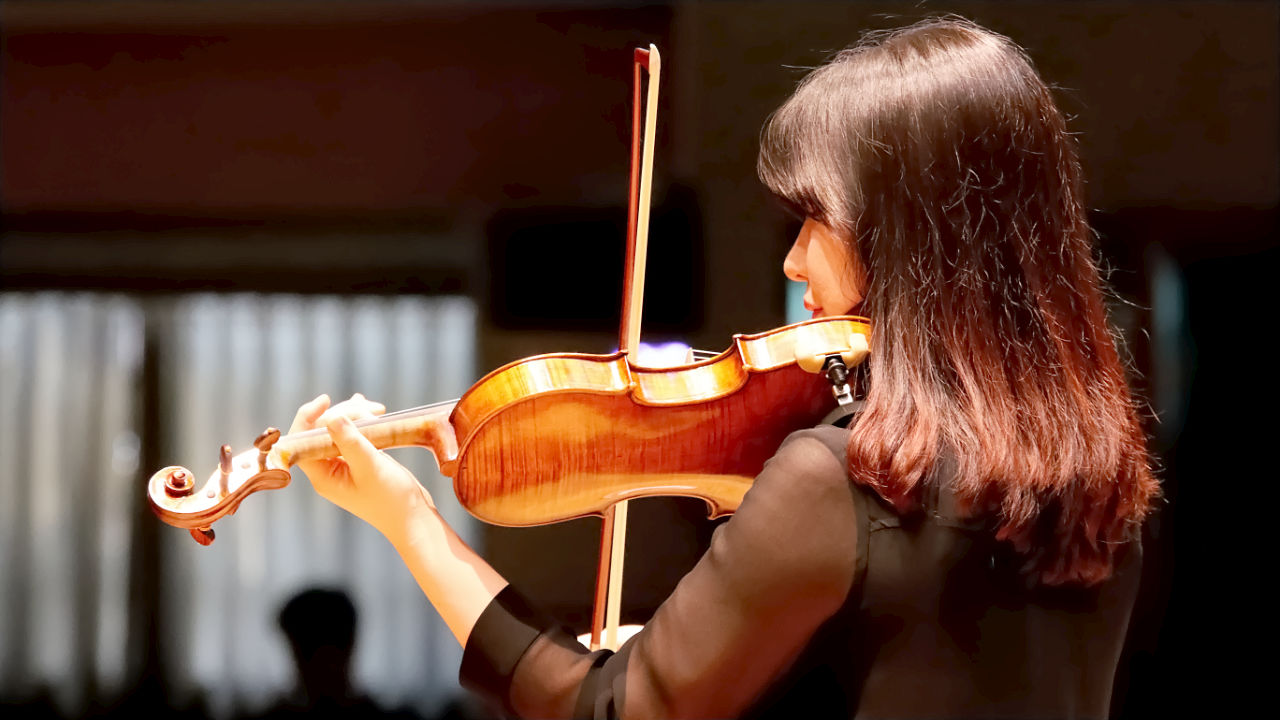 BÉRIOT: Scène de ballet, Op. 100 (1857)
Augustus de Bériot's Scène de ballet is one violin piece that is exciting from beginning to end. This piece will have you smiling from beginning to end! It is a great piece you may want to add to your playlist of solo violin pieces!
Maurice Ravel's Tzigane translates to "Gypsy" and captures the essence of what it means to be a gypsy. Ravel was inspired by France's Gypsys and wrote an exciting and challenging piece to capture their spirits.
SAINT-SAËNS: Introduction et Rondo Capriccioso, Op. 28 (1863)
Introduction et Rondo Capriccioso is what I consider to be the "rockstar" piece for violin solo. I always recommend non-violinists to listen to this piece to hear just how exciting the violin can really be. The solo violin part is playful and seductive in melodies and is one for the rockstars like you!
SARASATE: Zigeunerweisen, Op. 20 (1878)
Zigeunerweisen is another piece inspired by "gypsies" but from the perspective of Pablo de Sarasate. Because Sarasate was a famous traveling violinist, he was able to capture the spirit of the "gypsy" in a very different manner than did Ravel. The violin solo part is written much in a typical virtuosic style and captures the playing style of Sarasate himself. This is another "rockstar" violin piece, I hope you will come to know and love it as much as I do!
SARASATE: Carmen Fantasy, Op. 25 (1882)
Sarasate wrote many famous solo violin pieces, but the Carmen Fantasy is the most famous and challenging of them all. Being a Spaniard as well as a famous violinist, Sarasate arguably was able to emulate Carmen much closer than other composers had.
Pieces for Violin Solo
Compositions for violin solos are often more intimate and require a great level of technical command and endurance. The violinist is in charge of the melody, harmony, and overall musical structure.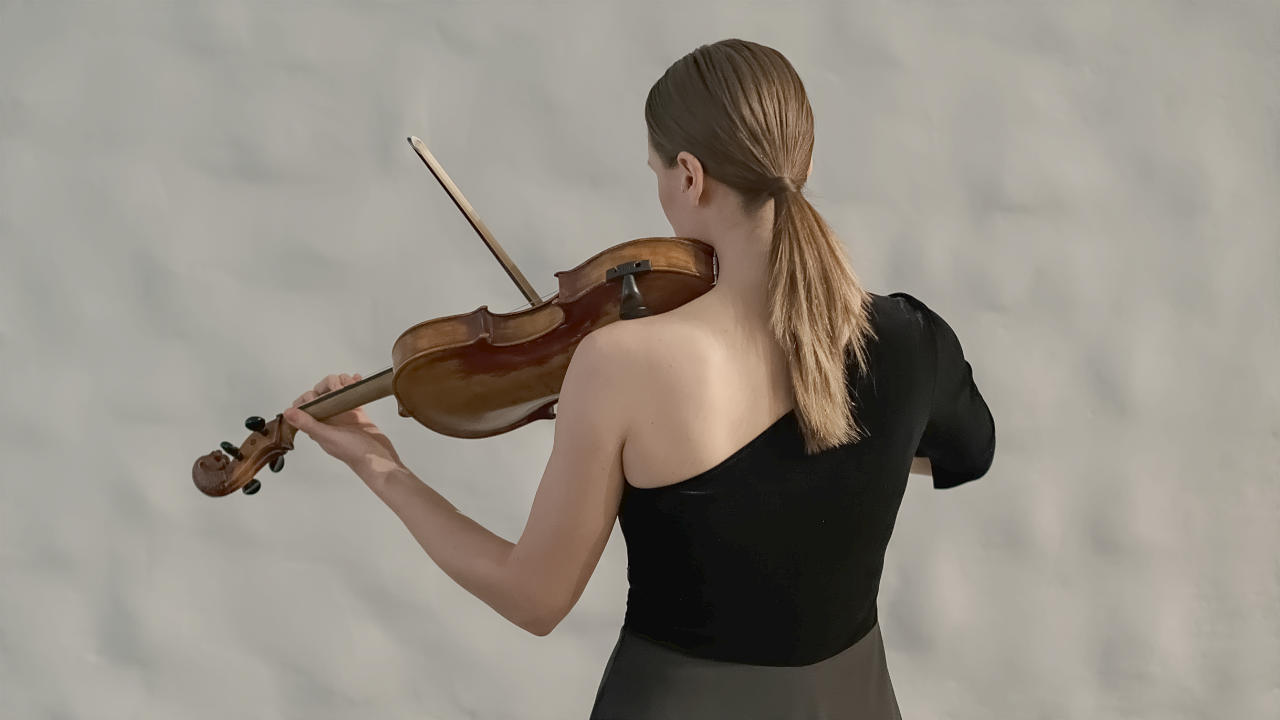 BACH: Chaconne and Prelude from the 6 Sonatas and Partitas for Solo Violin
The Chaconne from Sonata No. 2 in D minor is the single most famous and celebrated violin piece in the history of solo violin music. Although it sounds like two or three violins are playing at all times, this piece is written for a solo violin and takes the listener and player on a religious journey. There is nothing like it.
The Prelude from Partita No. 3 in E major is another of Bach's most well-known pieces for violin solo. It is a fury of sixteenth notes which last for three pages but is neither slow, nor boring, nor repetitive. This Partita is one of three, all of which are loved and performed often.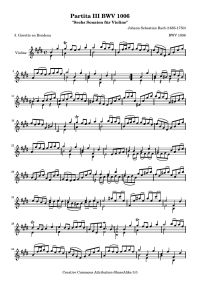 Bach – Violin Partita No. 3 in E major
Free Violin Sheet Music
PAGANINI: Caprice No. 5 & No. 24
Paganini wrote a book of advanced violin studies which he performed and toured with. The 24 Caprices for solo violin are some of the most challenging and exciting short pieces in all of the repertoire. Caprice No. 5 has one of the most famous introductions in all of the caprices and is exciting from beginning to end. Even more famous is Caprice No. 24. The theme from this caprice inspired many composers after Paganini to write their own renditions.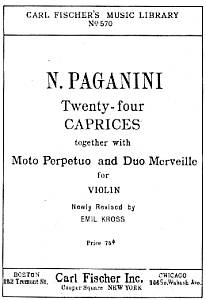 24 Caprices by Paganini
Free Violin Sheet Music
YSAŸE: Sonatas No. 2 & 3 for Solo Violin, Op. 27
Eugène Ysaÿe's Violin Sonata No. 2 is titled "Obsession" and begins with the same theme as the Prelude from Bach's Prelude E major. It was inspired by his friends' Obsession with Bach but takes a modern violinists' twist on the violin solo found in Bach's E major Prelude.
Violin Sonata #3 in D minor is titled "Ballade" and is a challenging and lyrical piece. Written for solo violin, it is emblematic of Bach with a modern take.
Violin with Piano
The violin and piano are basically best friends and love to play with one another. The piano supports the violin, and the violin supports the piano. Combined, the two instruments create an intimate and powerful duo!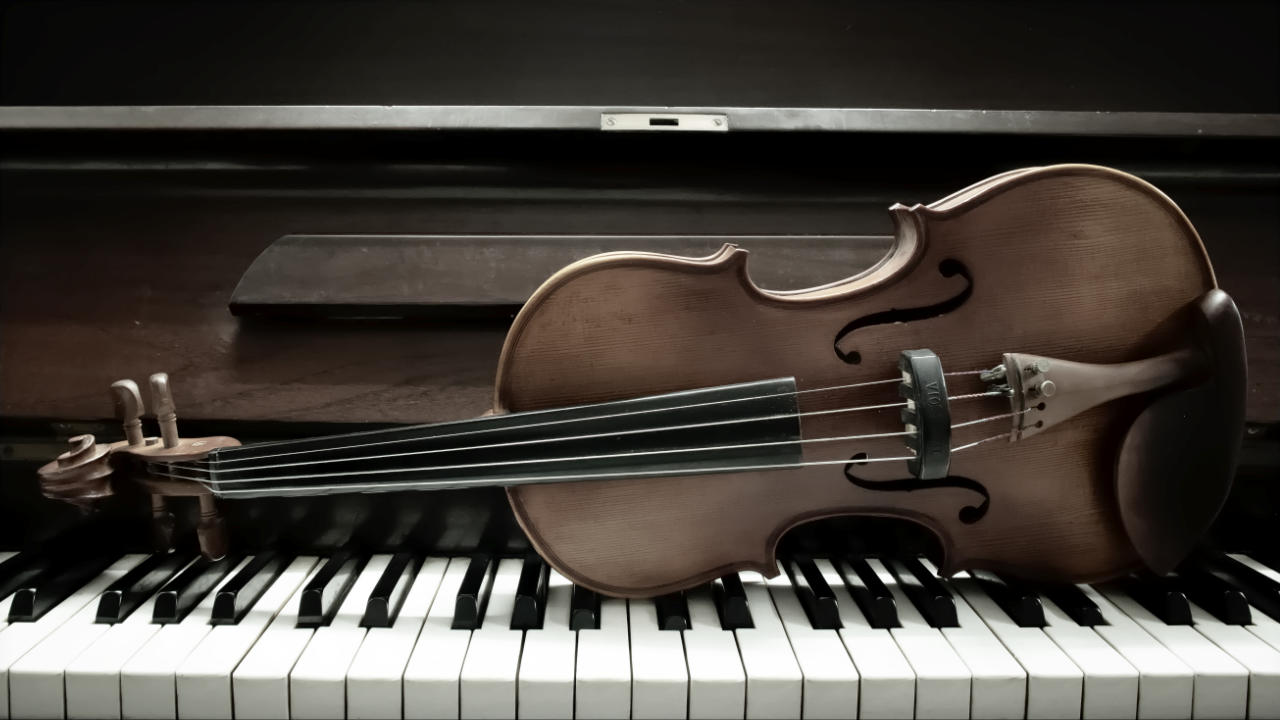 BRAHMS: Violin Sonata No. 1 in G major, Op. 78 and Violin Sonata No. 3 in D minor, Op. 108
These sonatas written for the violin and piano are some of the most loved. They are beautiful, Vienesse, and challenging all-in-one. They are both masterworks and pieces worth learning to play and listen to.
BEETHOVEN: Violin Sonata No. 9 in A Major, Op. 47 "Kreuzter"
Beethoven sonatas written for the violin and piano are quite important in classical music. Sonata No. 9 was written for violinist Rudolphe Kreutzer who, ironically, never performed the difficult piece.
SAINT- SAËNS: "The Swan" from The Carnival of the Animals
Written in 1886, this piece is one of the fourteen animals which Saint-Saens composed into musical form! The animal of the Swan is elegant and moves with great poise. Originally composed for the cello, Saint-Saëns' melody for the Swan is one of the most recognized melodies and sounds just as beautiful and elegant on the violin.
Famous Violin Pieces for Special Occasions
Hands down, the three most famous violin pieces for special occasions like weddings are:
Pachelbel's Canon in D major
Pachelbel's Canon in D
Free Violin Sheet Music
Massenet's Méditation from "Thaïs", and…
Famous Pop-Music With Violin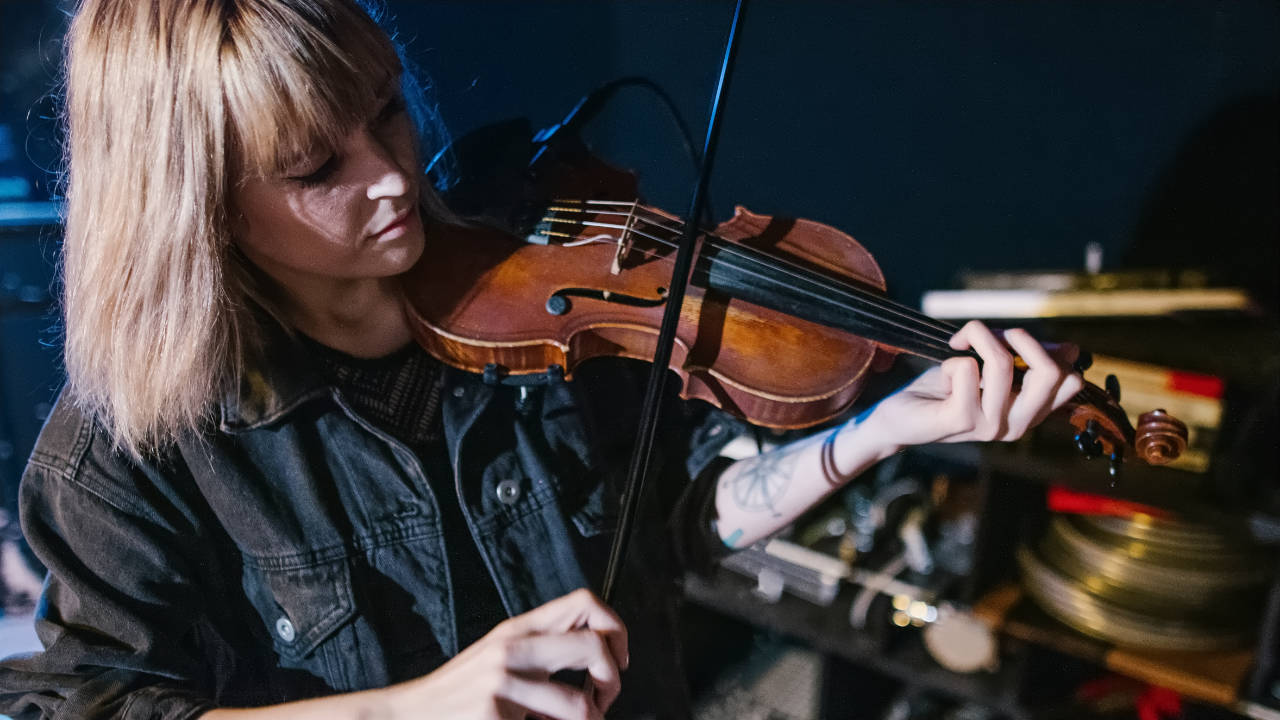 Final Note
This list is exhaustive but filled with music from around the world, and from many different times in our history. When you have a moment, listen to any one of these pieces. Soon enough, you will find yourself more inspired and more in love with the violin before you started reading!