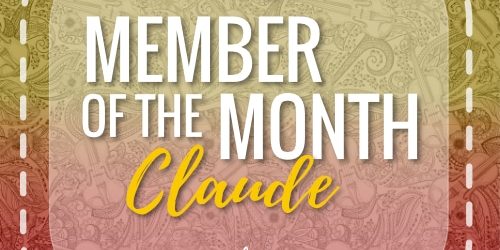 https://violinspiration.com/wp-content/uploads/2019/11/online-violin-lessons-member-of-the-month-2.jpg
Each month, we feature one of the amazing members of Julia's Violin Academy and ask them questions about how they got to learn to play the violin as an adult. This week, we are interviewing our inspiring member Claude who started to play the violin in his sixties. Not only he has he been inspiring us with his consistent and structured daily practice schedule – but also he developed our inTune application: an application which tells you if you are playing in tune, that has helped many members to improve their intonation.
Click here to download the application inTune
(members only)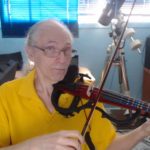 Claude
Started his violin journey his 60's
We asked Claude a few questions about his violin journey. ✨
---
In which country do you live?
I live in Canada.
On which violin do you play? (brand / maker and / or name of your violin)
My latest violin is a Yamaha YSV104 electric violin I also have a Cecilio CVN-600 acoustic violin.
Current favorite piece to play:
Meditation by Thais, I can only play a very small portion of it but Its a very beautiful piece to play.
In which age-range did you get started playing?
60's
Current piece you are working on:
Lied Ohne Worte from the improver level 2 of Julia's Violin Academy, and also Gavotte from Suzuki book one.
Favourite Violinist?
It is difficult to name just one, so I would like to name 2, Hilary Hahn and Andre Rieu.
What motivated you to start playing the violin?
I always liked the sound of violin, it is so expressive almost like a human voice, but until recently I did not really have the time to spend to learn such a difficult instrument to play until I retired than I tried all kinds of things I did not have time to do before.
I learned how to fly a helicopter with the great software Xplane, for those who have never tried flying a helicopter it is being described as try to balance a ball on your finger tip. So after a year of practice I managed to get the hang of it, and I can now land on aircraft carrier or helipad on top of building.
So I thought that if could learn that I should be able to learn how to play the violin. So here I am now in my second year of practice….
Can you tell us about what helps you make consistent progress?
The obvious answer to this one is that I used InTune software to improve my intonation for practically every practice session. And I also found that stressing when hitting a difficult section is not only unnecessary but counterproductive. So I try to relax and tell myself that it will just take longer and that there is no time limit to learn so I just try to relax and some times I just stop and restart a little later if I feel some frustration.
What have been your biggest challenges so far with learning the violin?
I would say its my fourth finger, having a medical problem with it prevents me from using more often than I would like. Intonation is also a continuous challenge, followed by controlling the bow to get a good tone.
How do you keep motivated through difficult times?
First I try to play some pieces that I already know, it gives me a feeling that I have already accomplished some thing. Some times I stop doing exercises for a few days and only play some pieces and some times I play by ear some popular songs too, and lastly attending practice session helps staying motivated.
What do you love about playing the violin? 
When I can play something nicely it gives me a feeling of accomplishment, and I like to think that I can do something that most people cannot do. It's also something that I can do on by myself at my own rate and without feeling pressure. When I used to work we were continuously under pressure to do things faster all the time, so It pleases me to do something immensely difficult slowly and to feel that I am getting better every day that I play the violin, even if some times I feel like I am struggling to play something, it is part of the learning process. And once you go over the hurdle if feels so good. There is also the fact that the violin allows one to put so much feeling into the music, even thought I sill cannot do much when it comes to this, when I hear some piece played by professional violinist I can't help noticing how much different it can sound depending on who's playing it.
If I could go back in time to when I started playing the violin I would tell myself…
The best advice is to go very slowly, rushing only causes you to make more errors and will lead to frustration. Patrice daily, and with as much concentration on what you are trying to accomplish as you can possibly achieve. Don't try to do too many things at once you cannot concentrate on 10 things at the same time….
____
Next Saturday, Claude will give a LIVE class in Julia's Violin Academy to show how to install his software "inTune" and how you can make use of the various features to improve your intonation & the focus of your practice sessions
Live Instruction to InTune with Claude
⏰November 16 @ 8:00 pm – 9:00 pm CET
>> Click here to find out more and join Claude's live class