Amazing Grace violin sheet music is easy to find, but today, I'm sharing my own PDF version with you, along with tips to help you learn it quickly!
The song Amazing Grace is a traditional tune played at church services, funerals, and other events. It's played all over the world and has a long, interesting history.
Free Violin Sheet Music
Here is my Amazing Grace sheet music for violin. Download the free sheet music pdf right here so you can start practicing!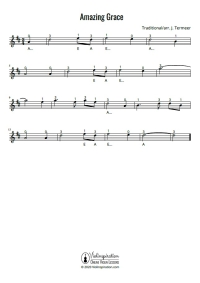 Amazing Grace Video Example
Before you start practicing, please listen to my video example to hear what the end result should sound like.
How to Play Amazing Grace on the Violin
Amazing Grace isn't too difficult to learn, but there are a few techniques you'll need to master in order to give the song a beautiful sound.
My arrangement of Amazing Grace for the violin is in the key of D Major. To play the song with more ease, you can practice the D Major scale and arpeggio first. You can download it below!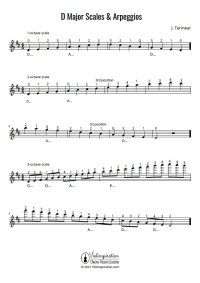 D Major Scales, Arpeggios
and a Bonus Exercise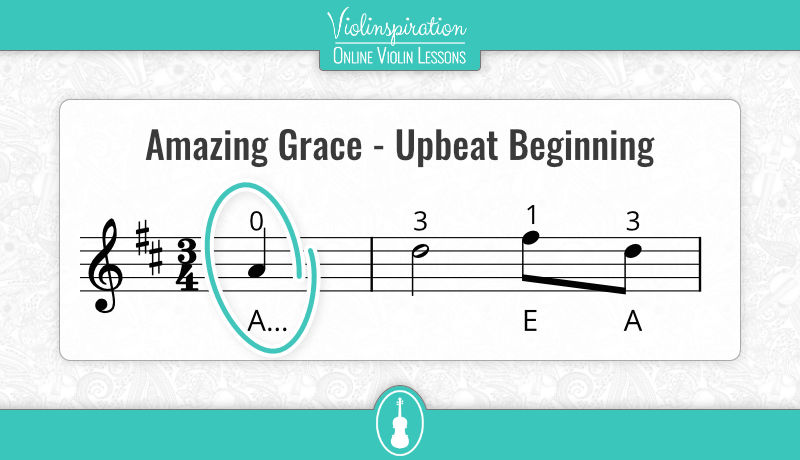 The song starts on an upbeat, which is a weak beat. The first note should start quietly, leading into the second note, which is beat one of the first full measure. Beat one should sound strong and confident.
To give the second note an accent, play the first note (also called the upbeat or pickup) up bow. The down bow on the second note will give it a natural accent.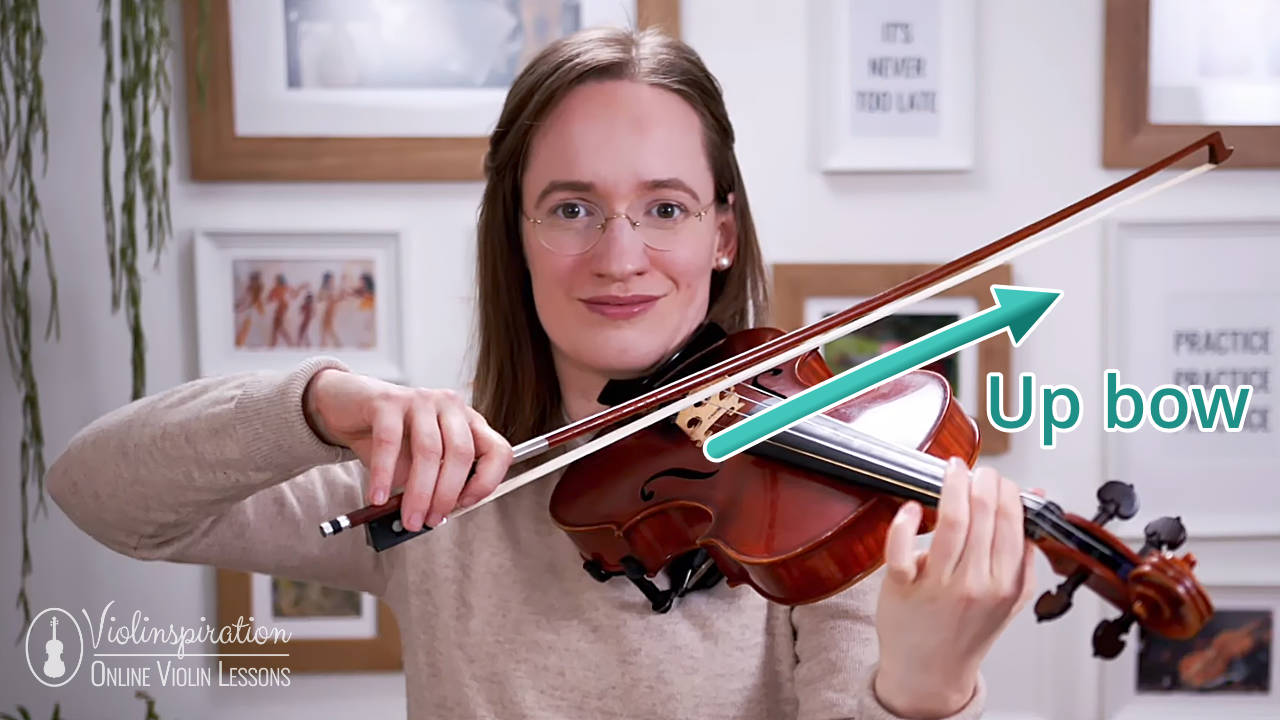 Playing Long Notes
In measures 7-8, we play a very long A on the E string. To play this long note, you'll need to save the bow and move your arm slowly to not run out of the bow. The problem is, if you move your arm slowly, you'll hear a bad creaking sound. We have to find a good balance between moving the bow too fast to play the entire note, and too slow to get a bad sound.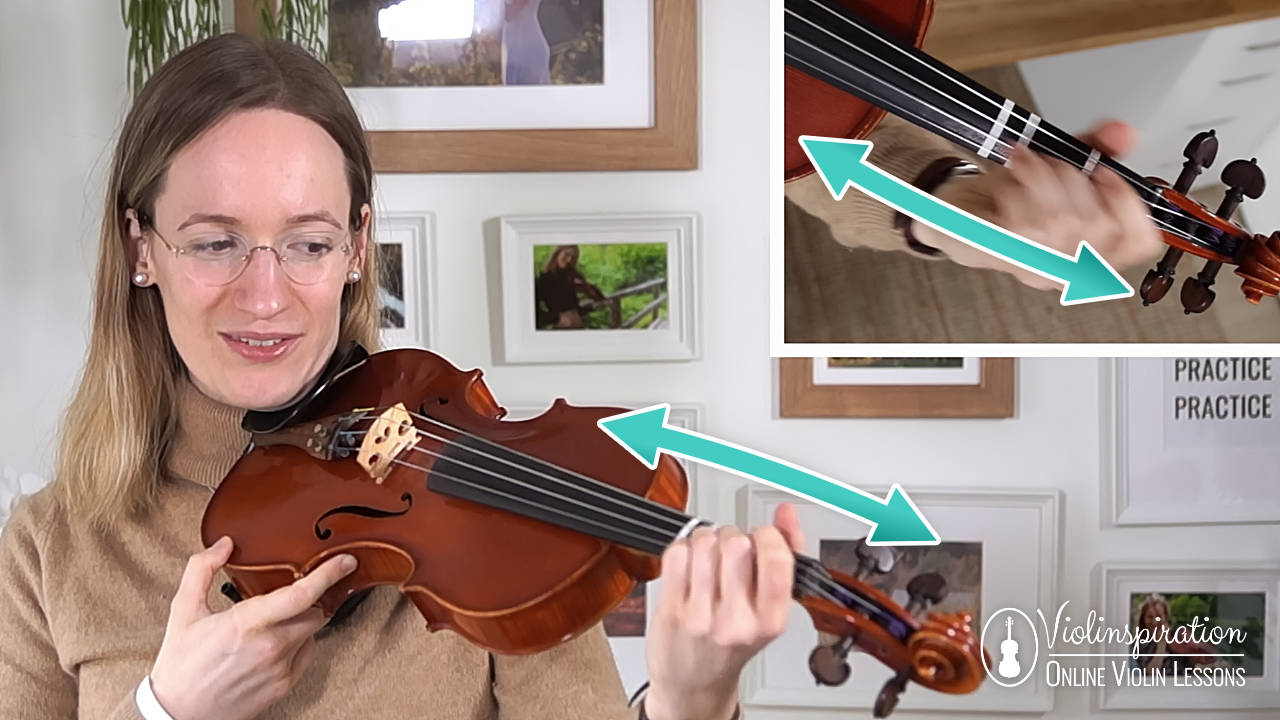 If playing this song feels easy and you've mastered the beginning nuances and the long notes, you might want to add some vibrato! If you don't know, vibrato is when we bend the pitch of a note for an expressive effect.
If you've never played with vibrato before, check out my course "Unlock Your Vibrato" or read my article How to do Vibrato on the Violin – Easy Guide. This technique is best for intermediate-level violin players.
Adding vibrato to Amazing Grace on the violin will add the beautiful, longing expression that we love to hear in this tune. It'll sound so lovely!
Make it Sound Fancy
If you'd like to make the song Amazing Grace sound fancy, you can add a few ornaments. Watch the full explanation in the video below.
If you're new to Irish ornaments mentioned in the video, double stops, and chords, make sure to have a look at the following resources:
Practice Amazing Grace with my Play-Along Videos
A great way to practice Amazing Grace (or any other piece) is to play it along with a recording. Here are my two play-alongs, slow and fast, so you can choose the speed you prefer.
The Origin of Amazing Grace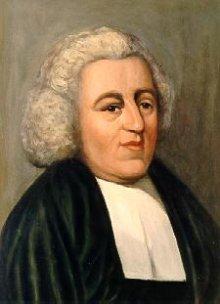 English poet and clergyman John Newton wrote the words of Amazing Grace in 1772 for a New Year's Day service in 1773. At this point, there probably wasn't music accompanying the words, because the hymn was published in 1779.
Amazing Grace gained popularity in the United States, but the music sounded completely different. It wasn't until 1835 that the American composer William Walker set the hymn to a tune known as "New Britain." This is the tune we know now.
The song has been recorded by numerous popular artists like Elvis, Johnny Cash, and Aretha Franklin. It's estimated that the song is performed 10 million times each year!
Conclusion
If you'd like to practice Amazing Grace with my play-alongs, you can go to:
I hope you enjoy learning this tune! Please download my free sheet music for violin before you get started. Happy practicing!