If you just began playing violin, you probably want to start playing some easy violin songs!
Easy violin songs are perfect for beginners because they are quickly learnable and extremely fun. You also feel like a master quickly because you have accomplished a great task and can now perform for others. Many of these songs come with violin sheet music so feel free to download them and start practicing right away.
The Ultimate Compilation of Easy Violin Songs
Violin songs for beginners can often feel too easy or boring. I hope categorizing them by pop culture, film scores, Celtic fiddle music, the classical genre, and traditional violin pieces will make things more interesting as you choose what to work on. These beginner violin songs start off extremely easy, using on three fingers and getting more challenging as the list goes down. If you want to play these songs but don't know how yet, don't fret. I will teach you how to play them on the violin with video tutorials, play-alongs, and free violin sheet music. Let's start!
Easy Songs Everyone Knows – Popular Songs
Violin songs from this category are great because practically anyone will recognize these tunes. Also, they will likely be easier to play as you have either heard or sung these songs so many times in your life that they are stuck in your head. These tunes are all in major keys; the songs go in order from easiest to the most complex (but still very doable for a beginner!).
1. Hot Cross Buns
If you have ever taken a beginner music class in elementary school, you likely learned this as your first song. The lyrics are "hot cross buns, hot cross buns, one a penny, two a penny, hot cross buns." Did you sing those lyrics in your head with notes? This is a great starting point for a beginner since it uses three notes. Try to get these three notes in tune as best you can so you build a strong foundation of intonation here.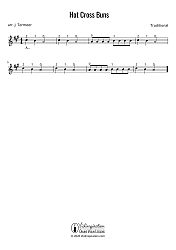 Hot Cross Buns
Free Violin Sheet Music
2. When the Saints Go Marching In
When the Saints Go Marching In (or Oh When the Saints) is another great beginner violin piece because everyone knows how it goes. It is actually very easy for beginners because it uses only five notes. In addition to playing more notes now, you can start this up bow and practice bowings. You will want to use a slow bow on the long notes. Since it is a march, the other notes should be quick and zippy to show energy.
You can download The Ultimate Songbook for Beginner Violinists below which contains the easy version of Oh When the Saints. If you feel you're ready for a challenge, check out the video and practice this song with me in the third position!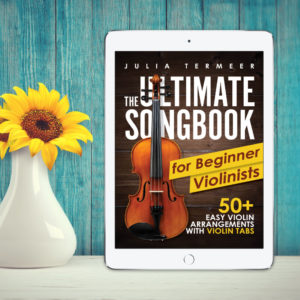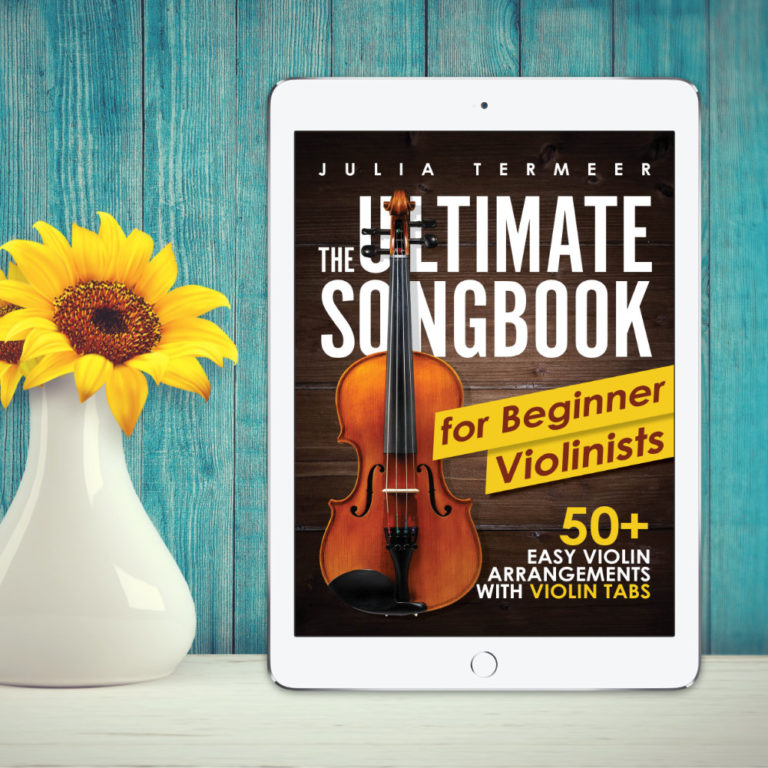 The Ultimate Songbook for Beginner Violinists
by Julia Termeer
3. Happy Birthday
Happy Birthday is a classic popular song that you will no doubt have heard at least a hundred times in your life. Learning to play this will likely be easy because you know exactly how the tune goes. The notes are super easy because they are all within a one-octave scale. Performing this song is the perfect gift for someone you care about. One way to make this song a little fancier is to play around with the timing of the phrases.
Click here to watch my easy video tutorial, slow, and fast play-along in the Video Lessons library.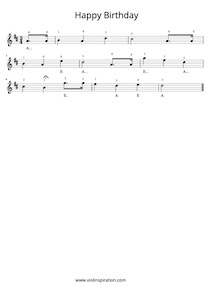 Happy Birthday
Free Violin Sheet Music
4. For He's a Jolly Good Fellow
This Western folk song is a popular song that does not require a high level of skill. It starts on an up bow, so place your bow in the middle and move it towards the sky. The first two lines repeat so once you have learned them, you know a large chunk of the piece. Below you can download the free violin score with easy tabs.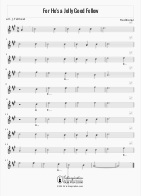 For He's A Jolly Good Fellow
Free Violin Sheet Music
Amazing Grace is a beautiful hymn that is highly requested at churches, religious ceremonies (like a wedding) but is surprisingly easy to play. It is a little more intricate than these earlier mentioned songs but it is definitely doable for beginners. Learning this song might bring tears to your eyes and to your audience.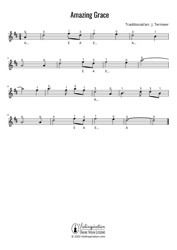 Amazing Grace
Free Violin Sheet Music
6. La Bamba
La Bamba is a Mexican folk tune that is extremely popular and fun to learn. It is a great song to introduce fancier rhythms because the melody is not as straight-cut as other popular songs. The rhythm should be precise and dance-like. It includes triplet and tuplet groupings, which make it a bit more challenging!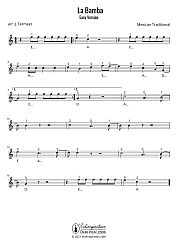 La Bamba
Violin Sheet Music
7. Jingle Bells
It's never too early to start learning Jingle Bells! This go-to Christmas tune is one that everyone knows and enjoys, regardless of religious affiliation. It brings instant cheer and joy to those around you. It is easy to learn and is fun for both the violinist and the audience.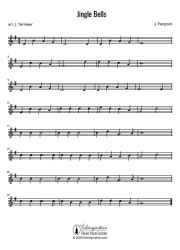 Jingle Bells
Free Violin Sheet Music
Easy Film Music Songs
A powerful music soundtrack can bring a film to life – think of how iconic the music from Star Wars, Pirates of the Caribbean, Harry Potter, and Up are. As soon as you hear those tracks, you are transported into the movie. As I help you learn these easy violin songs from films, think about what context they were written for and see if you can capture that spirit.
8. Star Wars
The Star Wars main theme is an iconic tune that almost everyone will recognize immediately. This is a classic song to learn if you want to dive into film scores. It is very tonal and is written in a major key, which makes it easier for beginners. Practice it slowly and as you work up to speed, you can even try to play along with the original track!
9. Somewhere Over the Rainbow from Wizard of Oz
Somewhere Over the Rainbow is a beautiful classic song from the movie "Wizard of Oz." For students, this can be a great place to start because it is lyrical. Try to aim for smooth, long-bow changes.
If you have started learning vibrato, this is a great place to add it! Otherwise, you can check out my course over here.
10. Married Life from Up
Up is an emotional story about relationships in life. The music from this movie is extremely heartfelt, emotional, and nostalgic. When playing this violin song, try to differentiate the long notes from the shorter eighth notes. Try to really capture the jazzy waltz character of this theme.
11. Let It Go from Frozen
Especially if you have young children, you have probably heard "Let it Go" a million times. This will definitely give you an advantage as you learn to play this song on the violin. The violin music for this is not public domain, but I hope watching this tutorial will give you directions to learn it and play alongside me. Make sure your sound is nice and open, which should mimic a strong singer.
Easy Celtic Folk Violin Songs
Surprisingly, there are many easy violin songs that are written as Celtic folk songs. Some of these will encourage you to fiddle, while others are more traditionally for violins. The easiest songs are Danny Boy and The Ash Grove, which are also very popular in this genre.
12. Danny Boy
Danny Boy is an extremely popular ballad written in 1910 that is set to a traditional Irish melody. It has even been considered an unofficial anthem by Irish Americans and Irish Canadians. The song has incredible power and should be played as such. This song has a medium range, so it can be difficult to master but build your skills slowly by letting your ear guide you.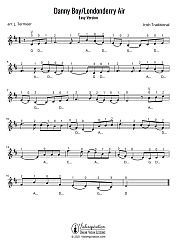 Danny Boy
Free Violin Sheet Music
13. The Ash Grove
The Ash Grove is a beautiful traditional Welsh song that is not too difficult. The lyrics are expressive and the melody is memorable enough to learn it by ear or by reading from the violin sheet music.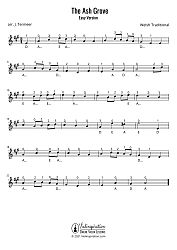 The Ash Grove
Free Violin Sheet Music
Easy Classical Violin Songs
There are so many beautiful pieces from the classical music genre! Many of these pieces are much too difficult for beginner violinists and that can sometimes be upsetting. The songs I have compiled here are arranged for beginners so you will be able to play them on the violin without too much of a hassle.
14. Ode to Joy
Ode to Joy comes from a famous music piece called Beethoven's Symphony No. 9. It is a symphony about peace, where this tune represents the triumph of unity. This song is relatively easy to play because the notes are all in a major key, the fingering and the bow stroke are very basic. Try to keep straight bows while playing this piece.
Click here to access the explanation video and two play-alongs, slow and fast. Enjoy!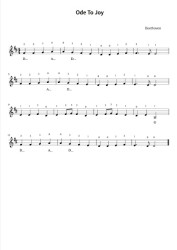 Ode to Joy – Beethoven
Free Violin Sheet Music
15. Vivaldi's Four Seasons
Vivaldi's Four Seasons is a group of four violin concertos that musically represent each season. The most famous concerto is "Spring." This movement captures the fresh blooms of the season and the music represents this by being upbeat, in a major key, and light. When you play the violin, you want to try to bring the music alive. Can you hear the birds chirping in the opening? Try lighter, quicker bows to capture the mood.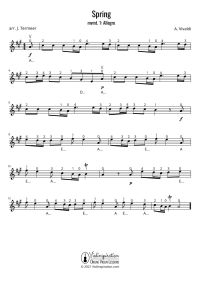 Spring, mvmt. 1: Allegro by A. Vivaldi
Free Violin Sheet Music
16. Dance of the Sugar Plum Fairy
This challenging classical piece is from Tchaikovsky's ballet "The Nutcracker." This piece is especially popular for Christmas, so now is the perfect time to start learning it! Some of the rhythms and harmonies can be tricky to get in tune, but go slowly and try to capture the magic of the piece. Remember that because it is from a ballet, you will want to play it as if ballet dancers could dance along with you.
Dance of the Sugar Plum Fairy
by P. I. Tchaikovsky
Free Violin Sheet Music
Easy Traditional Violin Songs
Some of the easiest songs to play can be traditional songs. These are songs that most beginners start with and are songs to learn the basics. If you start with the Suzuki method, you will recognize some of these.
17. Twinkle Twinkle Little Star
If you are a Suzuki violinist, you will know the Twinkle variations extremely well! Twinkle Twinkle Little Star is a song everyone knows and is how we learn the basics of violin playing. It teaches us rhythms, basic left-hand shape and intonation, and bow hand mechanics. Aim to play the theme of Twinkle with lots of bow and sound. You want it to mimic the human voice.
Are you long after working on Twinkle? How about trying it in the third position? Below is the intermediate version of the sheet music, and you'll find a tutorial on this link.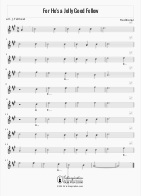 Twinkle Twinkle Little Star – Intermediate Version
Free Violin Sheet Music
18. Mary Had a Little Lamb
Mary Had a Little Lamb is another easy violin piece. With only four notes in total, it can be a great skills-building song. Each finger should be light and feel free of tension. You want to play the violin melody like a lullaby that would put a baby to sleep.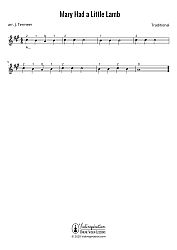 Mary Had a Little Lamb
Free Violin Sheet Music
19. Lullaby
Speaking of lullabies, did you know that the famous lullaby that people sing to their babies to get them to go to sleep is actually a melody written by Brahms? It is in D major and is relatively easy even for novices in violin playing. Try to keep your bow changes even and smooth to really get it to sing.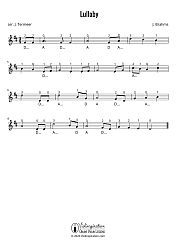 Lullaby – J. Brahms
Free Violin Sheet Music
20. Wedding March
The Wedding March is a fun song to learn that will strengthen your rhythmic understanding. It is a very popular piece and is often even performed by musicians at weddings or special ceremonies. You might even hear it at graduation. People will be very impressed by your playing abilities once you learn how to play this song.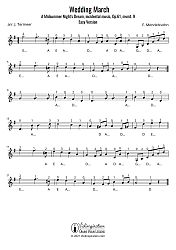 Wedding March by Mendelssohn

Free Violin Sheet Music