When learning the violin, it's important to listen to the great and famous violinists. The recordings made by the masters will teach you so much! Of course, the virtuoso players from long ago weren't able to create recordings, but it's still a good idea to learn their names and accomplishments.
Continue reading to learn about the most famous violinists grouped by their time periods.
Who Are the Top 10 Violinists?
Antonio Vivaldi
Niccolo Paganini
Pablo de Sarasate
Euguène Ysaÿe
Fritz Kreisler
Jascha Heifetz
David Oistrakh
Yehudi Menuhin
Itzhak Perlman
Hilary Hahn
Since there have been so many talented violinists from early eras of music to now, choosing just ten to focus on today was very difficult. Because of this, I'm also sharing bullet-point lists of other fantastic virtuosos from each period of music. Consider doing your own research on them!
Continue reading to learn more about the most famous violinists of all time.
Famous Violinists from the Baroque Era
Antonio Vivaldi (1678-1741)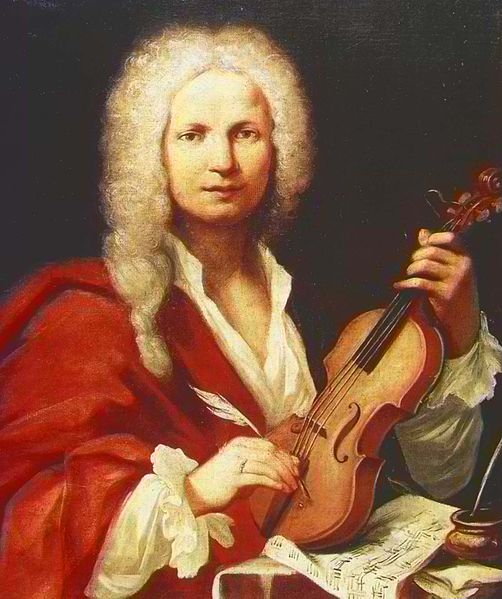 Antonio Vivaldi was an Italian composer and violinist who helped shape classical music and the way in which most play the violin today. He was born in 1678 and trained on the violin from a young age by his father, who was a professional violinist himself. Vivaldi was lucky enough to meet many fine composers and musicians in Venice at the time, he also had the opportunity to learn from them.
Vivaldi was not only a well-known musician but also a priest. Although he was committed to his vocation, he has withdrawn from liturgical duties due to his health problems.
Many of his major works were composed while Vivaldi held the position of master of violin at the Ospedaledella Pietà and was later promoted to musical director after his success in leading the orchestra there to international fame. Vivaldi is widely renowned for his Baroque-style concertos, which are still used by many studying the violin for technical training.
You can learn an easy version of Vivaldi's Spring with my tutorial over here and download your copy of sheet music here: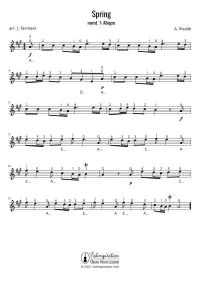 Spring, mvmt. 1: Allegro by A. Vivaldi
Other great Baroque violinist:
Giuseppe Tartini (1692-1770)
Famous Violinists from the Classical Era
Joseph Haydn (1732-1809)
Leopold Mozart (1719-1787)
Rudolphe Kreutzer (1766-1831)
Famous Violinists from the Romantic Era
Niccolo Paganini (1782-1840)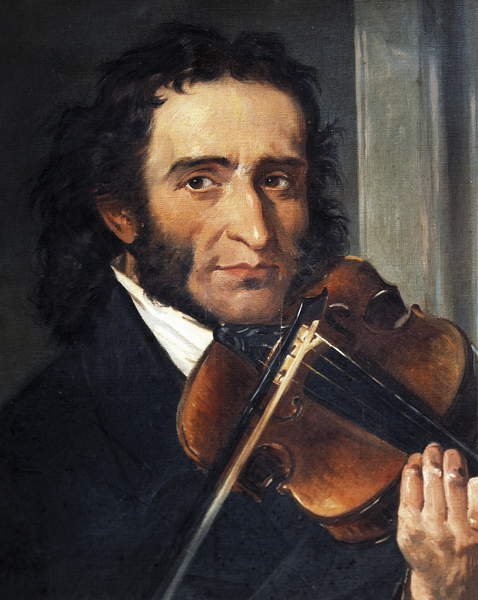 Paganini was the most famous violinist-composer of the Late-Classical/Early-Romantic period. His technique was so advanced, only he could play the most he wrote for the violin during his time.
During Paganini's life, people widely believed that the performer had made a deal with the devil to acquire his flawless technique. In reality, he practiced anywhere from 12-15 hours a day!
In this period of time, violins did not have chinrests, so Paganini played without one. This meant that his left hand held up the violin, and he played with his left elbow resting against his body.
His advanced style of playing was the driver for many "modern" techniques, like ricochet (bouncing) bowing, left hand pizzicato, and artificial harmonics.
His fame came late – it wasn't until he was 45 years old that he began performing concerts outside his home country of Italy! He toured throughout Europe wowing audiences with his incredibly fast, impeccable playing.
Paganini wrote 24 Caprices for Violin, which are now used for incredibly advanced violinists to hone their technique. You can check for yourself the level of difficulty by downloading the sheet music below.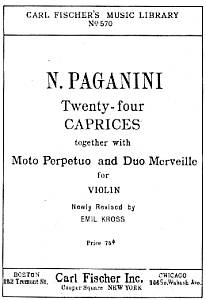 24 Caprices by Paganini
Free Violin Sheet Music
Since Paganini died in 1840, he was unable to make recordings. You can instead listen to Itzhak Perlman play his 24 Caprices! Listen to the way Paganini wrote ricochet bowings, very fast notes, and left hand pizzicato.
Pablo de Sarasate (1844-1908)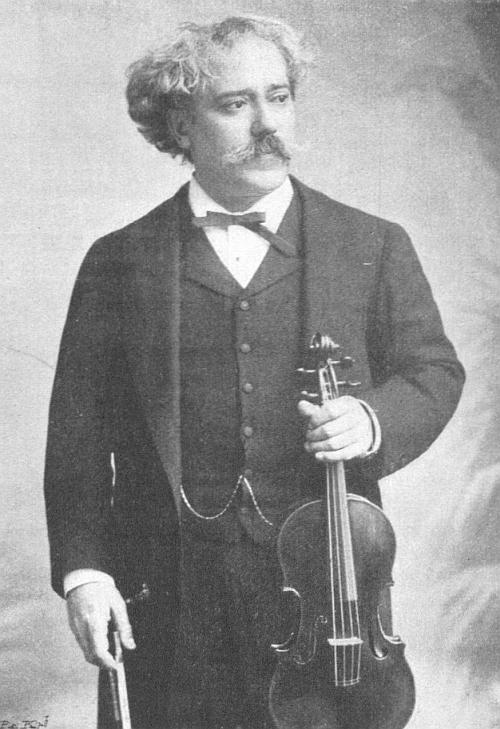 Pablo de Sarasate was born in Pamplona, Navarre, and started studying at the Paris Conservatoire at age 12. In 1859, he began a world tour that lasted almost 30 years.
Both a violinist and composer, he performed opera fantasies that he arranged for himself. His most famous work, Zigeunerweisen, was written for violin and orchestra.
His playing inspired a number of dedications from other composers. Wieniawski's Violin Concerto No. 2, Lalo's Symphonie Espagnole, and Bruch's Scottish Fantasy were all dedicated to him.
His playing was very virtuosic with a Spanish flair. His compositions and performance style paved the way for other famous violinists Kreisler and Heifetz, who we'll talk about soon.
Sarasate lived before the era of recordings, but instead, we can listen to Carmen Fantasy, one of his most famous opera arrangements for violin and orchestra. The piece was originally written for Sarasate himself to perform, but many violinists perform it today. It's even been arranged for other instruments!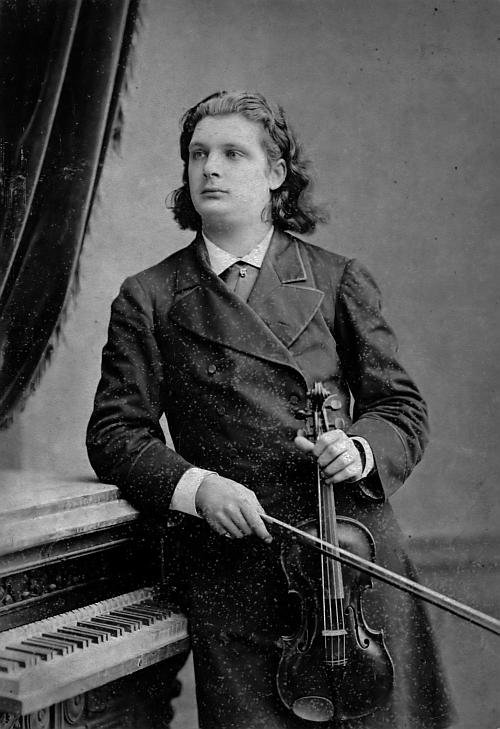 Belgian-born Eugène Ysaÿe began studying the violin from his father when he was five years old. He then went on to study with Wieniawski and Vieuxtemps, two other great musicians of the time.
As an adult, he played in the orchestra that would later become the Berlin Philharmonic and taught at Brussels Conservatory for the majority of his career. He toured with notable performers of his time, and many violin works were dedicated to him.
In 1886, he formed the Ysaÿe Quartet and premiered Debussy's String Quartet. As he grew older and his health deteriorated, he conducted orchestras more than he played the violin.
Ysaÿe also wrote music for violin! Take a listen to one of today's violin stars performing his Sonata No. 3. Notice how high the musician has to play on the fingerboard, and all the double stops he has to play in a row!
Other great romantic violinists
Charles Auguste de Bériot (1802-1870)
Jakob Dont (1815-1880)
Henri Vieuxtemps (1820-1881)
Henryk Wieniawski (1835-1880)
Joseph Joachim (1831-1907)
Leopold Auer (1845-1930)
Famous Violinists in the 20th Century
Fritz Kreisler (1875-1962)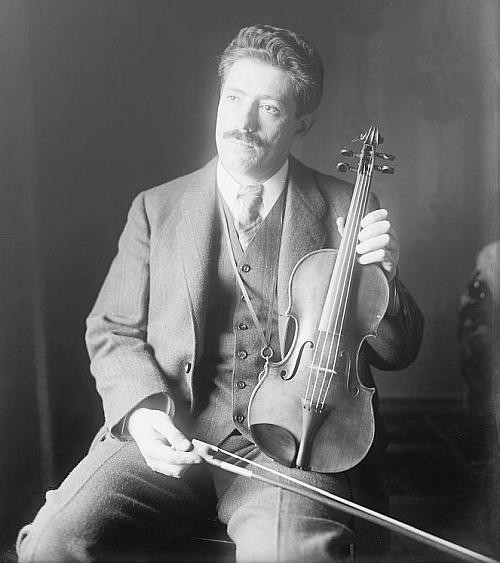 Fritz Kreisler was born in Vienna and studied at the Vienna Conservatory with big names Anton Bruckner and Jakob Dont. He toured the United States from 1888-1889, but when he was rejected at an audition for the Vienna Philharmonic, he decided to study medicine instead and joined the army.
In 1899, he returned to his career as a violinist through a concert with the Berlin Philharmonic, and he toured the US again from 1901-1903. In 1910, he commissioned Edward Elgar to write a Violin Concerto, and he premiered it.
Dedicated to his country, he fought in the trenches of World War I and wrote a short memoir about it
Both a violinist and composer, he wrote over 60 pieces for the instrument!
His playing was very warm, and he used vibrato even in the fast passages – a technique that hadn't really been done before. His style was less about perfect technique, but instead vibrato, rubato, and portamenti (audible shifts and slides). He played with a tight bow, and most of his bow changes were accented.
In 1941, Kreisler was hit by a truck in New York City and spent a few weeks in a coma. Luckily, he was still able to play the violin afterward and even made a few recordings.
Listen to Kreisler performing Liebesleid, one of his most famous pieces. This video shares two recordings made 12 years apart. What differences do you notice in his performances?
Jascha Heifetz (1901-1987)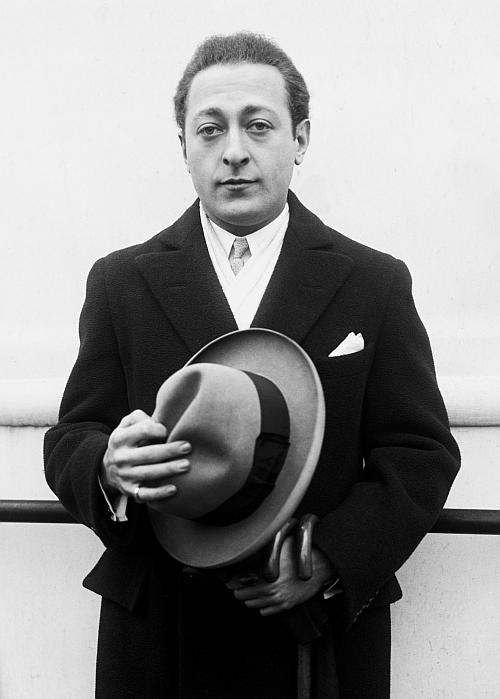 Heifetz was born in Vilnius, Lithuania to a father who was a violinist. He was a child prodigy who made his public debut performing the Mendelssohn Violin Concerto at age seven.
When he was nine years old, he enrolled in the Saint Petersburg Conservatory and studied with Leopold Auer, a very famous violin teacher. When he was just thirteen, he performed with the Berlin Philharmonic.
His family moved to the United States in 1917 when he was 16 years old, and he soon performed at Carnegie Hall. He became a US citizen in 1925 and stayed there for the rest of his life.
His style of playing included fast vibrato and lots of portato (audible, stylistic shifts). Itzhak Perlman, the most famous violinist today, has described Heifetz's style as a "tornado" because of the highly charged, emotional style.
An accomplished musician all around, Heifetz would often play passages on the piano to demonstrate to his accompanists exactly how he would like them to play.
The violinist valued his Stradivarius so highly that he risked his life to protect it. He was attacked with a crowbar after a performance and shielded his instrument with his right arm. He sustained injuries in his right wrist but miraculously was still able to keep playing.
Watch this video of Heifetz performing Bach's Chaconne. Listen to that fast vibrato and those expressive shifts!
David Oistrakh (1908-1974)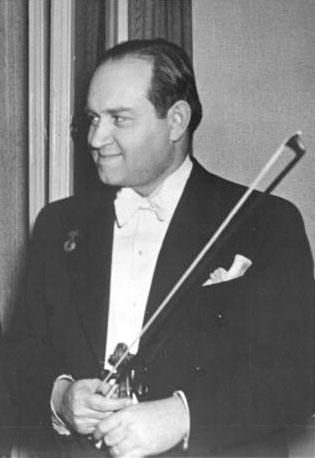 Oistrakh was born in Ukraine and began learning the violin and viola when he was five. He then studied at Odessa Conservatory from 1923-1926.
He was close friends with Russian composer Sergei Prokofiev. They even played chess together! Oistrakh premiered both of the composer's violin sonatas and went on to play the first sonata at Prokofiev's funeral.
His vibrato was on the slow side, and he held his bow loosely. His playing always sounded effortless.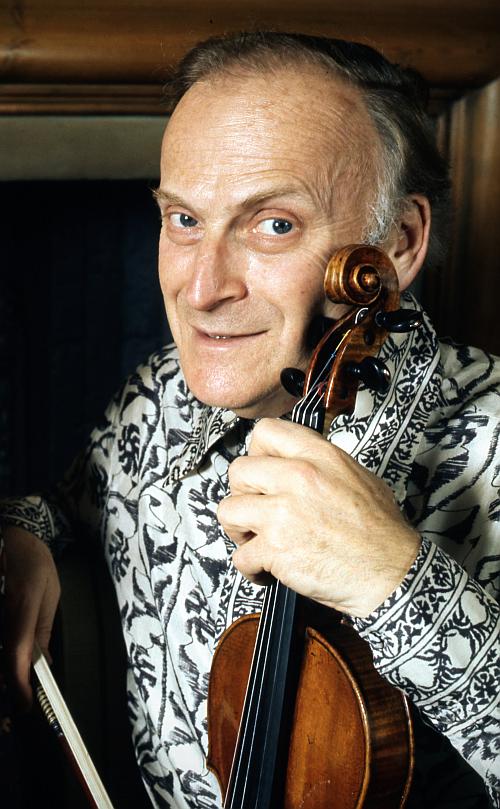 Menuhin was born in New York City, and his first public performance was with the San Francisco Symphony Orchestra when he was just seven years old.
It's said that he took one lesson with Ysaÿe but didn't like the way he taught, so he studied with Enescu instead.
Menuhin made the first important recording of Bach's Sonatas and Partitas for solo violin and commissioned Sonata for Solo Violin from Hungarian composer Béla Bartók.
In 1945, Menuhin and British composer Benjamin Britten played for Holocaust survivors at liberated concentration camps. The horrors that he saw at the site stuck with him his whole life. He spoke out against Nazism and fought segregation by organizing performances for both white and black audiences.
The violinist created a book series called "Musical Guides." Each book discusses a different musical instrument and is written by virtuosos. They're great reads!
Other great violinists in the 20th century
George Enescu (1881-1955)
Ivan Galamian (1903-1981)
Nathan Milstein (1904-1992)
Ginette Neveu (1919-1949)
Isaac Stern (1920-2001)
Josef Hassid (1923-1950)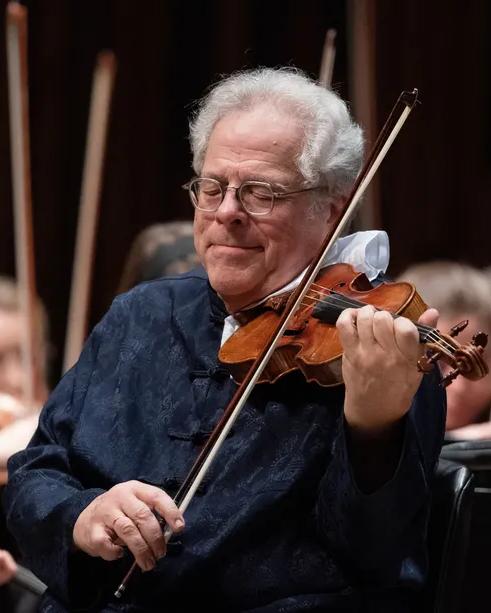 Itzhak Perlman was born in Tel Aviv, Israel in 1945. He had polio when he was four years old and has had to wear leg braces ever since. Because of this, he plays the violin seated.
When he was thirteen years old, he moved to the United States to study at Juilliard with Ivan Galamian and Dorothy DeLay, two of the greatest violin teachers of the 20th century. He got his start performing on late-night tv shows, and then at Carnegie Hall.
In 1975, he started teaching at the Conservatory of Music at Brooklyn College, and then in 2003 took over Dorothy DeLay's position at Juilliard.
The Perlman Music program was founded in 1994 by his wife, who's also a violinist. It's a summer program for music students aged 12-18 to meet and build friendships while learning music.
In more recent years, Itzhak Perlman has conducted the Detroit Symphony Orchestra, the Saint Louis Symphony Orchestra, and the Westchester Philharmonic.
He plays on the "Soil Stradivarius," which had previously been used by Menuhin.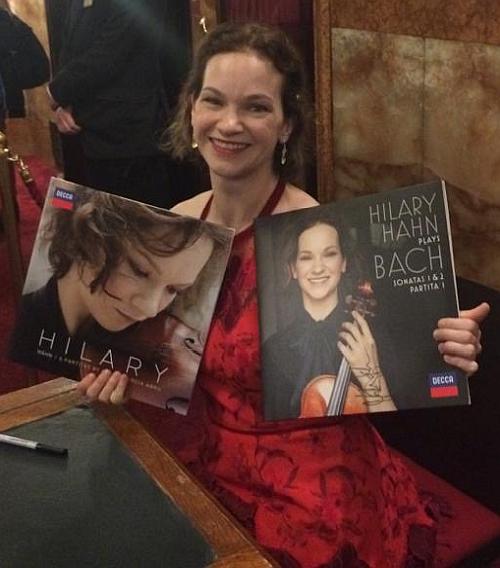 Hilary Hahn was born in 1979 in Lexington, Virginia, but grew up in Baltimore, Maryland. She studied at Peabody Conservatory's Suzuki Program for one year, then studied with Klara Berkovich, an influential teacher.
She was accepted into Curtis Institute of Music at the young age of 10, where she studied with Jascha Brodsky. She made her debut with the Baltimore Symphony Orchestra in 1991 and made her international debut in 1994.
She started making recordings in 1994, and she's released more than 20 albums since. A big supporter of contemporary music, she's commissioned works from Edgar Meyer, Jennifer Higdon, and David Lang, among other notable composers of our time.
Hilary Hahn has helped change the landscape of the music world today by creating the 100-day practice challenge on Instagram (@violincase). She regularly posts short clips of her practice sessions, breaking down the barrier virtuoso performers often carry. Her challenge was a great inspiration for many students at Julia's Violin Academy to take part in a bit easier 10 days of practice challenge. Some of them even continued to reach 100 days as Hilary does!
More of today's great violinists
Gidon Kremer (b. 1947)
Pinchas Zukerman (b. 1948)
Nigel Kennedy (b. 1956)
Viktoria Mullova (b. 1959)
Anne-Sophie Mutter (b. 1963)
Joshua Bell (b. 1967)
Anne Akiko Meyers (b. 1970)
Midori Gotō (b. 1971)
Gil Shaham (b. 1971)
Maxim Vengerov (b. 1974)
Janine Jansen (b. 1978)
Sarah Chang (b. 1980)
Julia Fischer (b. 1983)
Nicola Benedetti (b. 1987)
Who Is the Most Famous Violinist Today?
Itzhak Perlman is considered the most famous violinist today. He has been in the public eye since 1958 when he performed on the Ed Sullivan Show. Since then, he has appeared with the top orchestras around the world, he's played for Queen Elizabeth II, and has played violin solos on movie soundtracks. He still actively performs today.