The ABRSM Violin Exam is a great way for any violinist to measure their progress and challenge themselves. At the same time, you probably don't want to take a violin exam without a thorough understanding of what you can expect. It is a stressful and nerve-wracking process to play in front of others, let alone a jury! You're battling your insecurities and worries, while also trying to give a good performance. Luckily, if you prepare well, you will be able to manage your feelings of nervousness better. That is why this article will cover all you need to know about the ABRSM violin exam, as well as provide some tips and tricks to help you get ready! Learn everything you need to know to take and pass the violin ABRSM exam below.
What is the ABRSM Exam for Violin?
If you ever wanted to take a violin exam, then you might have come across the term ABRSM Exams. What is ABRSM? It stands for the Associated Board of the Royal Schools of Music. The ABRSM is an international organization that sets standards for music education and performance in addition to running exams around the world. The ABRSM allows students to take exams in a wide range of repertoire and subjects, including music theory, as well as instrumental and vocal performance. A violin ABRSM exam is one of the exams that is offered by this board. The violin ABRSM exam requires candidates to play various pieces from different periods or genres – they might be asked to play anything from an eighteenth-century Haydn sonata, right through to a twentieth-century Bartok study. There are violin ABRSM exams at different levels, from beginner to diploma and degree level. Each exam provides a way to demonstrate that you can play the violin with understanding, expressiveness, and sensitivity in a given style or genre. Violin ABRSM exams are available worldwide. There are also other organizations that offer exams similar to the ABRSM exam:
Trinity (Worldwide)
RCM (Canada)
ASTACAP (US)
Why Would You Take a Violin ABRSM Exam?
There are many benefits to taking a violin ABRSM exam. These range from the more tangible, such as a better understanding of music theory and learning certain pieces, to the less tangible, such as a sense of accomplishment and fulfillment. I personally believe the biggest reason for taking an ABRSM exam is your personal motivation. Some of us are more motivated to study if there is something to study for. That can be a recital for friends and family, a concert, but also an ABRSM exam. If you have a deadline for learning certain pieces, scales, and music theory, it can help you to take your practice more seriously and get better results. Next to that, you will get valuable feedback on your playing skills during your exam. The feedback you will receive can help you improve your weaknesses and hone in on your strengths. For more advanced players, ABRSM qualifications in violin can provide more opportunities to find a job. Some companies employ musicians who are ABRSM-qualified.
The 5 Benefits of Taking a Violin ABRSM Exam
The 5 benefits of taking an ABRSM exam are:
It is an excellent way to measure progress
It provides students with feedback and an assessment of their current skills
It provides teachers with an evaluation tool
It motivates you to study!
The higher-level exams may increase your opportunities to find a job
Most of all, passing an ABRSM exam is a great achievement, which shows off the skills you have learned and how far you have come with playing the violin.
What Can You Expect When Taking a Violin ABRSM Exam?
In the next section, you will get all the details about what to expect when you take your first ABRSM exam as a violin player.
Before the Exam
Good preparation is the key to pass the exam. In this section, I share with you what to do before the exam.
1. Choose the Exam Level
The first step in taking a violin ABRSM exam is deciding on what level you will take it.
What Are the ABRSM Violin Grades?
The ABRSM grades are based on the levels of proficiency. You can start with the "Introductory" level and work your way up to an "Advanced" level. The higher you go, the more technical skills you need to demonstrate proficiently in order for your grade to be awarded successfully. There are nine ABRSM grades for violin. In order from easiest to hardest, these grades are: Initial Grade, Grade 1, Grade 2, Grade 3, Grade 4, Grade 5, Grade 6, Grade 7, Grade 8. There are also four higher levels to get professional qualifications for violin teachers. The four professional qualifications are called:
ARSM (Associate of the Royal Schools of Music)
DipABRSM (Diploma of The Associated Board of the Royal Schools of Music)
LRSM (Licentiate of the Royal Schools of Music)
FRSM (Fellowship of the Royal Schools of Music)
How do you assess which grade to choose?
It can be really difficult to decide which exam grade to take, especially for self-learners. The most important thing that you need to consider when choosing an exam grade is your current playing level. You can find all the grades and requirements for violin in the ABRSM Bowed String Syllabus – you can download the syllabus here. If you open the syllabus, you will notice that it offers a complete overview of the required skill for each ABRSM grade. Go through the skills in all areas and assess whether or not you think you have mastered those skills or could easily learn them in the upcoming months. In case of doubt between the two levels, I recommend taking an exam that you think might be a little bit easier. If you take your first exam, you will most likely be very nervous. Most violin players that are not well-versed performers are not able to play on their usual level when playing for others under pressure. If you are studying the violin autodidactically, it can be helpful to hire a violin teacher with experience to have a listen and advise you which exam level to get started with.
2. Practice, Practice, Practice
In order to be successful, you need to put in the time and effort. The amount of practice you should put into playing the violin depends on how much time you have before your exam. It is best to start early and practice on a regular basis and at a consistent pace because this will give you the best results. Also, be sure to practice a little every day in the six weeks leading up to your exam. A 45-minute practice session can be organized as follows:
Warm-up with scales and arpeggios for 10 minutes
Etudes and other exercises for 15 minutes
Play and review a piece of about 20 minutes
If you have any time left, end your practice session by reviewing the pieces you already know
Try making use of the resources that ABRSM makes available, such as the piano accompaniments and the violin practice partner app. Also, take a little time every week (one practice session a week) to work on your listening and sight-reading skills. It is the easiest to practice your listening skills with the help of a teacher.
Playing Your Violin Exam Pieces
During an exam, you will be asked to play three pieces of three different styles. These different types of pieces are called List A, List B, and List C pieces:
List A pieces are generally faster moving and require technical agility
List B pieces are more lyrical and invite expressive playing
List C pieces reflect a wide variety of musical traditions, styles, and characters
You can find all the pieces you can choose from in the Bowed Stringed Syllabus. You can choose which pieces you prefer to play, as long as you choose one of the pieces that ABRSM lists as eligible. Most of the pieces need to be played with an accompaniment, as ABRSM believes that interacting with other musicians is an important musical skill to develop (and I definitely agree!).
Violin Scales
Next to playing three pieces, you are also expected to play scales. You will usually have to play at least one scale or arpeggio of each type. The different types of scales are:
Major scales
Minor scales
Scales with separate bowing
Scales with slurred bowing
At the exam, the examiner will let you know in which key you should play the scale and if you should play it with separate or slurred bow strokes.
The Aural Test
In the aural test, you can expect to be tested for a variety of listening skills. You can expect the following elements in an aural test:
Clap rhythms and the pulse of pieces
Sing echoes, intervals, and parts of melodies
Questions about the dynamics, articulation, tempo, tonality, character, style and period, texture, and structure of a piece
Identifying modulations, minor, major, dominant, and subdominant chords (only on higher levels)
The aural tests will increase in difficulty depending on what grade exam you take. You can find all the details about what to expect of an aural test on the specific violin grade you are taking in the Bowed Strings Syllabus.
Sight-Reading Exam
During your sight-reading exam, you will get a piece of sheet music that you have never seen before. You will get 30 seconds to look through the piece and try out all or a part of the test before you are asked to play it for the judge. You can see the elements that you can expect in a sight-reading test in the table below: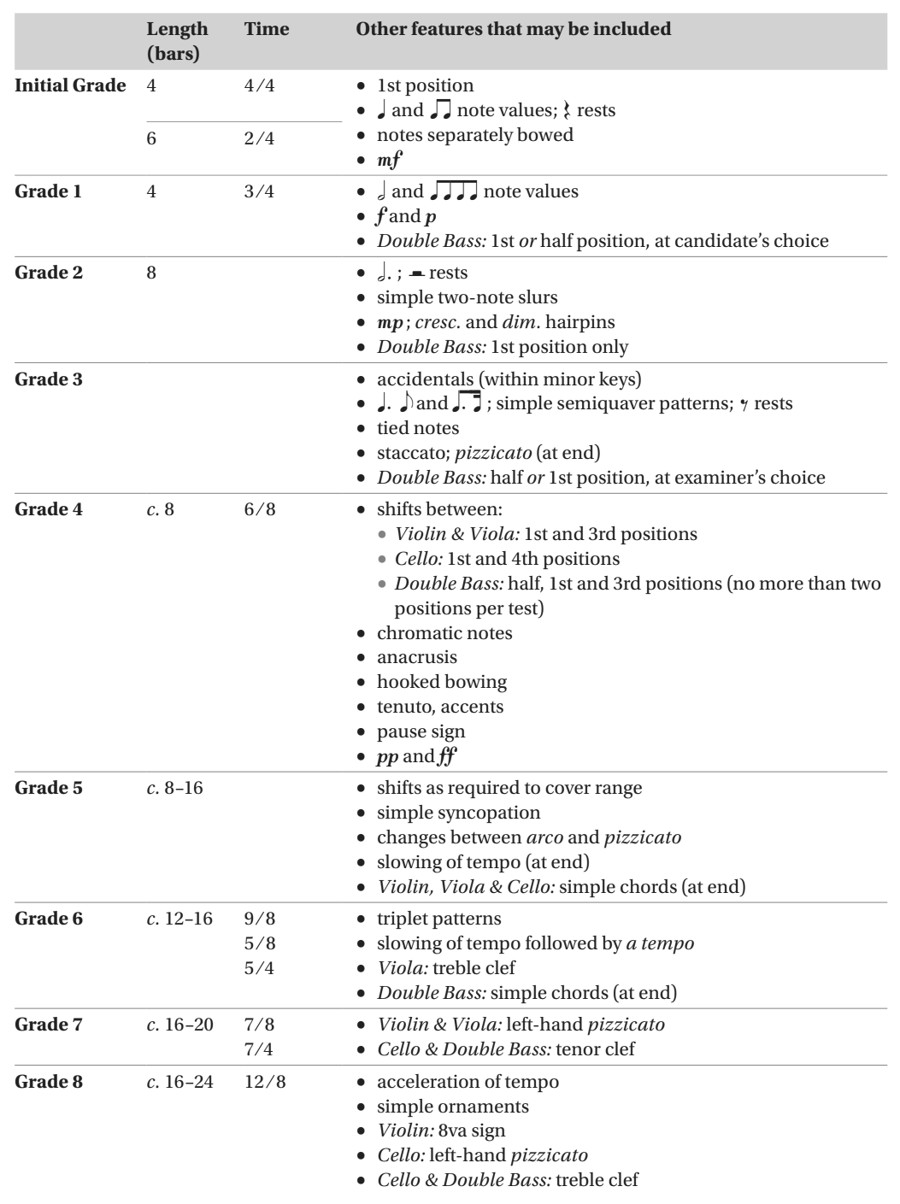 Your Result: ABRSM Violin Exam Grading
In total, the violin ABRSM exam consists of the following elements:
3 pieces
Scales and arpeggios
Sight-reading
Aural skills
When taking an exam, you can get 150 points in total. You should get at least 100 points for a "Pass", 120 points for a "Merit", and 130 points for a "Distinction". The pieces make up the majority of the points (30 points for each piece).
Did you pass?
Congratulations! You will usually get your certificate within a week of your practical exam.
Did you fail?
Failing an exam can happen for many reasons and you should not give up trying. Rather, see it as a chance to learn what you can improve on to pass your exam the next time! You might just need a little more practice time to make it work out. Have a look at the results form and discuss with your judge and/or teacher what you can do to get a better grade next time. Start taking lessons and resuming your practice schedule as soon as possible to prepare for your next exam. Your second exam will take place in the same way as the first exam.
Conclusion
Taking a violin ABRSM exam can be a great way to stay motivated to practice the violin and to have a fun way to measure your progress. It's definitely worth considering taking a music exam for anyone who sets out to learn how to play the violin, no matter if you are starting to play at a young age or as an adult. It can be a fun experience to prepare for a real music exam, and most of all, it will help you to bring your violin playing to a new level!