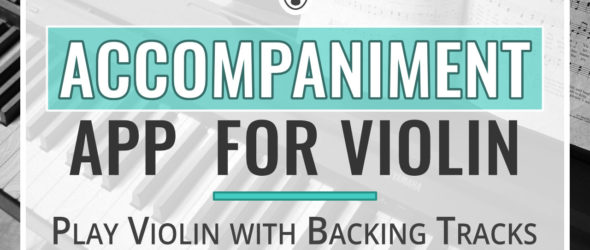 https://violinspiration.com/wp-content/uploads/Violin-Accompaniment-App-Play-Your-Violin-with-Backing-Tracks-thumbnail.jpg
Learn all about the new violin accompaniment app available at Julia's Violin Academy.
Some of my regular readers shared with me that they miss playing together with other musicians during covid times, and I totally relate to this feeling.
We violinists are always having a good time when playing our instruments, but it's even better when you play with others.
One of the things I love to do when I cannot play with others is playing with accompaniments. I do it almost every practice session just because it is so much fun!
Next to being fun, practicing with accompaniments helps you become more confident in your skills in playing with others. This will allow you to collaborate more easily with other musicians as soon as you are able to get back to playing with your friends again!
The Violin Accompaniment App Feature
As an avid "accompaniment player" myself, I have always wanted to create an easy way to practice with accompaniments for my students.
I was very happy to have the chance to work with other musicians and developers to create a library of over 100 accompaniments with sheet music for the various classical pieces and exercises that students learn in my Academy.
It took about one year to complete this project and all accompaniments have been available for every student of Julia's Violin Academy since the beginning of this year.
My goal is to keep adding accompaniments to this section based on the members' requests.
Why Not Use Free Violin Accompaniments Online?
You might wonder: why did you spend so much time and money developing this new feature if there are many accompaniments already on YouTube? That question totally makes sense to me!
One of the reasons why I preferred to build a system for my students at Julia's Violin Academy is the versatility of playing with an app-like system as opposed to a video.
The reason is that the app has a lot of functions that YouTube does not have.
For instance, on YouTube you can only slow down the accompaniment to either 0.75 speed or 0.5 speed. Often, we wish to practice at a speed in between these two. The quality and pitch change if we slow down the music as well.
You are also not able to select bars or notes in the sheet music on YouTube to repeat or revise.
To make a long story short, I was missing a lot of functions on YouTube that I believed could be extremely useful for my students. I wanted my students to have everything they needed to play the violin in one place. In that way, they can keep concentrating on their practice, instead of searching for piano tracks online for the songs that they are learning.
New Violin Accompaniment App: The Song Library
If you are a member of Julia's Violin Academy, you can find the accompaniment app in the section called "Song Library" and all lessons within the Beginner, Improver, and Note Reading courses.
The pieces and exercise pages have a special sheet music player that has the following features:
Play/Pause
Navigating playback
Speed
Recording
Loop
Fullscreen
Volume control
Metronome
Waveform visualization
Violin fingerboard visualization
Resizing the player
Settings & Extra Features
In addition to the built-in functionalities of the player, you can adjust the size of the sheet music player's window.
The following paragraphs contain a description of each feature.
Play/Pause
To play or pause an accompaniment, simply click the play button on the lower left side of the control bar and click again to pause.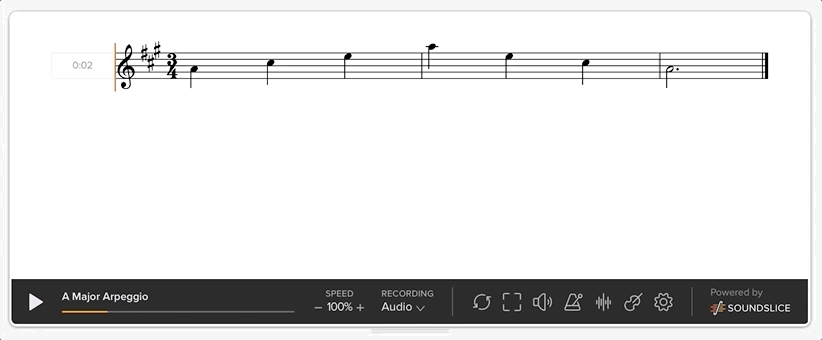 You can jump around to different sections of the piece by simply clicking/tapping on the chosen spot in the sheet music.

You can also click and drag the progress bar for quick movement.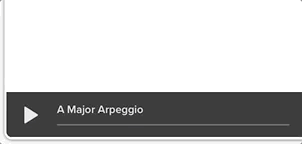 Slow Down and Speed Up
You can adjust the playback speed in two ways:

1) In 10% increments
You can increase or decrease playback speed in 10% increments by clicking the plus or minus buttons.

2) Your custom choice
To change the playback speed to a specific percent, click the existing number and enter a new one.
Loop
Looping music is one of the best ways to practice. When you are looping a piece of music, you make sure that the accompaniment keeps repeating the same way. Looping a recording can be very helpful to focus on a specific part of the music and master that before moving on to the next part.
Just click the loop button:

or drag over a chosen fragment to create a loop. Press play, and let the loop begin.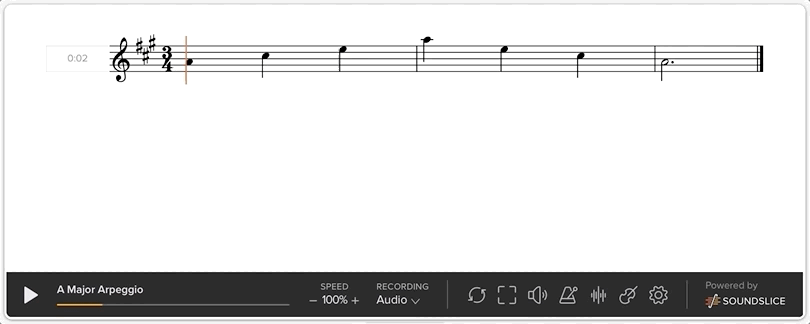 Resizing loops
Adjust an existing loop by clicking and dragging its starting or ending point.
As you drag across the notes, it'll automatically "snap" to notes, rests, and barlines.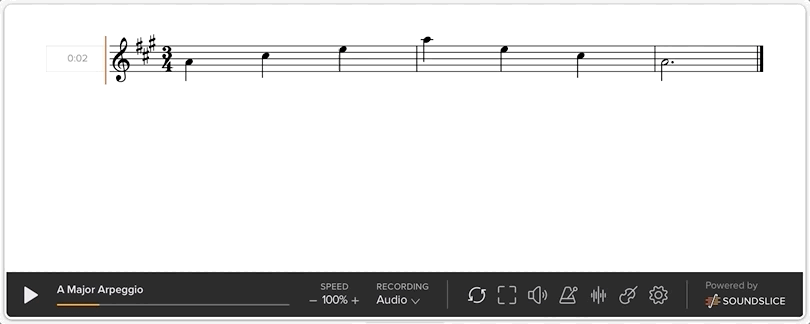 Fullscreen
To enter fullscreen mode, simply click the fullscreen button on the control bar.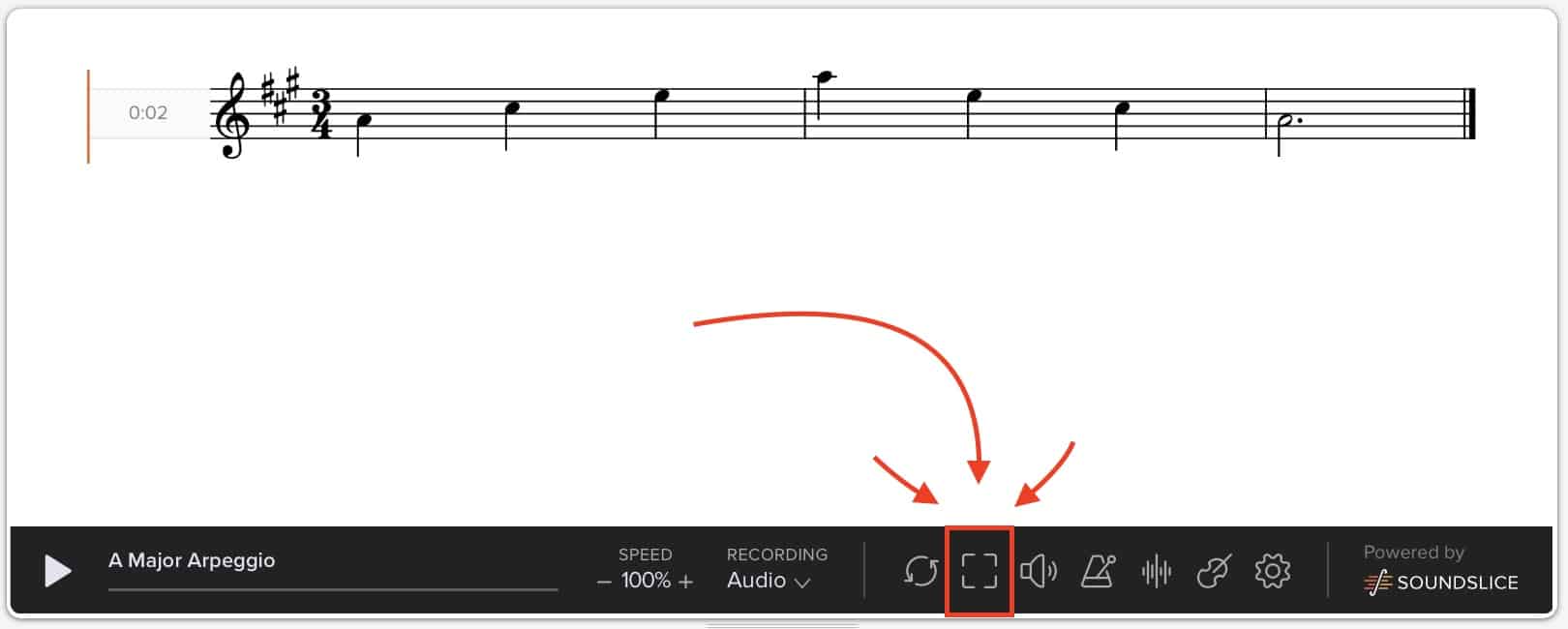 Volume control
You can change the volume of the piece by clicking the volume button:

Then click and drag the slider:
Violin fingerboard visualization
With violin fingerboard visualization enabled, you will be shown which strings to play and where to put your fingers.

The appropriate note lights up in real-time during audio playback.

Resizing the player
In case of longer sheet music that is bigger than the player window, or when you would like to see the whole piece at once, you can adjust the height of the sheet music player.
Simply click and drag the lines under the sheet music player to adjust its height.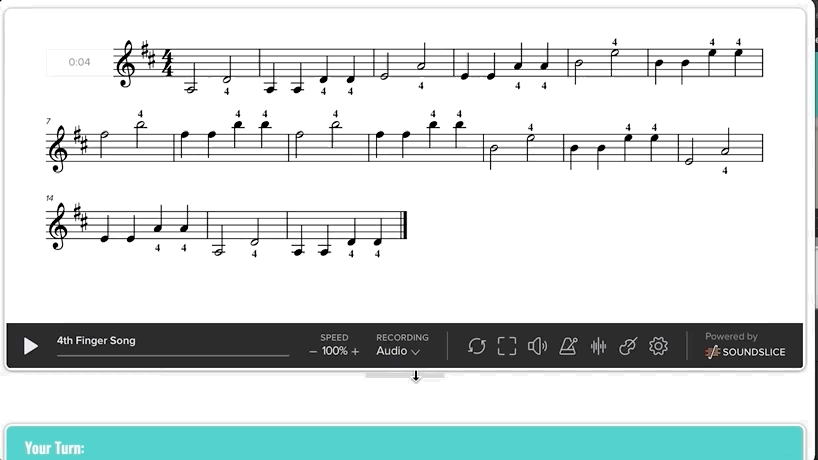 Settings & Extra Features
There are also some extra features not mentioned in this article, such as:
Choosing different recordings
Waveform visualization
Zoom level
Layout
Instrument appearance (tabs, fingerings)
Transposition
Play options
Appearance options
Types of Music Available
Currently, most of the accompaniments are piano accompaniments for classical pieces. I also included some Irish folk music. These accompaniments are band accompaniments made by Irish musicians.
I plan to keep expanding the app in the upcoming years with new songs and accompaniments based on member requests.
Access the App
If you are curious to try out the new Song Library, I encourage you to give it a try!
To be able to access the app, you need to sign up to become a member of Julia's Violin Academy.
As soon as you are a member, you not only have access to the app but also to all the other features of Julia's Violin Academy. This includes personal feedback on your videos, weekly zoom classes and challenges, a step-by-step learning system, and so much more.
I offer a 30-day money-back guarantee, so you have nothing to lose by giving it a try!
Click here to learn more about Julia's Violin Academy and sign up.