Buying your first violin is very exciting. The anticipation of playing your first note or first piece is the stuff of daydreams. With this anticipation and excitement comes the question, what size violin do you need?
In this post I will show you exactly how to decide what violin size is right for you or your violin students.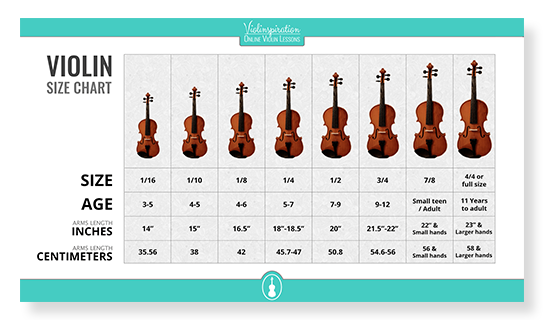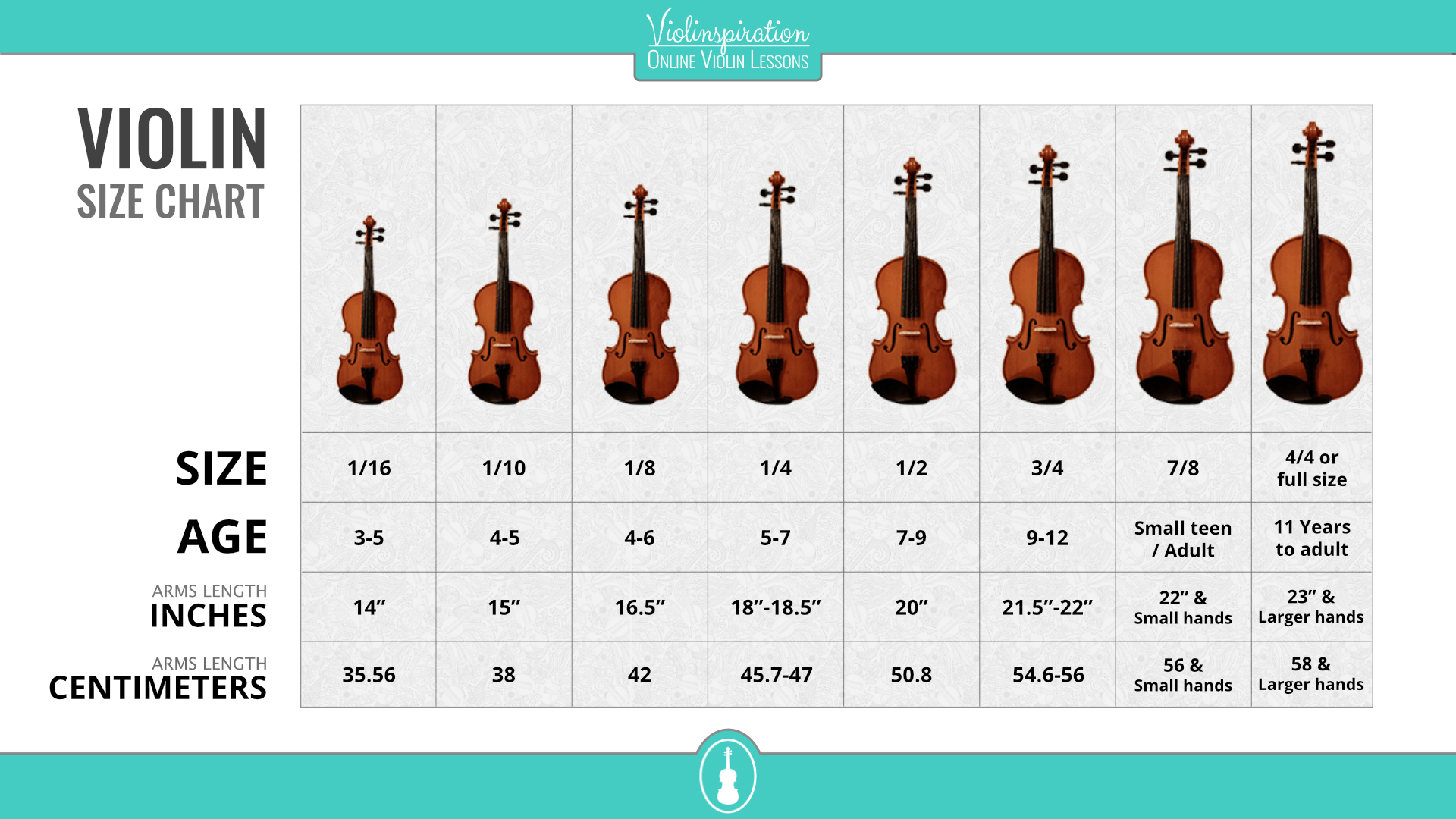 If you do not have the opportunity to visit a violin shop, our Violin Size Chart will help you decide.
What to Consider When Deciding What Size Violin to Buy?
The most important thing to consider is comfort. You want to make sure you or the student can place all four fingers on the violin in tune, and feel comfortable while doing so.
How to Use Our Violin Size Chart
Before we begin, understand that there will be exceptions to this chart. It is only a guide. On one hand, there are some smaller adults who use a ¾ size violin. I know one myself and she is a lovely player. On the other hand, there are young children with longer arm lengths. They would enjoy using the larger size instrument. It would be more comfortable for them.
Measure the student's arm length
Have the student stand with their left arm stretched out at an angle stretched out straight from their shoulder so a 90° angle is formed with their torso. As an illustration, if 12:00 O'clock is in front of them, their arm should be between 10:00 and 11:00 O'clock.
Make sure their palm is facing upward.
Using a tape measure or measuring stick. Measure the length from the student's neck to the center of their palm. This is the largest distance used when figuring out the size violin to buy. Write the number down.
Next, measure the distance from the student's neck, to the line at the base of their wrist. Write the number down. This is the general distance used when measuring what size violin to buy. Record this number as well. Use our chart to figure out what size violin would work for you.
What if I Am in Between Sizes When Buying a Violin, What Should I Buy?
It is best to go with the smaller size violin if you are in between sizes on our chart. In general, the player will feel more comfortable with an instrument that is slightly too small, than one that is too big.
The exception is if you are an adult getting a violin or a child that is almost fully grown. If your arm is just a tiny bit too small for a full-size violin, I recommend getting a full-size one and trying to play on that one first. There are many more full-size violins available, so if you feel comfortable playing a full-size instrument, your options in choosing a violin are much bigger.
The student may feel uncomfortable with the bigger size instrument. It may be harder for them to develop the proper playing technique, because playing may feel awkward to them. Let's be honest. The violin is already an awkward instrument to learn how to play. Why make it harder?
What if I Already Have a Violin, How Do I Size It to a Particular Player or Check if It's Right for Me?
If you have a violin you want to size to a specific student or see if it is right for you:
Hold the violin like they are going to play it.
Grab the base of the violin with your right hand.
Stretch out your left arm underneath the violin. The scroll will rest in the palm of your hand.
Curl your fingers over the scroll.
If your fingers touch the pegbox, the violin is a great fit! By comparison, if they cannot touch the pegbox, the violin is too big. Additionally, a bend in your elbow means the violin is too small.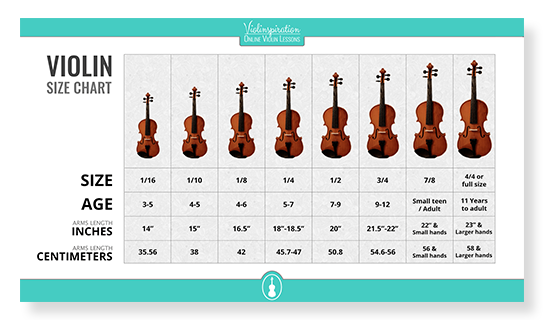 Buying a Violin in the Correct Size
After deciding which size violin you need, you need to know what to look for when purchasing a violin.
For that, I created an easy PDF checklist that you can take with you when you are going out to buy your new instrument.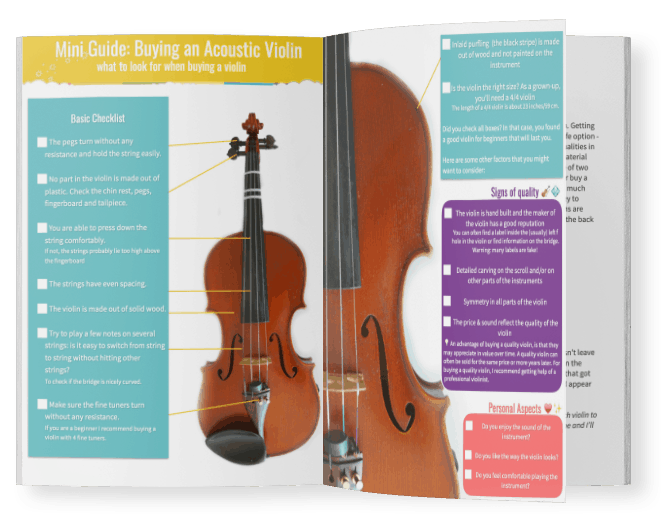 To Sum Up
It is very important when buying a violin to get the correct size for your frame, because it will be more comfortable for you as a player, compared to one that is either too big or small. Therefore, you can focus on learning the proper violin technique instead of focusing on your discomfort. Our violin size chart can guide you in the right direction.
Good luck! I hope you find your perfect fit.