https://violinspiration.com/wp-content/uploads/2020/04/Best-Ways-To-Learn-How-To-Play-Violin-as-an-Adult-learning-violin-scaled-1.jpg
If you want to find out about the best ways to learn how to play the violin as an adult beginner – this post is for you! Here are the steps to take to start learning the violin as quickly as possible.
1. Find a Suitable Instrument: Buying a Violin for Beginners
You want to start a learning the violin, but wait – do you even own a violin? You can only learn the violin if you have a suitable instrument! The kind of violin you choose matters. Here are some key factors to consider when buying a violin as a beginning violin player:
Price
Materials
Size (usually a 4/4)
Violin Condition
Where You're Purchasing
Many beginner violinists decide to go for a new, affordable instrument, such as a Stentor II. These instruments are affordable for it's quality.
At the same time, you'll need to buy a new one as soon as you get more advanced. I personally recommend buying a violin second hand if possible. Second-hand violins often have a higher quality for a lower price. Plus, there are plenty of quitting violinists, which makes it possible to choose from a range of options. However – there is a downside to this approach. If you're just starting out, you have no idea what to look for! It is likely that you wouldn't know the difference between a $500 violin and a $5,000 one if the price tag wasn't on it. A good tip is to be well prepared: read up on quality signs of violins, before going out to buy one yourself. I even created a complete checklist for beginners, when buying a violin. You can download that here: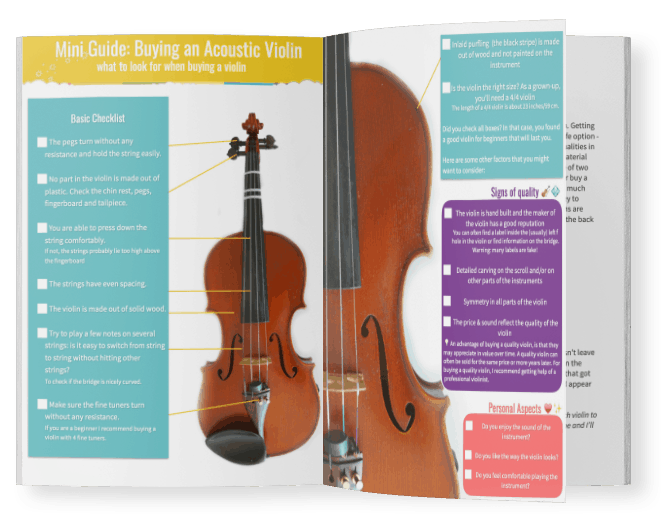 Get Your Free
Violin Buying Checklist [PDF]
Once you bought a violin, you'll need to have some sort of structure on how to go about practicing. This is often referred to as a "practice routine". This can be as hard or flexible as you want, but some sort of guide can be useful. You don't spend months practicing random skills, only to find out that you still have no idea what you're doing. A good example of a practice plan is our plan in
Julia's Violin Academy
. This is my online violin method where you can go step-by-step to learn the violin. Each level has a learning structure, that consists of:
Once you have completed a level, you can go to the next level. Here you will find more difficult exercises. This is a great structure because it allows you to practice every area of violin playing and make steady progress. Also, by gradually raising the difficulty of each area, you will be sure to always learn new skills on the violin. Whether you are choosing to learn with a violin school like this or practice on your own: you need to have a structure in your practice to get the best results!
3. Start Your Violin Learning Journey: Practice, Practice, Practice
Now that you have a violin and a practice routine, you need to practice! When it comes to learning how to play the violin, the most important thing you can do is practice. Obviously, following your practice routine should be your first priority. However, that doesn't mean that you can't practice some fun songs on the side every now and then.
As long as you are able to focus for long enough on your practice routine, you should be good to go. To see results, some violinists choose to use specific practice techniques. While this is not necessary, it can help to keep more concentrated during a practice session. A technique that I like to use is the "pomodoro technique". This technique is especially great for violinists who have lots of time to practice. It goes like this
Decide on what you will be working on.
Set the timer for 25 minutes. Focus only on your task (s) for that 25 minutes.
When the timer goes off, set it again for five minutes and take a break.
After your five-minute break, set the timer for another 25 minutes and get back to work.
You can keep going like this for as long as you want and stay incredibly focused. Here you can check out one of my practice sessions, to see what I usually focus on when practicing the violin:
For those who have less time, you can create a shorter version of the pomodoro technique. Focus for a certain amount of time on each part of playing you'd like to practice. For instance:
5 minutes: scales
3 minutes: arpeggio's
10 minutes: etudes
15 minutes: repertoire
4. Get Feedback From a Violin Teacher
While it's great to practice the violin on your own – it is also a great way to end up with an improper technique! Make sure to get help from a teacher to check for correct posture, technique and intonation. In this way, you will learn the right techniques from the very start! When it comes to getting feedback, you'll have a few options:
One-on-one private lessons
Group lessons in your area
Submitting videos for feedback online (possible in Julia's Violin Academy)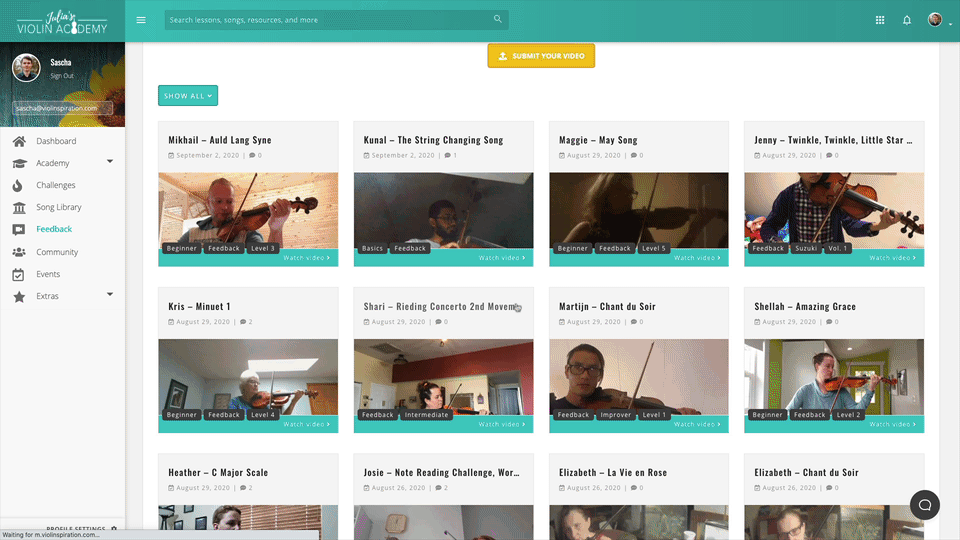 5. Play for Others: Performing on the Violin
The time has finally come to share your violin skills with the world! It can feel awkward at first, especially if you are not used to performing. But after all, you learn how to play violin to also play for others, right?
A few practice runs may be beneficial! My students often practice performing for each other on Zoom first. In that way you can already get used to the nervousness you feel when playing for others. Just remember these key tips:
Breathe. The more you get used to playing in front of others, the less nervous you will be.
Slow down. People tend to play too fast when they are nervous so try not to.
Play with confidence. Even if you feel insecure, play with the posture of a confident violin player.
Here was a little surprise performance I did for my YouTube subscribers on Mothers Day. I played a few pieces with my mother, who is a classical pianist.
The audio quality wasn't optimal in any way. I hope that is a good reminder that performing is about sharing, rather than perfection!
6. Don't Give Up!
Finally, don't give up! Learning to play the violin can be hard work and takes months, or even years to see results. Try not to get discouraged and hang in there. The violin world may feel difficult to enter, but these tips will help you get started in no time!