Johann Sebastian Bach – 28 facts from the life and career of the most famous Baroque composer
Johann Sebastian Bach is widely regarded as one of the top three most well-known music composers in the world, and probably the most important Baroque composer. His music is still troubling aspiring musicians as well as professionals and will, in all likelihood, continue to do so for years to come. Virtually everyone has heard at least some of his works.
But, did you know that he wasn't the famous Bach for a while? Or that he wasn't as popular as he is today during his lifetime?
In this article, I will share some facts and trivia about Bach so you can learn more about the composer's life and work and have a better understanding of why he is widely renowned.
Early Life of Johann Sebastian Bach
1. Place of birth and background
Johann Sebastian Bach was born on March 31, 1685, in Eisenach, present-day Germany. He was the youngest child of Johann Ambrosius Bach and Maria Elisabeth Lämmerhirt.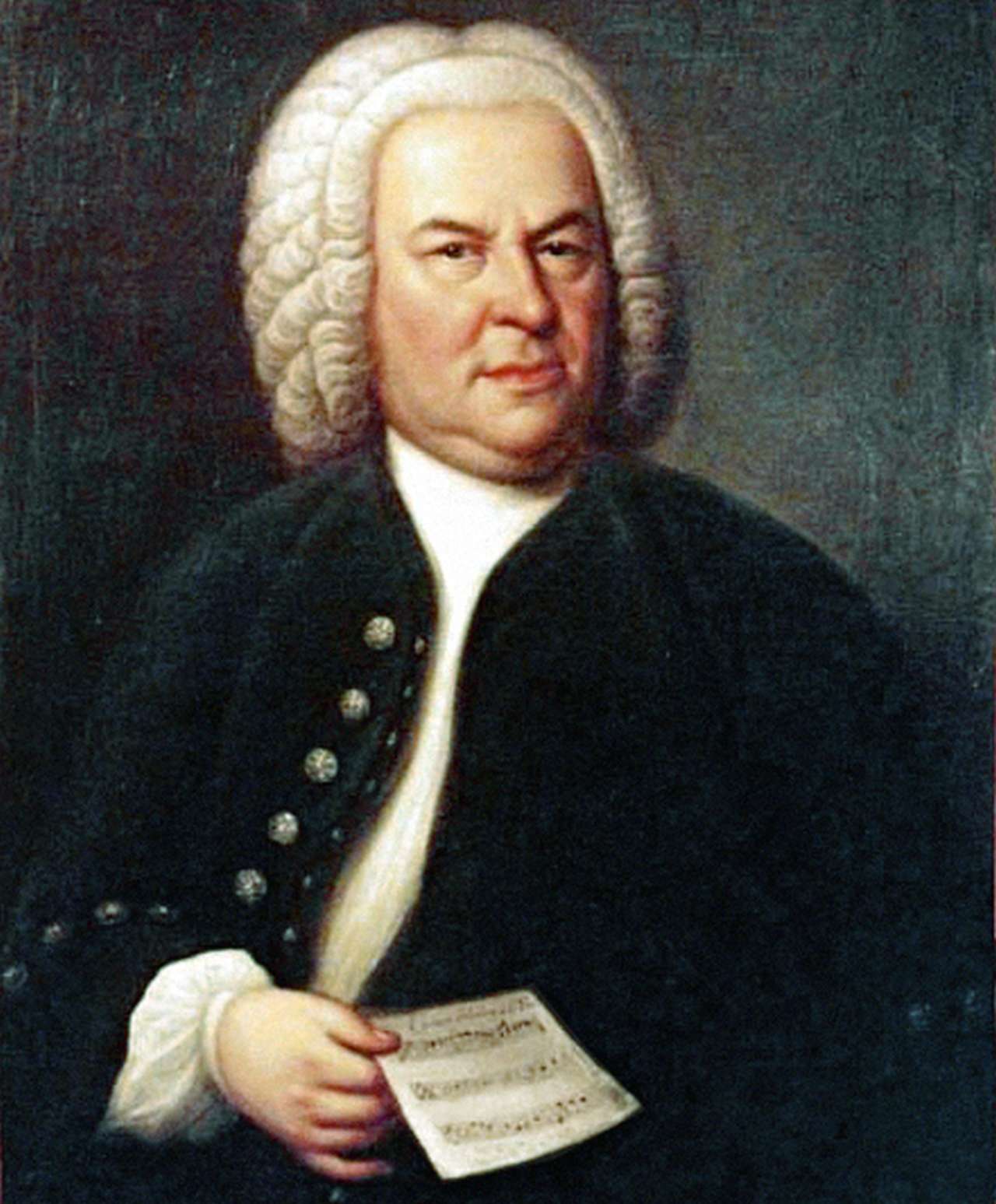 Bach was born into a music family. His father was a musician who most probably gave him his first lessons. His uncles and siblings were musicians as well. This is quite common for the era, as professions were often inherited. Many members of J.S. Bach's extended family had prominent positions, such as organists in churches, directors, etc.
2. Born the same year as other important composers
1685 was an important year for musicologists, as a month before Bach's birth George Frideric Handel was born. Domenico Scarlatti, another well-known Baroque-era composer was born in October the same year. While Bach and Handel were born in present-day Germany, Scarlatti was born in Naples.
You can read more about other famous composers of that era here!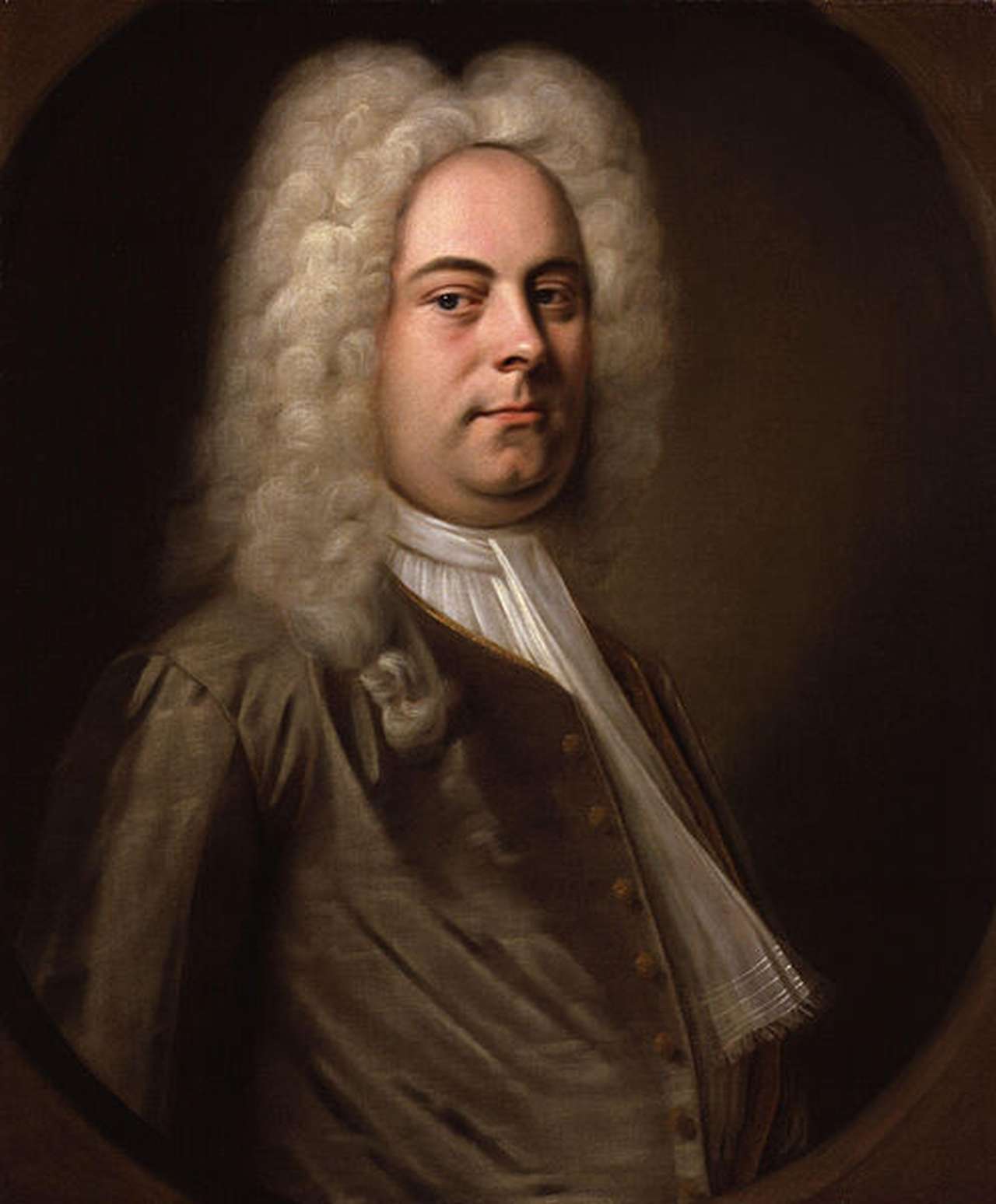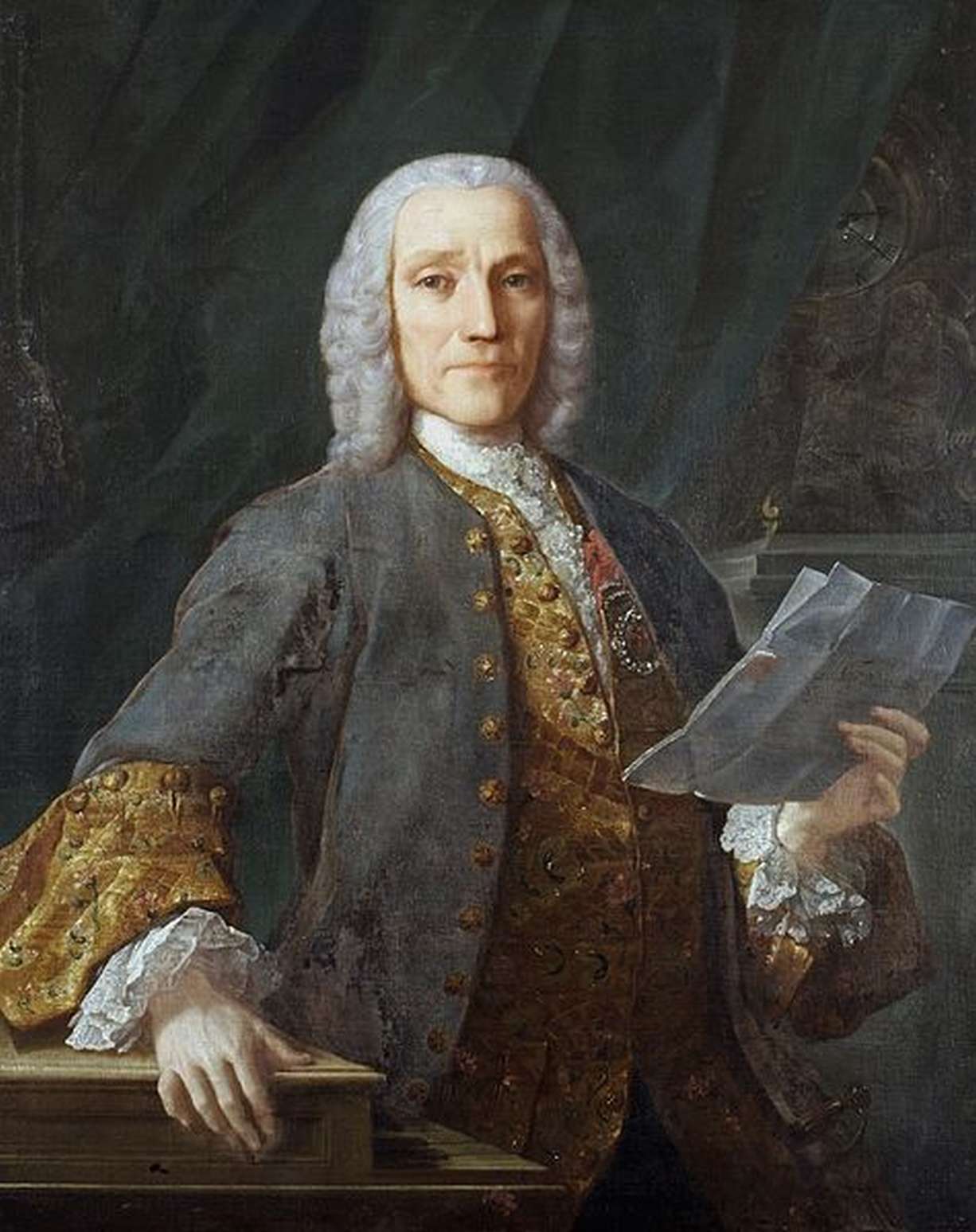 3. J.S. Bach lost his parents at a young age
When Bach was only nine years old, his mother died. Unfortunately, his father passed away the following year.
The young Bach then moved in with his older brother Johann Christoph, the organist at St. Michael's Church in Ohrdruf.
4. A fine music education
Presumably, his father taught him the violin.
In Ohrdruf, he continued his music studies with his brother, in addition to Greek, Latin, and theology. When Bach was fifteen, he received a scholarship to St. Michael's School in Lüneburg, traveling there to continue his studies.
Because of his uncles and especially his brother Johann Christoph, he can play the church organ and clavichord too.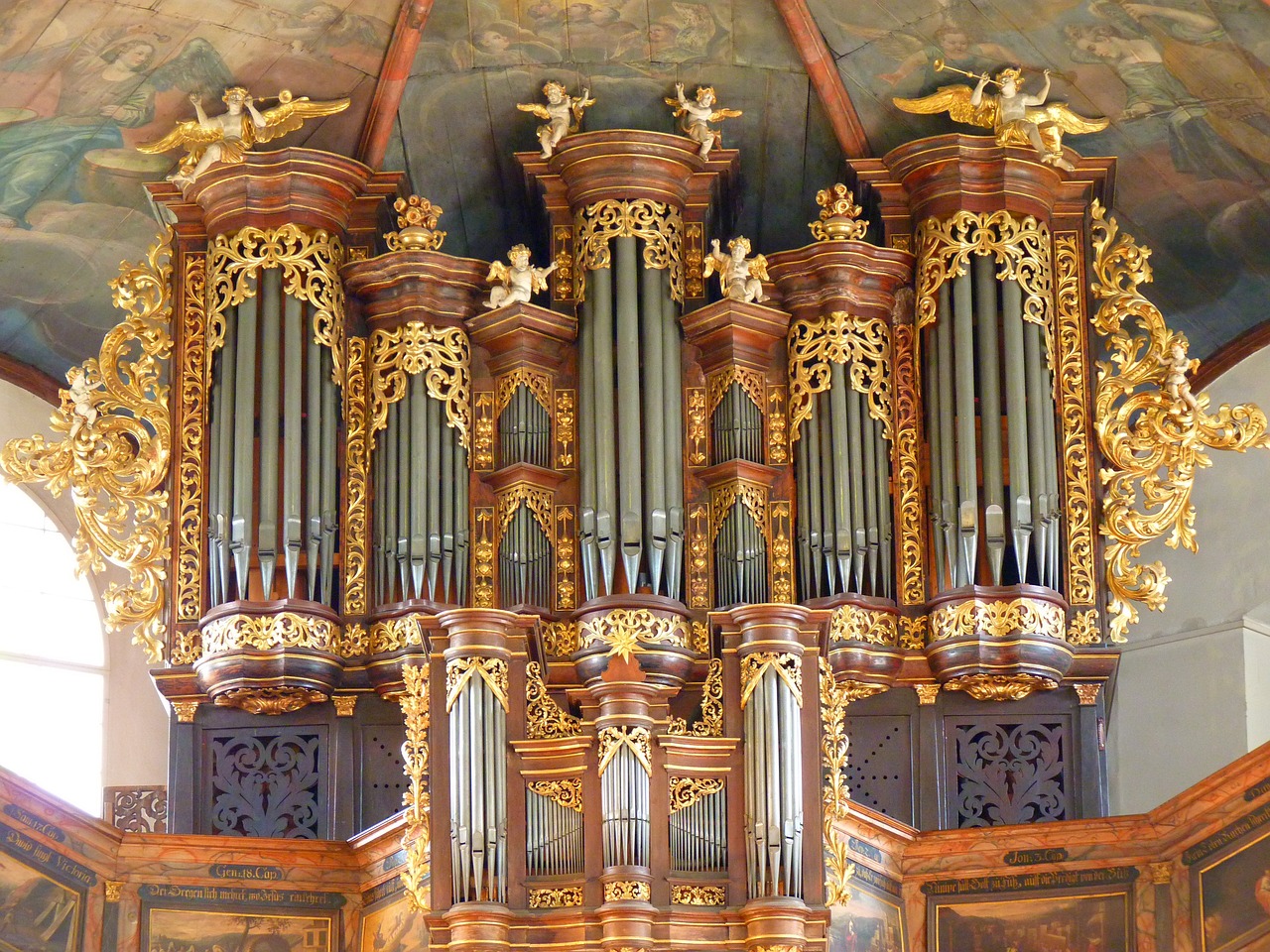 Johann Sebastian Bach participated in choruses. Surprisingly, the scholarship he won was because of his voice.
While it was common during his time for musicians to have general knowledge of various instruments, sources say he was very good at playing all of them.
Early Career of Johann Sebastian Bach
5. From Weimar to Arnstadt
Shortly after graduating, Bach got a job in the chapel of Duke Johann Ernst III in Weimar. It is unclear if this was a music job, but his fame as a keyboardist grew fast.
He was hired to inspect the new organ at the New Church in Arnstadt (now known as Bach church) and performed the first concert, becoming the organist of that church.
6. A rough teacher
Bach's job at the Arnstadt church included teaching young musicians how to handle his duties and composing (and performing) music for various occasions. However, he thought his students were not very good, and according to the church, he didn't rehearse with them enough. At one point, a student went after Bach with a stick after the composer made disparaging comments about their voice.
7. A bad employee
While the new instrument in Arnstadt gave Bach the opportunity to compose more complex melodies than usual, his time at New Church was not good at all. He had a bad relationship with his students and took a leave of absence, extending it without notifying anyone.
The request was for four weeks, and he left for four months, traveling and taking lessons from organist and composer Johann Adam Reincken and famed organist Dieterich Buxtehude.
8. Mühlhausen seemed great… Until it wasn't
Bach was glad to leave Arnstadt, accepting a similar position at the Church of St. Blaise in Mühlhausen. The choir as well as the salary were much better. However, Bach's complex arrangements and melodies were too much for the bishop there, who believed that church music should be simpler.
Bach stayed in Mühlhausen for a year or two before returning to Weimar in 1708. One of his most famous works from that time is the cantata "Gottes Zeit ist die allerbeste Zeit," also known as Actus Tragicus.
Johann Sebastian Bach – Later Career
9. Your friendly neighborhood composer
While Bach's fame nowadays knows no borders, he spent his whole life in Germany and all the cities he visited or lived in were relatively close to each other. You could take a walking tour and see every place he lived in ten days or less. It's impressive how he was a local musician, but his legacy means so much to millions worldwide.
10. He was a working musician, not a household name
Bach was not as famous as Handel as a composer. Instead, he was more famous as an organist throughout Europe during his lifetime.
Most of his compositions are educational pieces or church music for the various churches he worked. Since his works were commissions for specific reasons and not as musical experiments, it is likely Bach would consider them to be disposable, having no foresight of what they would become.
11. Working for royalty
Working in the court of some royalty was probably the best position for a composer at the time. As such, Bach returned to Weimar and found a job working in the court of Duke Wilhelm Ernst. In this period of time, he was well-funded and had the opportunity to work with some excellent musicians.
Bach spent his time in the Duke's court composing keyboard and orchestral music. The most well-known of these pieces are Toccata and Fugue in D minor and The Well-Tempered Clavier, which consists of 24 preludes and fugues, one for each major and minor key.
However, a time came when he wanted to leave his position. Duke Ernst didn't like Bach's attitude and had him arrested. Bach spent one month in jail!
Following his time in prison, Bach worked for Leopold, Prince of Anhalt-Köthen. During this time, he composed the famous Brandenburg Concertos and the Sonatas and Partitas for Solo Violin.
12. Bach's musical signature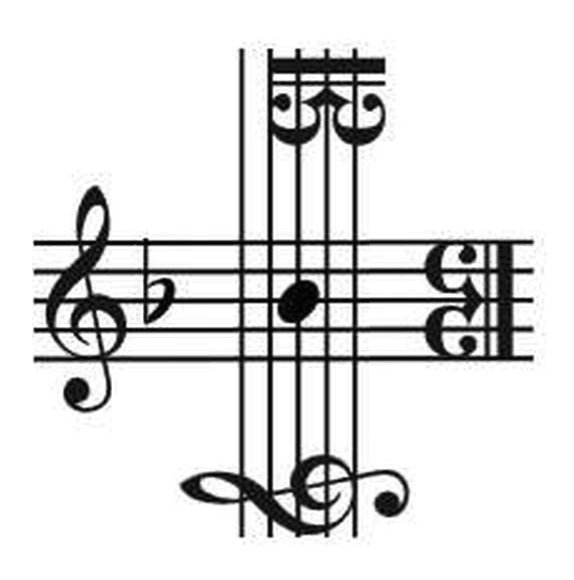 Did you know that "Bach" can be written in a musical notation?
Treble Clef: B-flat
Tenor Clef: A-natural
Alto Clef: C-natural
Treble Clef: B-natural which in German musical notation is "H"
I didn't find evidence that Johann Sebastian Bach actually used this cross sign as his signature but he often used these notes in his music, for example: Fugue from BWV 898, Brandenburg Concerto No. 2 – BWV 1047 (the continuo part at bar 109), and Gigue from his English Suite No. 6 for keyboard among other.
Moreover, compositions by later prominent composers feature this motif, e.g. Fantasy and Fugue on the Theme B-A-C-H for organ composed in 1855 by Franz Liszt.
The Bach family
The Bach family was bigger than you could imagine!
13. Bach had many musicians as ancestors
Many of his ancestors were musicians.
As I mentioned earlier, it was common to follow in your father's footsteps and take on your father's profession. The Bachs were no different.
Johannes Bach I (1580–1626) was a piper and the first musician of the Bach family. His son Christoph, was an instrumentalist, and his son Johann Ambrosius Bach, was a violinist and father of Johann Sebastian. His uncles and cousins include Johann Michael Bach, a composer, Heinrich Bach, an organist and teacher, and Johann Christoph Bach, an organist and composer.
14. Bach's wives and kids… Many kids!
While in Mühlhausen, Bach married his second cousin, Maria Barbara Bach. They had seven children, three of whom died in infancy.
Wilhelm Friedemann Bach, Carl Philipp Emanuel Bach, and Johann Gottfried Bernhard Bach were all musicians.
Musical historians speculate that Bach composed the violin partita No. 2, especially the final part of the famous Chaconne, in Maria Barbara's memory.
Seventeen months after Maria Barbara Bach's death, Johann Sebastian Bach married Anna Magdalena Wilcke, a professional singer. Anna gave birth to thirteen children(!). Sorrowfully, seven of them died either as infants or before the age of ten.
Their son, Gottfried Heinrich, played the keyboard. Johann Christoph Altnickol was an organist, singer, and composer. Johann Christoph Friedrich Bach was a notable composer and Johann Christian Bach was an outstanding composer of the classical era.
15. The famous Bach
It's hard to imagine, but Johann Sebastian Bach was not the most famous composer with the surname name Bach. His son, Carl Philip Emmanuel, was!
Carl Philip Emmanuel was active during the transitional time between the Baroque and Classical music eras, so his style was very influential during that period.
His second name was in honor of notable composer Georg Philipp Telemann, his godfather.
J.S. Bach's son was also a pedagogue, and his work "Essay on the true art of playing keyboard instruments" was studied by Haydn, Mozart, and Beethoven.
Carl Philip Emmanuel's fame started fainting when his father's music was rediscovered and appreciated. Even today, he is only well known in music circles. The average music listener might not know who he is.
16. The other famous son of Bach
Johann Christian Bach didn't become as famous as his brother. He is known as "English Bach" or "London Bach" because of his appointment as music master to Queen Charlotte.
Even though he is not considered influential, he is known for influencing the concerto styles of Haydn and Mozart and for his contribution to developing the sonata form.
17. The Bach's grandsons
Only five of Bach's children married. Johan Christian had no children, but Carl Philip Emmanuel had three. One of his sons, Johann Sebastian, was a gifted painter who died young.
Johann Christoph Friedrich Bach's son, Wilhelm Friedrich Ernst, is the only one of Bach's grandchildren to gain fame as a composer. He was music director to Frederick William II of Prussia, and his most notable composition is a music piece for six hands to be played by a large male and two small female performers. Visualize if you can, the male performer stretching his arms around the small women to reach and play the lowest and highest notes. This was the idea of the piece. 🙂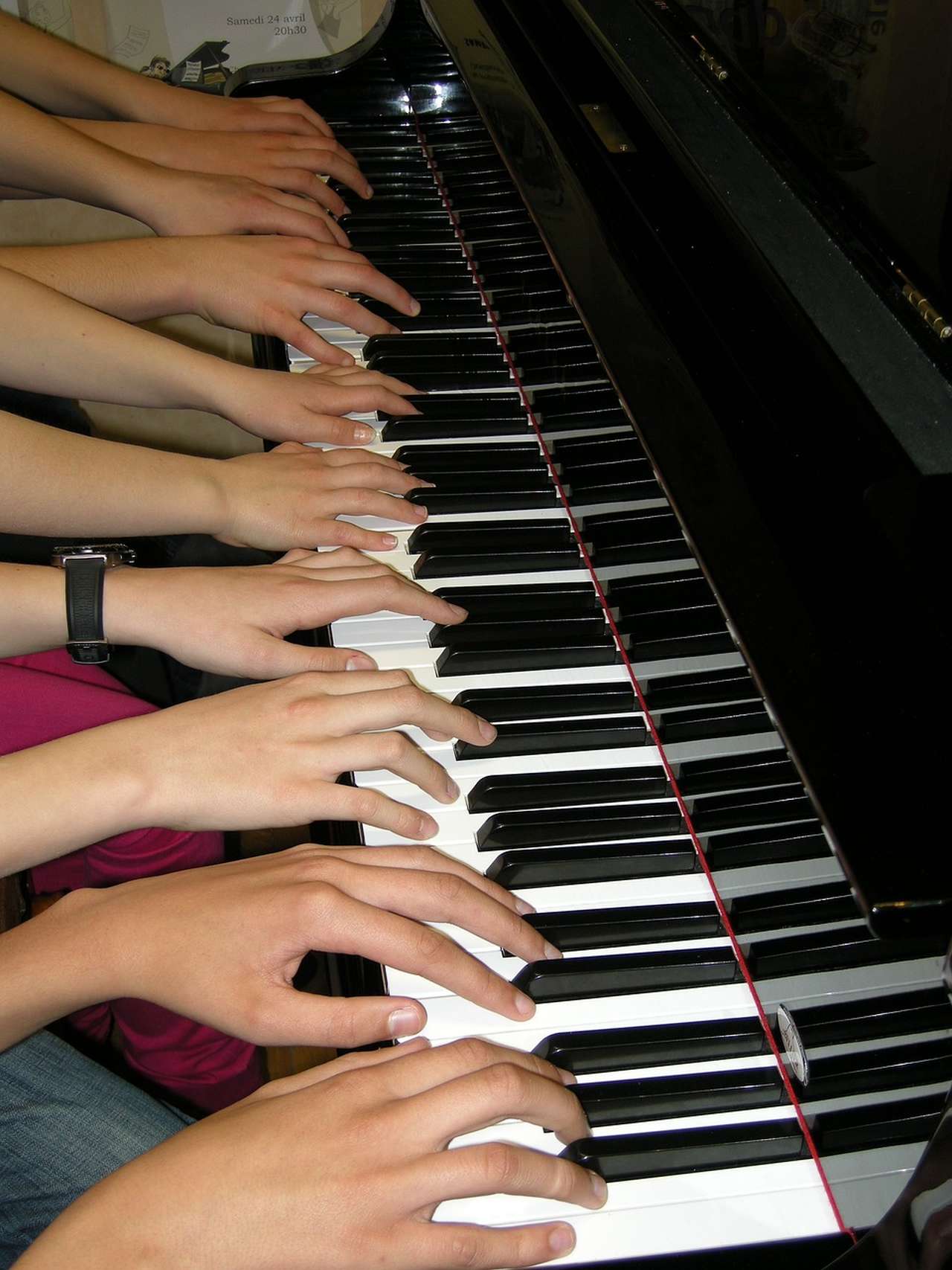 J.S. Bach – Leipzig and Death
18. Composing church cantatas and performing in Leipzig
In 1723 Bach was appointed director of church music in Leipzig. This job required educating children in singing and providing music for the main churches in the city. It was essential to have a cantata at every Sunday service, keeping Bach very busy composing them.
During his time in Leipzig, Bach perfected the cantata form, composing more than 300 of them, though a little over 100 are, unfortunately, lost. Most of the compositions you hear today during Easter or other Christian holidays were composed during that time.
For extra income, Bach played at weddings and funerals, not only his music but other composers' too.
19. Ensemble work
In 1729, Johann Sebastian Bach became director of a secular ensemble in Leipzig, created by his friend Telemann. Every week, the ensemble would perform for free for two hours.
Working with the ensemble, Bach was inspired to compose new instrumental music for ensembles, such as his violin concertos and the Coffee Cantata.
20. Mass in B Minor
Bach's Mass in B minor is one of the highest achievements in Western music, though it is a collage of smaller pieces with some new or revised music. Before he completed this work, he presented the Kyrie – Gloria part to Prince Leopold, hoping to get the title of court composer. The prince agreed and even appointed some of Bach's students to other positions.
Bach was appointed court composer in 1733, and the Mass was completed in 1749, one year before his death.
Unfortunately, Bach passed away before seeing a complete performance of his piece.
21. Final years of Johann Sebastian Bach
In the final ten years of his life, Bach changed his style, incorporating elements from younger composers like Handel, copying older music, and revising some of his own.
While visiting with King Frederick II of Prussia, Bach was challenged to improvise a fugue based on a theme King Frederick would play on a fortepiano (an ancestor of the piano). Returning home, he composed fugues, canons, and a trio based on the theme of the king, which he dedicated to King Federick when it was published.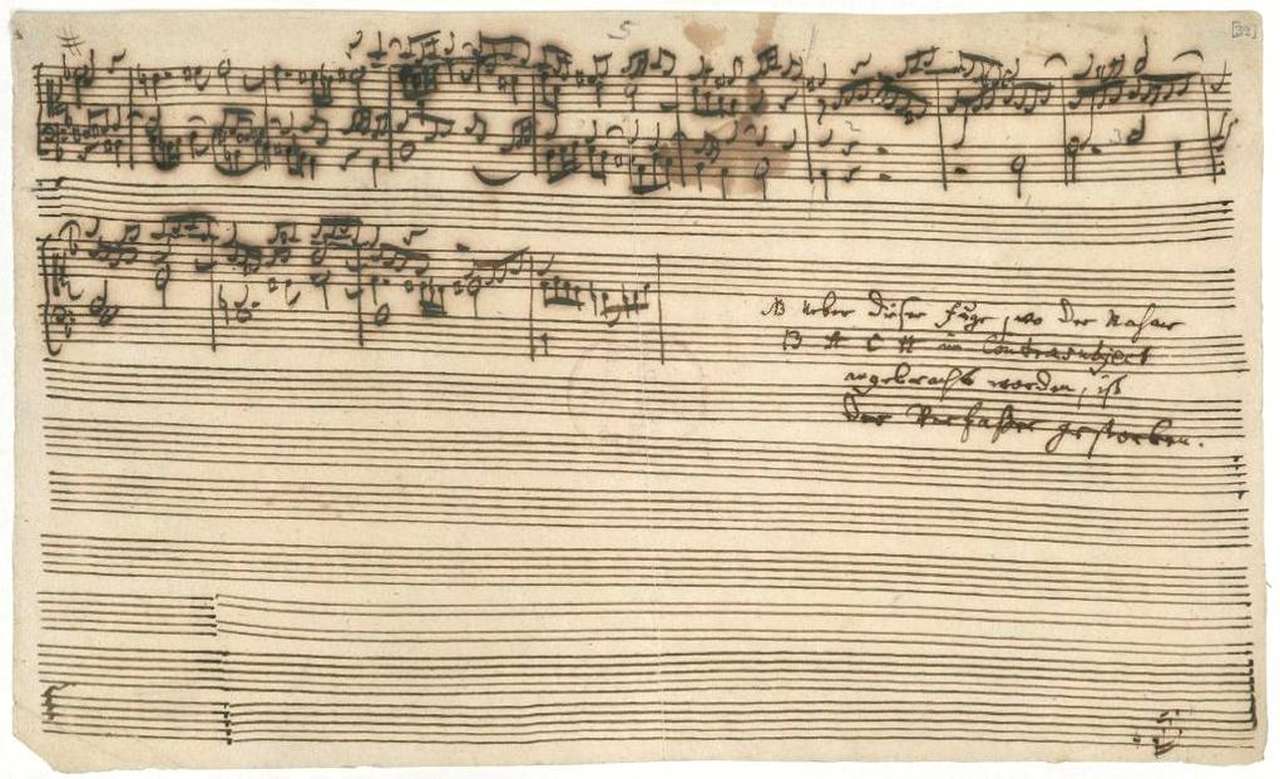 Bach spent his last years concentrating on finishing his Mass in B minor and The Art of Fugue, which was left unfinished. Later, Carl Philip Emmanuel helped with the publishing of The Art of Fugue.
With his health declining and losing sight in one eye, he visited several famous eye surgeons of the time, and on 28 July 1750, Bach died from unsuccessful treatment.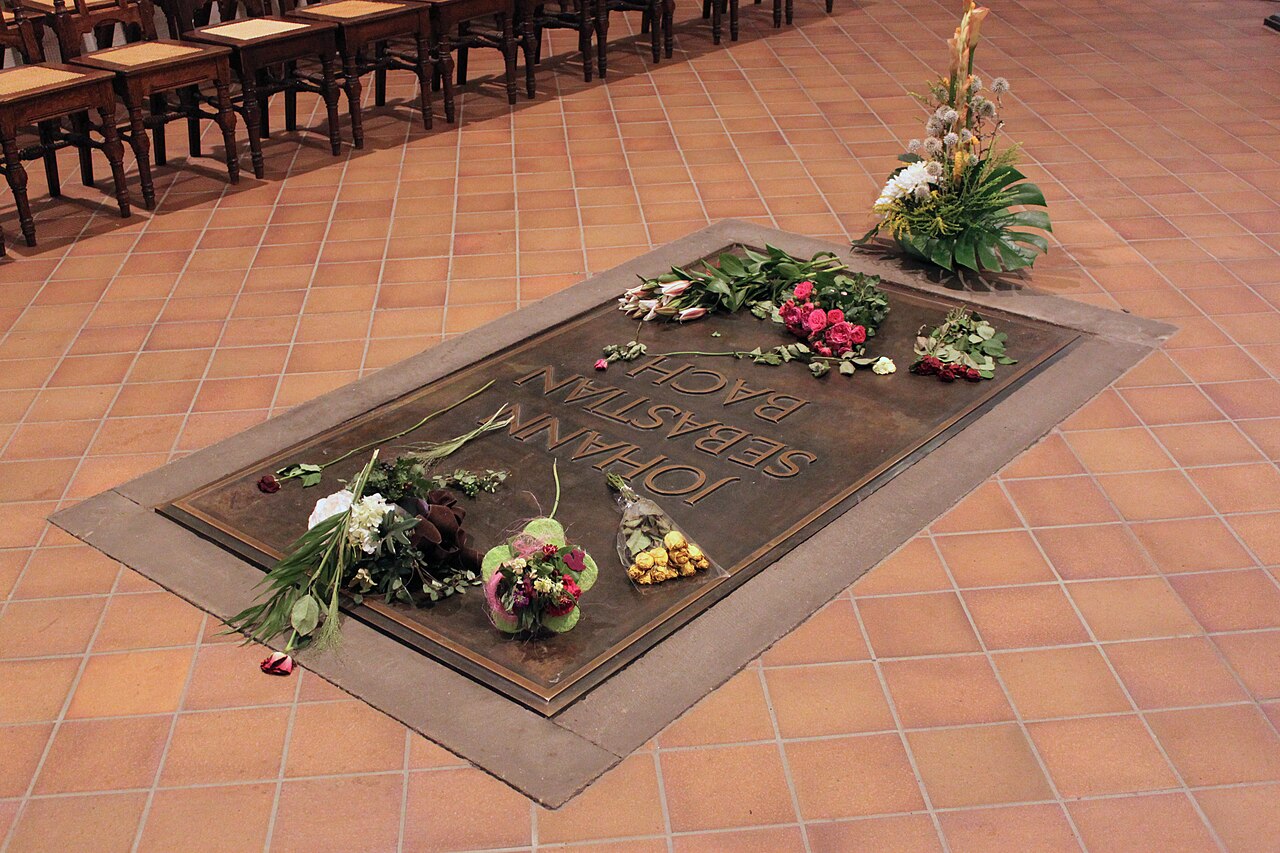 22. Property of Bach's estate
An inventory after Bach's death shows that his estate owns five harpsichords, two lute – harpsichords, three violins, three violas, two cellos, a viola da gamba, a lute, and a spinet, as well as 52 sacred books.
Bach's musical offerings
Now, let's take a closer look at Bach's pieces!
23. The body of Bach's work
Bach's music compositions are a lot! Most of his compositions were commissions for various churches where he worked or instructional pieces for his students. Maybe Bach didn't even think to keep most of his music catalog, but thankfully, most were published for us to enjoy now and in the future.
JS Bach has composed more than 1000 works, including more than 200 cantatas, about 10 motets, 11 masses, a whole lot of organ music, almost 250 pieces, an equal number of keyboard compositions, 40 chamber music compositions, 30 orchestral works, and more!
24. Violin Concerto in A Minor
Johann Sebastian Bach's Violin Concerto in A Minor is a well-known piece. Many casual listeners might recognize the music, though they might not be able to name the composer as quickly.
This concerto is a piece commonly found in the standard violin repertoire. Most seasoned violinists will play it at least once in their lifetime.
The date of Bach's completion of the piece is uncertain, but some scholars believe it to be between 1717-23. Others suspect it was during his time in Leipzig in 1729. The original manuscript is lost. Only a copy survives, by Bach himself.
Bach transcribed this concerto for the harpsichord, renaming it Harpsichord Concerto No. 7 in G minor. Its modern version on keyboard or piano is a wonderful rendition.
The notes for the concerto are relatively simple. An intermediate student with a good foundation in the second and third playing positions can perform a simplified version of the piece, though they need to be able to play 16th notes easily.
Some violinists play it fast, but Bach's music is most enjoyable at a medium speed, so you don't need to rush!
You can download the sheet music here: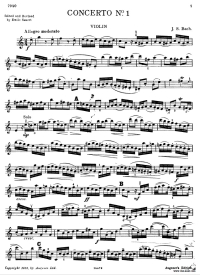 J.S. Bach – Violin Concerto in A minor, BWV 1041
25. Concerto for Two Violins aka. Bach Double
One of Bach's most successful works is Concerto for Two Violins. Who plays the first and who the second violin is of little importance, as the two violins always complete each other's melodies.
Bach's Concerto for Two Violins is an advanced-level piece, and when you reach the level to play it, it is rewarding, indeed!
Here's a performance of the concert with two renowned violinists, Yehudi Menuhin, and David Oistrakh, for you to enjoy. Menuhin is playing violin 1: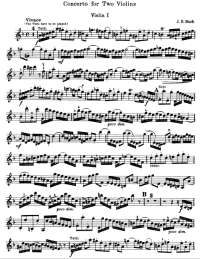 Bach – Concerto for 2 Violins in D minor
26. Sonatas and Partitas for Solo Violin
The Sonatas and Partitas for Solo Violin are some of Bach's most beautiful music delivered for the instrument. It includes six works, three partitas, and three sonatas. The partitas are all in dance-form movements. When you listen, you wouldn't imagine they have much danceability. But it is always fun to try and see what kind of moves you can bust out when you hear them. I get a little sway going every once in a while. 🙂
They are an essential part of the violin repertoire, and all violinists who want a degree must play at least some of them.
Bach completed his Sonatas and Partitas for Solo Violin in 1720. But it took years to have them published in around 1802. Even then, no one took notice until renowned violinist Joseph Joachim (1831 – 1907) started performing them.
There are many memorable parts in this collection of works: The fugue and presto from Sonata 1, the Allemanda and especially the Ciaccona from Partita 2, the Preludio from Partita 3, and many more! Since this is a solo repertoire, the violinist can interpret them in various ways, creating a fresh experience every time. Here are two examples:
The first one is by Hilary Hahn:
And here the violinist is playing the same but with a baroque violin: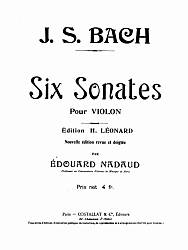 Sonatas and Partitas by J.S. Bach

27. The Bach revival
While he held important titles during his lifetime, Bach was not that famous as a composer. He was, however, appreciated as a virtuoso and a great teacher. Though, there were people who admired him and others who didn't like his style.
After Bach's death, his reputation as a composer declined because he was considered old-fashioned compared to the then-new galant style. Some of his children cared to collect his manuscripts, though not all of them cared the same, and some had to sell portions of them when they experienced financial difficulties.
The first biography of the composer was published in 1802, which helped his name become more well-known. Many of his works had a second publishing, and The Bach Revival began.
We can attribute much of this revival to Felix Mendelssohn and his performance of St. Matthew Passion in 1829. His performance was the beginning of Bach's recognition as one of the greatest composers who ever lived. Today, studying Bach's music is essential to anyone learning to play an instrument, especially the violin and piano. It is mandatory to study in almost every music conservatory syllabus.
28. Bach in Popular Culture
While he is not the subject of films as much as Mozart (which you can read about here), you can hear his music in the background of many.
Toccata and Fugue in D minor is the common one. Directors often use this piece to illustrate a villain or scare. As a matter of fact, you may even consider it a cliché since you hear it so much.
One of its first uses in sound films was the 1931 Dr. Jekyll and Mr. Hyde. The film composer Ennio Morricone was inspired by it when composing the music for the movie For a Few Dollars More.
Here are some examples you probably didn't guess:
Eminem uses the theme from Toccata and Fugue in his song Brainless:
The Beetles use part of Invention No. 8 in F during their song All You Need is Love:
That harpsichord at the beginning of Lady Gaga's Bad Romance is no other than the Fugue in B minor from Book One of the Well-Tempered Clavier:
John Lord, keyboardist of Deep Purple, can't hide how much he loves Bach and how much he has inspired him. Check out this video to see him explaining the solo from Highway Star:
I cannot emphasize enough the importance of Johann Sebastian Bach's music for the evolution of Western music. Even though he was more famous as an organist in the first years after his death, the reevaluation of his work proved to be very significant. It is a requirement for all musicians who play any instrument to learn about Bach during their studies. And while his music is not everyone's taste, no one can argue that he was a musical genius for his time.