I'm so excited to teach you today My Heart Will Go On and provide you with my arrangement of violin sheet music for this song! Do you know this famous tune from the movie Titanic? It sounds beautiful and haunting played on the violin!
Keep reading to learn the story of the song and how to play it on the violin.
Titanic Movie
Did you know there wasn't originally going to be a vocal song in the Titanic movie?
The film had a huge budget, and the moviemakers were concerned that writing a pop song and hiring a famous pop singer to perform it would make them go over budget.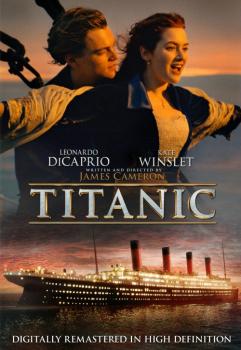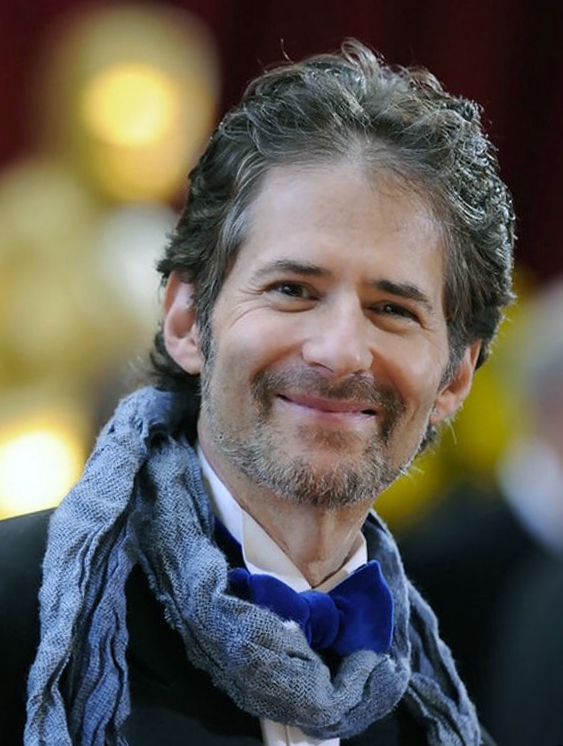 The composer for Titanic, James Horner, ended up writing a vocal song and thought Celine Dion would be perfect for it. When James first showed the song to the singer, she didn't even like it! He made a few improvements and got her to agree to it. Celine Dion ended up recording the song in one take, which is a great feat! This has since become her most famous song around the world.
James Horner also wrote the music for Braveheart and Avatar, and is known for incorporating a Celtic sound into his music. His Celtic sound, mixed with Norwegian influences and 90s synths created a beautiful soundtrack for Titanic.
Violin Sheet Music
One of the best ways to learn any song is by reading sheet music. You can get your copy of my digital sheet music for My Heart Will Go On below:
How to Play "My Heart Will Go On" on the Violin
I have a helpful tutorial video to guide your learning process for My Heart Will Go On, along with both slow and fast play-along videos (see below). You might want to watch those videos as you learn.
Here are a few more tips to help you play this song.
Key Signature: D Major
My Heart Will Go On is in the key of D Major. I suggest practicing the D Major scale as a warmup before playing the song to understand the finger patterns you'll find in the music.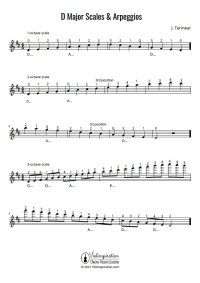 D Major Scales, Arpeggios
and a Bonus Exercise
We'll be using a low second finger (G natural) on the E string. Be sure to keep your second finger high on the A string, for C sharp!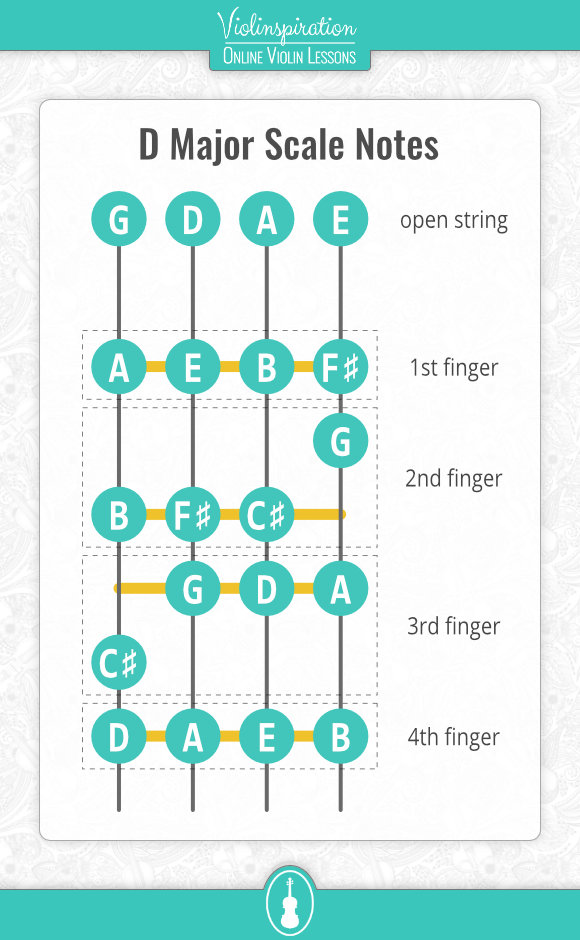 Bow Stroke: Détaché
This violin piece of music is played legato, but we don't see any slurs. This means that we should play with a détaché bow stroke.
This bow stroke should sound separate, but broad. Each note goes into the next without a break or pause in between. This helps the music sound legato without playing more than one note per bow direction.
Uneven Bowings
Some notes will feel uneven in the bow due to the rhythms in the music. You may notice this when we have a dotted quarter note and an eighth note next to each other.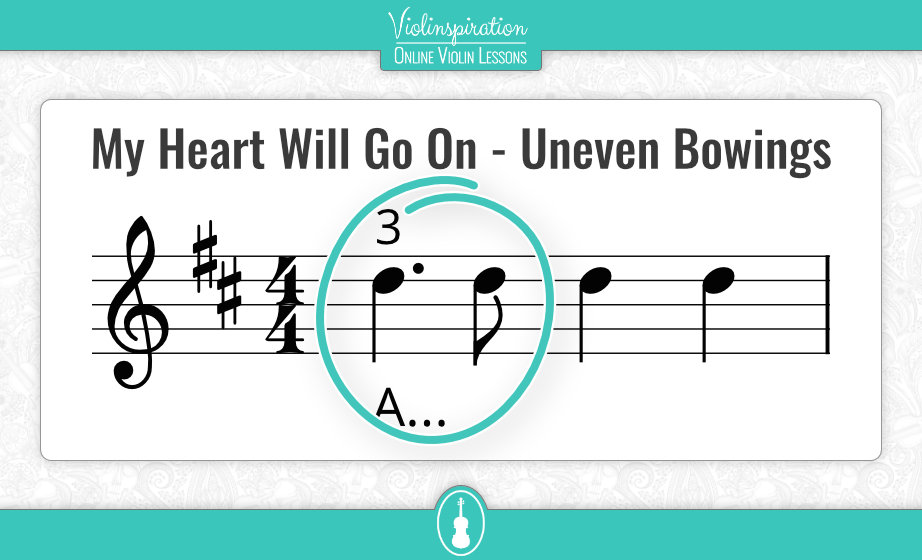 You might've learned to use more bow for long notes and less bow for short notes, but with uneven rhythms like this, we want to save bow on the long notes to somewhat even out how much bow we use.
If we use a lot of bow on the short notes, they'll come out louder than the rest, and accented, which isn't quite what we want to hear in this song.
My Heart Will Go On Play-Alongs
Once you're familiar with the notes of My Heart Will Go On, you can practice with my video play-alongs at 70 and 90 BPM.
Final Note
I hope this guide to My Heart Will Go On for violin was helpful! Remember to download the digital sheet music to get started learning this beautiful music.
If you'd like to review the notes, be sure to watch my tutorial video for some extra help. They're tailored just for you!