Buying the best violin bow for your violin is almost as important as which violin to buy. You could have the most amazing violin, but if you have a scratchy, fizzled-out bow, your sound will suffer and discourage you from playing. This can be solved by getting a bow that helps you produce a great sound.
Whether your violin bow is broken and you need a new one as soon as possible, or you're feeling that your current bow is limiting your playing, I really hope that information and reviews in this post will help you choose the best violin bow for you!
My Top 4 Best Violin Bows
Here are four violin bows that in my opinion are best from what you can find online. I would definitely consider these if I needed a new violin bow. I picked one that is more subtle and one that will give you a powerful sound, one is best if you're on a budget and the last one is best in terms of overall quality.
Below you will find detailed reviews of these bows plus a few more to have a bigger overview. Before that, let's have a look at what you should consider when choosing a new bow.
What to Look for When Buying a Violin Bow
What the best violin bow is for you, depends entirely on your violin and what it is you're looking for in your sound. Your bow and your violin work together to create a good sound, so they have to be a match. Also, it is very important that the bow feels comfortable for you.
Here are the four main features of a violin bow that you should check when deciding on a purchase.
1. How it sounds
The single most important thing you need to test is how the bow sounds on your particular violin. There isn't one 'best violin bow' for everyone or every instrument. Some people will be looking for a powerful bow that projects sound well because they want to perform for a large audience. Others will prefer a bow that can articulate notes better, and allow the higher overtones of each note to resonate and sound out.
Even if you are not completely sure what you want, you will get a good sense of whether you like a bow or not when trying them out. Therefore it is important to get a handful of different bows to try, whether in a store or on a home loan. After all, it is your judgment that matters. Maybe you could make a trip out of it to another town, it would be a special experience. I do believe that it is worth it, of course, if possible.
Some shops have a service where they will send you a handful of violin bows at a time for you to try at home, over a period of a week or so. If you don't find one you like, you just send them back and ask for another batch. And if you do find one you want to buy, you send the remaining ones back.
2. How it Feels
1. Weight and Distribution
The average violin bow weighs around 60g, but some are lighter and some heavier. Whether a violin bow feels heavy depends both on its actual weight and the distribution of this weight over the bow. A heavier bow can feel lighter if the majority of its weight is by the frog, and vice versa a lighter bow can feel heavier if most of the weight is at the tip.
A heavier feel can be helpful if your right hand feels shaky, or if you want a more steady sound. A lighter bow will help you play faster and with more articulation.
2. Stiff vs Soft
Ideally, you don't want a bow that's too stiff or too floppy but want a good balance. Generally speaking, a stiff violin bow will allow you for more control and steady playing, however, if it's too stiff it will become again harder to control. A softer, more flexible bow may make it easier to play spiccato and other lively bowing techniques.
Keep in mind that these are guidelines, as it is never one parameter by itself that will determine how a bow plays or feels. It is a combination of factors. For example, a softer violin bow with hair that is wound tighter will become more stable and feel more like a stiffer bow.
3. How you Feel Holding it and How Easy it is to Play
As I said above, the guidelines above are there to give you a sense of what factors you may want to change. If you are trying out some bows and they all feel a little too bouncy or difficult to handle, you may ask for stiffer or heavier bows. However, if they feel too heavy or sluggish, you might go the other way and ask for lighter or softer bows.
In the end, you will need to try out and get a feel for what works for you, and what is easier to use. As a rule of thumb, I would suggest getting a middle-of-the-range bow in stiffness and weight. Most beginner bows fit this description.
Also check how comfortable is holding the bow itself, e.g. do you have enough space for your thumb? Does it feel natural for you to hold a particular bow?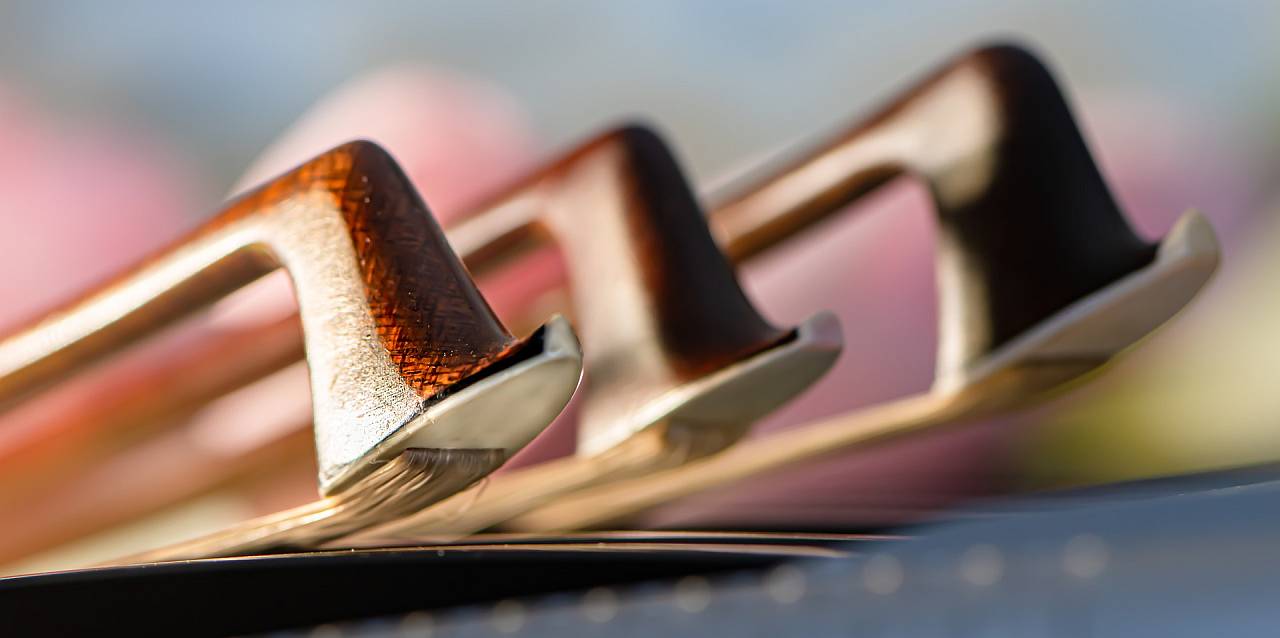 3. Does it Fit Your Budget
You will want to get the best violin bow you can afford, it will help your playing considerably. Sometimes we don't realize that a technique we struggle with can become a great deal easier just by using a better violin bow or a better violin. Having said this, we all have limitations of how much we can fork out for all this equipment, so don't remortgage your house for a violin bow. Remember that you can always try to buy a second-hand bow.
4. Different Types of Violin Bow Materials
Violin bows can be made of wood or a composite type of material, like carbon fiber. In addition, there are hybrid bows, which are made of a mixture of carbon fiber and wood, usually with a wood shell and a carbon fiber inside.
In most cases I would recommend getting a carbon fiber violin bow (at least if you're going to spend no more than 500-600 EUR) rather than a traditional wood bow for several reasons:
You will get a much better quality violin bow for the price you pay. As these bows can be more easily mass-manufactured, this reduces the cost and hence the price.
Most carbon fiber violin bows are easy to play and make playing a variety of bow strokes manageable.
Because of the nature of the material, these bows are more predictable. Wooden bows can warp, bend, and change how they play unpredictably, as in each one the wood may warp differently over time, but carbon fiber bows will stay the same.
Wooden violin bows are seriously sensitive to changes in temperature, and humidity, while carbon fiber ones will not be affected by the weather and will hold their shape.
Most of the wood – namely Pernambuco – used for the best violin bows, is now an endangered species, which is problematic for the obvious reason of not wanting to harm nature, but also because in many countries there are restrictions on traveling with such materials.
The Best and Most Popular Violin Bows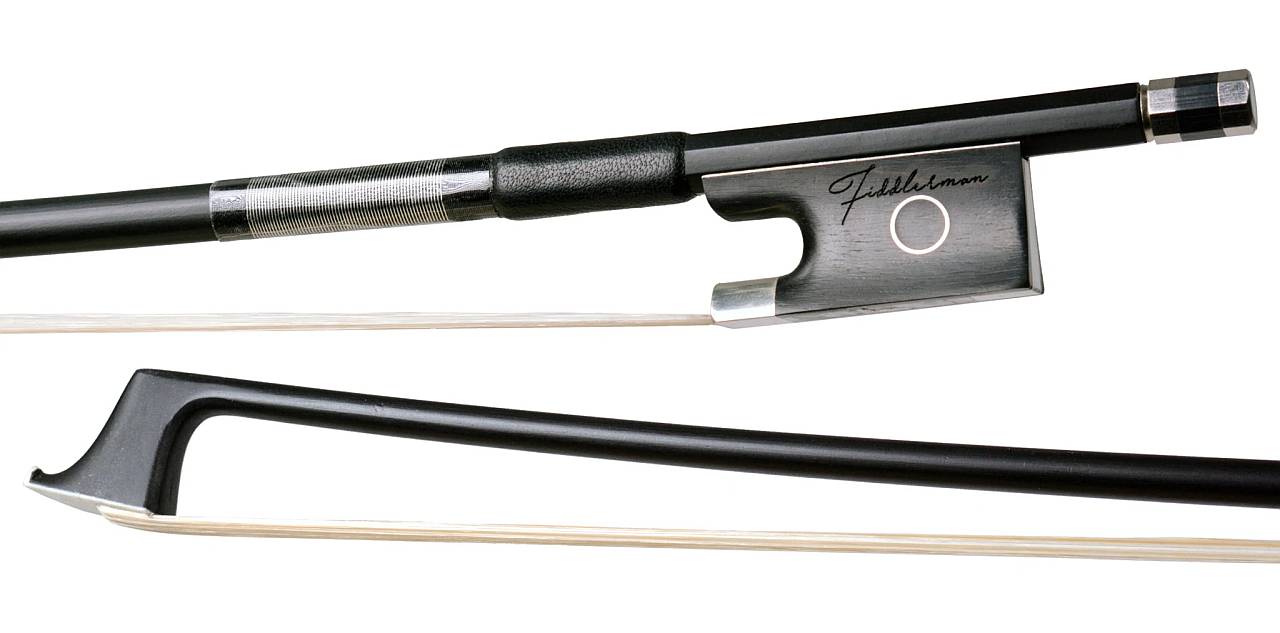 Fiddlerman Carbon Fiber Violin Bow
Support us for more FREE content No extra costs for you Recommended by Violinists
Price: $68.75
Materials: carbon fiber, copper mounted ebony frog, Siberian horsehair
Weight: 61 g
+ Good bounce and maneuverability
+ Easy handling
+ Good balance
+ Great value for money
– Not the highest quality
This bow is an excellent budget violin bow for a beginner. It is light and easy to handle, has a nice bouncy feel, and is well balanced. It also comes at a fantastic price.
If you are a beginner or someone on a strict budget, this bow will do you justice. It is way more value than the price would suggest.
If you have a tiny bit more money at $87.79 you can get the Fiddlerman Carbon Fiber Weave Bow which is a little bit stronger and produces more sound. If you want a cheap violin bow that is nonetheless of great quality, I'd recommend this one.

Glasser X-Series Violin Bow
Support us for more FREE content No extra costs for you Recommended by Violinists
Price: $125
Materials: carbon graphite, ebony frog, faux pearl
Weight: 59 g
+ Lightweight
+ Easy to play
+ Durable
+ Affordable price
– Hair tension difficult to adjust
– Bulky stick
Lightweight and sturdy, this very affordable violin bow will enhance your playing and the quality of the tone of your violin. Despite the generic and bland look, it plays nicely and is well balanced.
On the downside, the stick is a little bit bulky and there has been no effort made to make it look stylish or beautiful. The sound is fine, but it isn't the highest quality, so if you're no longer a beginner or if you have a refined ear, I'd suggest looking for something towards the higher end of violin bows.
Additionally, when adjusting the tightness of the hair, a tiny turn creates a big change, which can make it difficult to find the right balance.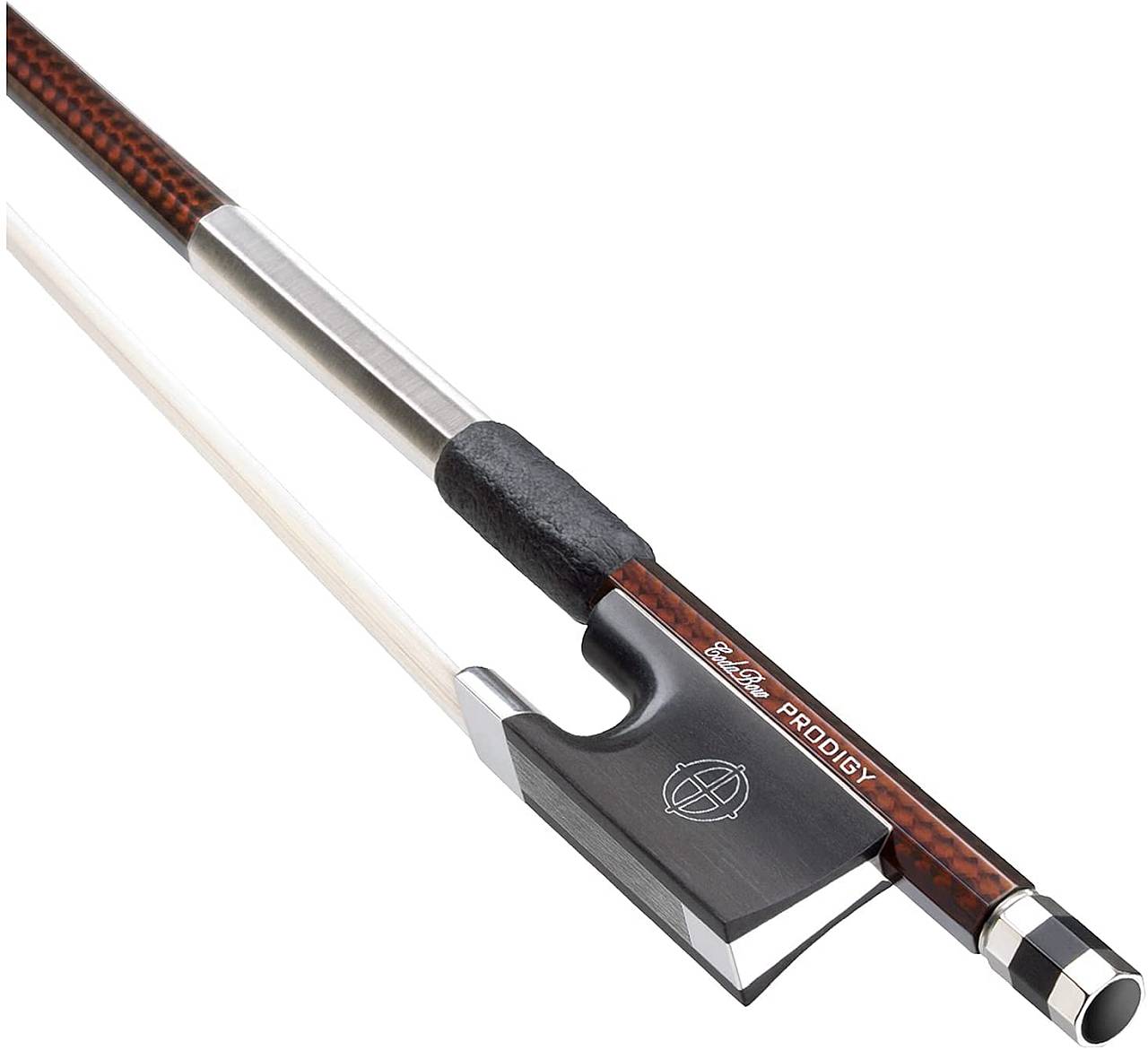 Support us for more FREE content No extra costs for you Recommended by Violinists
Price: $365
Materials: carbon fiber, copper mounted ebony frog, Siberian horsehair
Weight: N/A
+ Strong, clear sound
+ Easy to play
+ Good value for money
– Missing high-frequency overtones
This is the Codabow Prodigy violin bow. A good mid-range price, and a great bow for this money. It plays with a rich and broad sound. If you are after a powerful bow, this will work for you just fine. It is one of the stiffer bows, but not so stiff you can't control it. However, it will not collapse in your hand.
On the downside, I find with all Codabows, that despite the strong and clear sound, they lack a certain subtlety I like to have. Best to try it and see for yourself.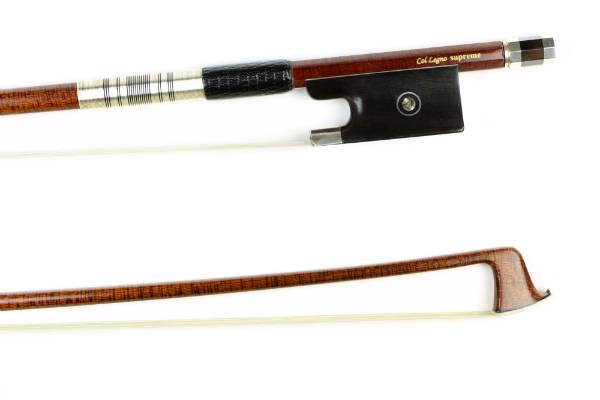 Support us for more FREE content No extra costs for you Recommended by Violinists
Price: from £564
Materials: carbon fiber, silver mounted ebony frog
Weight: N/A
+ Crisp, clear sound
+ Easy to play
+ Brings out subtlety
+ Good value for money
– Not as robust as some other bows
It is good enough for an advanced player, has a clear, crisp sound, and no scratchy overtones. It plays subtle sounds with ease and handles well. If you are after clarity and precision in your sound, this bow is perfect.
There are two cheaper options, the Standard and the Deluxe models, which are also quite good, but this one has by far the best sound and most power of the three, while still within reasonable limits in price.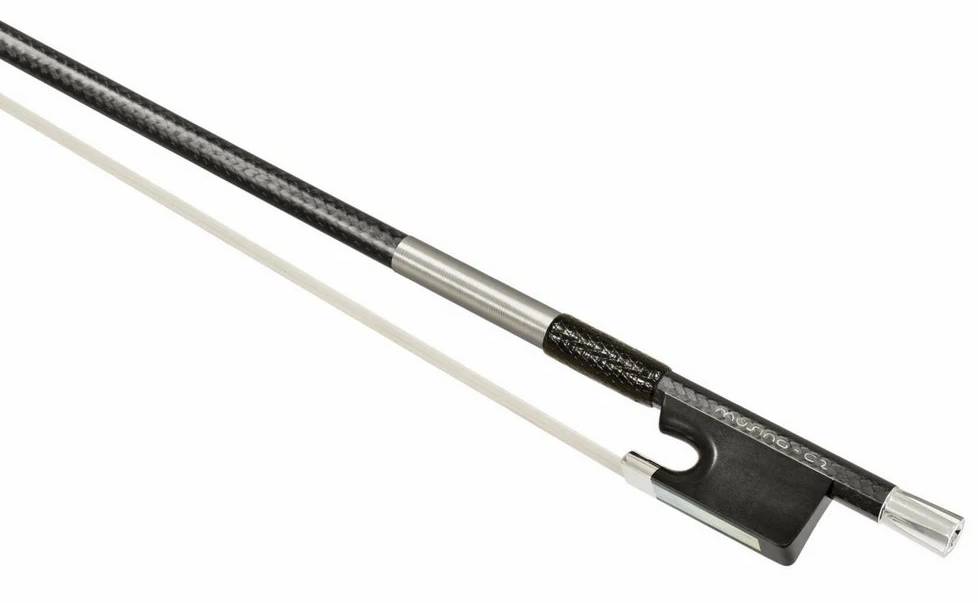 Support us for more FREE content No extra costs for you Recommended by Violinists
Price: $675
Materials: carbon fiber, silver mounted ebony frog
Weight: 53.5 g
+ Rich, warm, clear sound
+ Very light
+ Easy to play
+ Good value for money
Great for adult amateurs and professionals alike, the lower end of the Arcus bows come at more affordable prices. Arcus bows are great at bringing out the full range of frequencies in your sound, making them sound as good as a high-end Pernambuco violin bow. It brings out the soft, subtle qualities.
While still not a budget product, this more affordable bow still has Arcus quality, it is stiff and light, and has excellent resonance. Also, Arcus bows produce a much warmer tone than many other carbon fiber bows.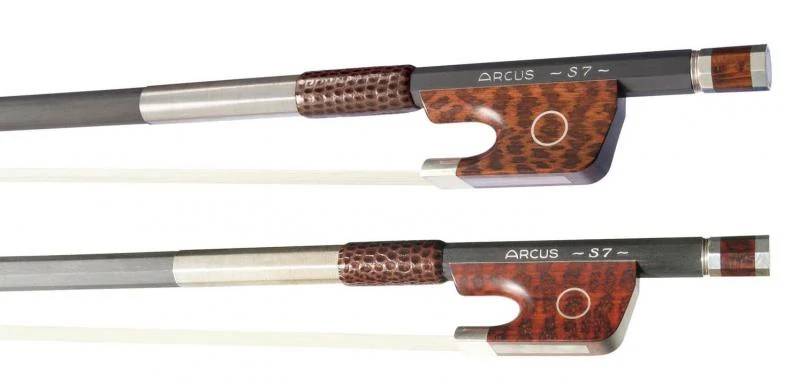 Support us for more FREE content No extra costs for you Recommended by Violinists
Price: from $3250
Materials: carbon fiber, pearl, silver/gold
Weight: 48 g
+ Perfectly balanced
+ Easy handling
+ Clear, open and brilliant sound
+ Great value for money
The Arcus S-series is a range of bows starting at the S4 and going to the S9. Even the lowest quality, the S4 is a fantastic violin bow for the price, as are all Arcus carbon fiber bows. Their prices range from $1080 to $8000.
Playing with an Arcus bow makes difficult bowing techniques way easier, as they are highly agile, especially because they are much lighter than your regular wooden bow.
They come with a choice of either round or octagonal cross-section. The octagonal one is great for a more lively modality of playing, it is more articulate and virtuosic, while the round version is more even, steady, and grounded.
As you'd expect, the higher the number the better the bow, they get stronger in sound, more powerful, however, they quickly become incredibly expensive.
Overall, the S7 stands out as the best value for money, the sound quality stands out as above and beyond pretty much any other bow on the market. Crisp, strong, warm, and articulate, the Arcus S7 may be the best bow on the market, with the exception of the S8 and S9 perhaps. I cannot find any downsides to this bow other than its cost.
For more detailed information on each individual bow in this series, and also on some of the other Arcus series bows, visit the link above.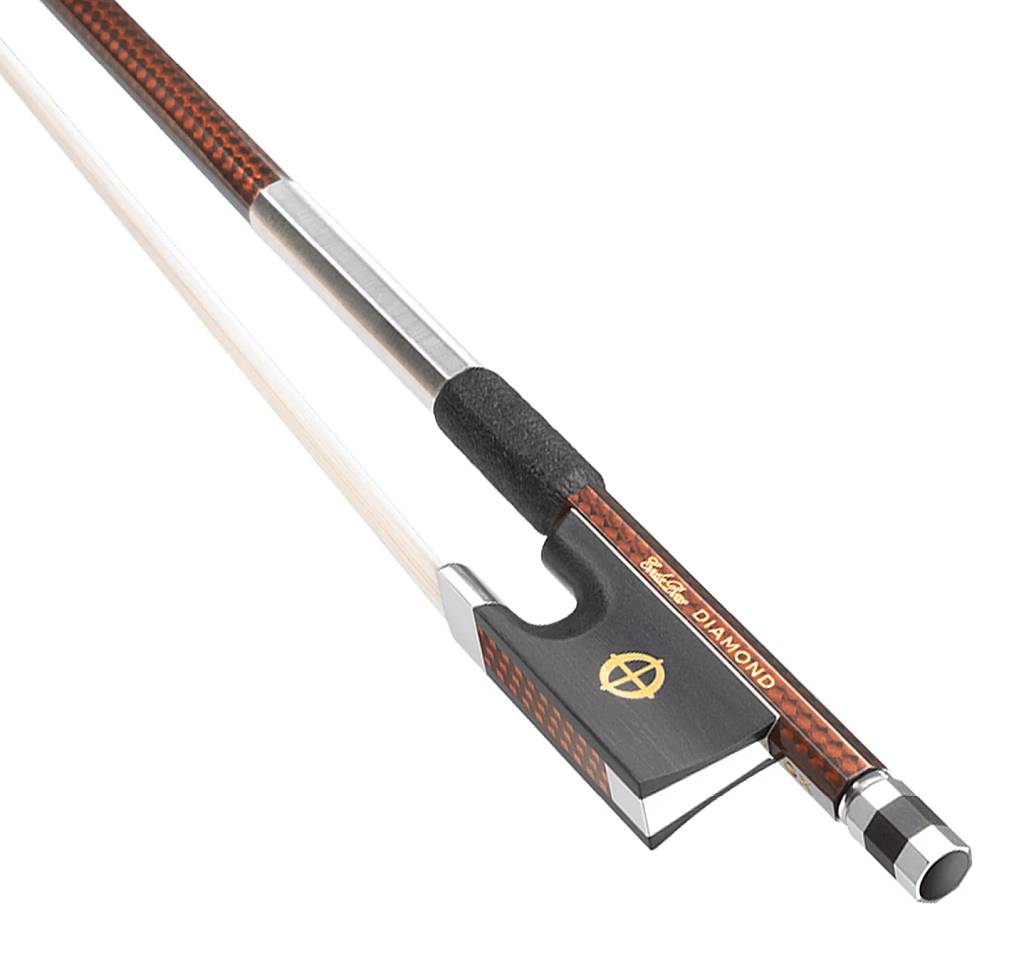 Codabow Diamond GX Carbon
Support us for more FREE content No extra costs for you Recommended by Violinists
Price: $935
Materials: carbon fiber, Kevlar Acoustic Core, Sterling Silver Fittings
Weight: 62 g
+ Warm, powerful sound
+ Easy to handle
+ Great value for money
+ Projects well
– Expensive
– Lacks a delicate feel
Medium weight, with a balance nearer the center and the frog, making it feel really light, this bow has a rich warm, and robust tone, and the ability to play both long, resonant tones and more subtle or articulated notes. Its powerful sound projects well, making it great for solo performances.
Its quality is good enough for both professionals and amateurs, and also rather stylish, all for under $1000. Not cheap, but good value.
It is 31 inches long, which is longer than average, the tightening screw is smooth and easy to turn.
It may lack a certain delicateness in the sound, but most people I have asked didn't feel the same way.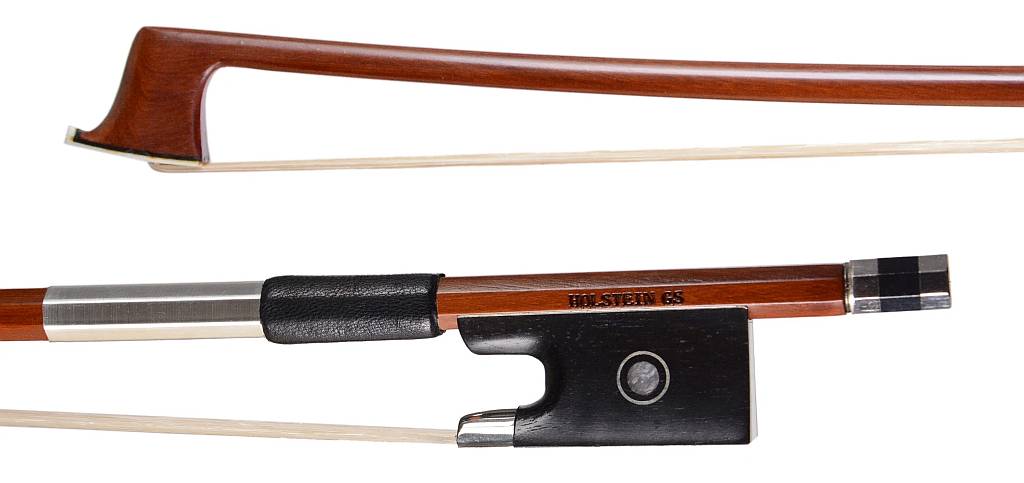 Open-box Holstein Sandalwood Violin Bow
Support us for more FREE content No extra costs for you Recommended by Violinists
Price: on sale $55, regular price is $69
Materials: Sandalwood, silver mounted ebony frog
Weight: N/A
+ Rich, warm sound
+ Responsive
+ Excellent value for money
This bow is so cheap and yet plays quite well, giving a warm, rounded sound. If you're strapped for money and need a new bow, this one is a great choice, you can't go wrong with it, especially as Fiddlershop offers a one-year guarantee.
It is made of Sandalwood, which is a good alternative to Pernambuco. You can rest in the knowledge that you're not endangering the trees and have no travel restrictions either.
However, like all wooden bows, it is sensitive to changes in the weather, which could make it warp or twist, therefore storing it in the right way is of utmost importance.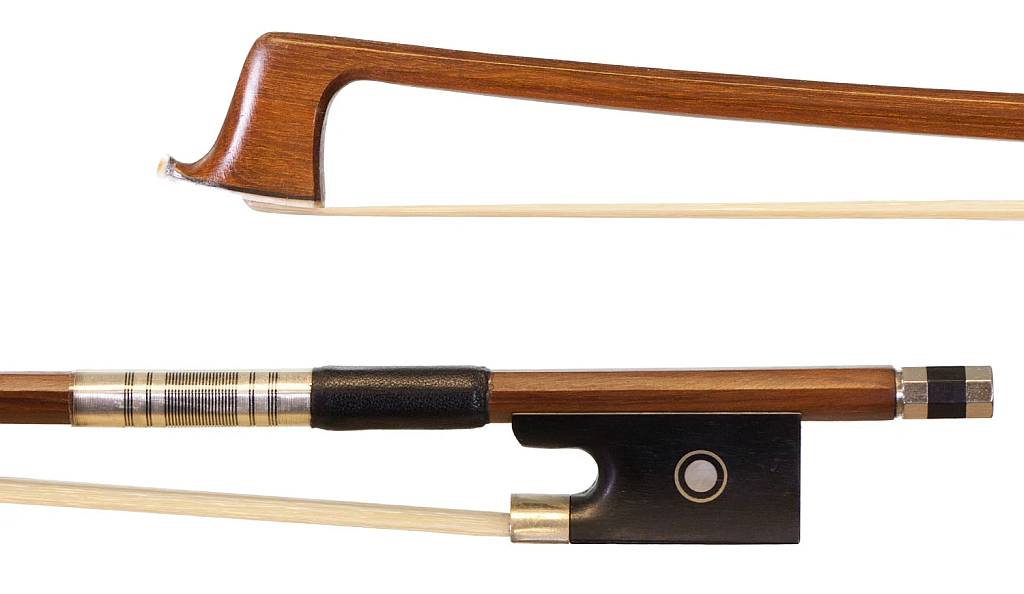 Brazilwood Nickel-wound Violin Bow
Support us for more FREE content No extra costs for you Recommended by Violinists
Price: $45
Materials: Brazilwood, nickel mounted ebony frog
Weight: N/A
+ Warm sound
+ Responsive
+ Excellent value for money
Another great bargain, and a great bow for this price. It has a warmer tone than similarly priced carbon fiber bows, however, the sound is not as rich as when using some other bows. It plays easily and can also be a good backup bow for a more advanced player.
Excellent choice if you need a new bow but either don't have much money, can't decide what bow to get, or aren't ready to spend a lot on a great bow.
Again, all the difficulties that wooden bows have apply here, it needs care so it doesn't bend or warp due to changes in weather or bad storage.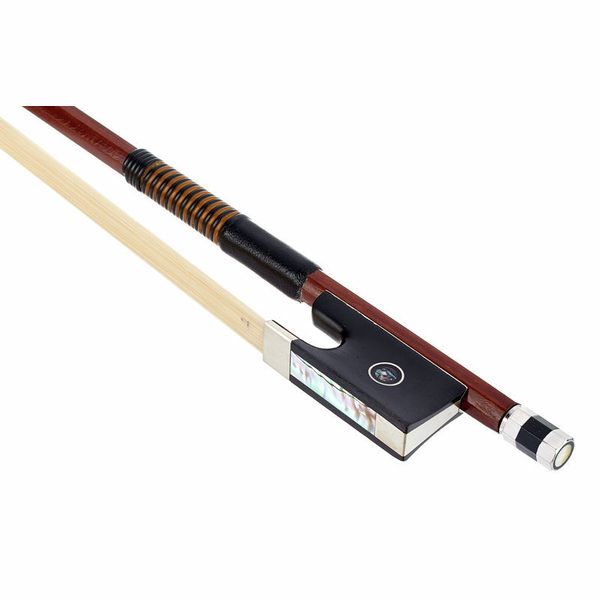 Alfred Stingl by Höfner AS26K-V4/4 Violin Bow
Support us for more FREE content No extra costs for you Recommended by Violinists
Price: $63
Materials: Massaranduba, ebony frog with Parisian eye, Mongolian horse hair
Weight: N/A
+ Warm, solid sound
+ Stable, well-balanced
+ Excellent value for money
– Sensitive to weather
– Might feel a bit heavy
The AS26K violin bow by Alfred Stingl by Höfner is a great choice if you're ok with trying a bow that feels a bit heavier. On the other hand, it is well-weighted so it provides stability and warm sound.
Basically every review of this bow will tell you that it is a very good quality for the price.
Fiddlerman Hybrid Violin Bow
Support us for more FREE content No extra costs for you Recommended by Violinists
Price: on sale $107.90, regular price $119.89
Materials: Carbon fiber
Weight: 60-62 g
+ Bright, clean sound
+ Easy to handle
+ Great value for money
+ Good balance
The Hybrid Fiddlerman Carbon Fiber Violin Bow is manufactured to replicate the weight and curve of an expensive pernambuco wood bow. It has resiliency, durability, and the bright clean sound of a carbon fiber bow, but with the attractive look of wood.
For the price, it is an excellent bow, with a great balance, and good resonance, that will bring out the best of your playing.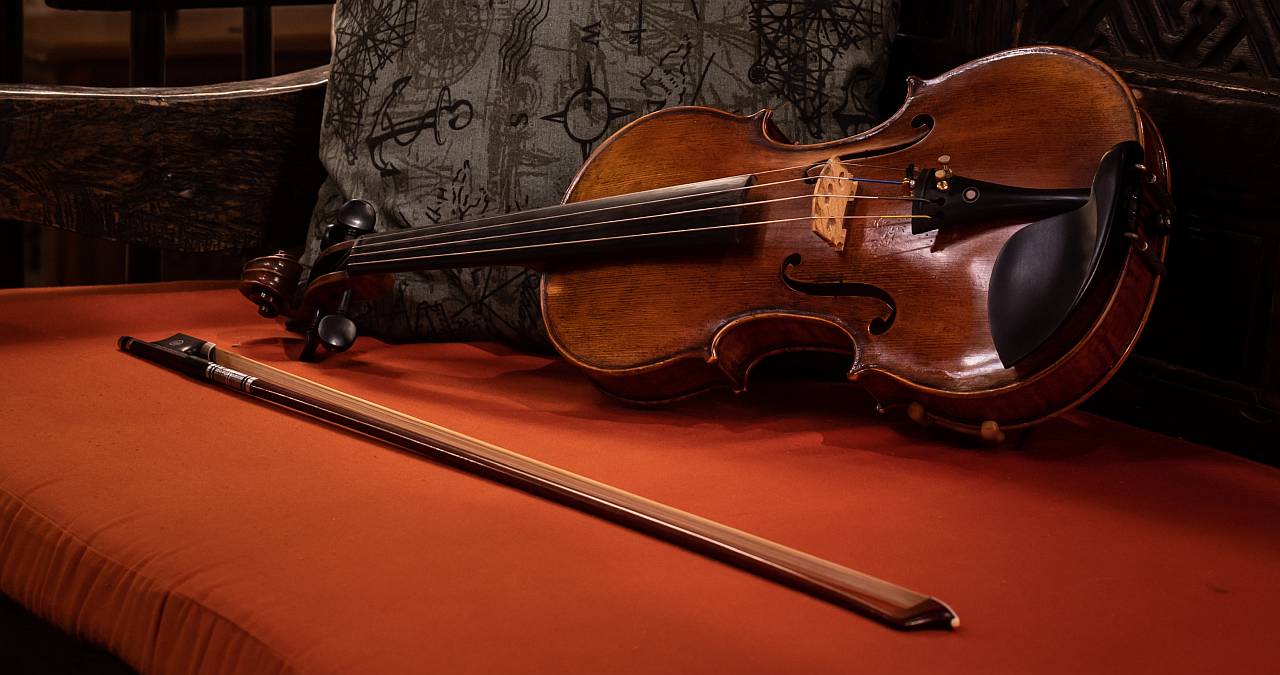 Does a Violin Bow Make a Difference?
Yes, a violin bow can make an enormous difference to the sound quality, to the ease with which you can perform various bowing techniques, and how you feel while playing. As a result, it can increase your confidence and your quality of playing considerably.
If possible, have a play around, trying out several bows with various pieces or exercises, so you can compare how they sound when playing a variety of music. I am sure you will hear and feel the difference.
How Do I Choose a Violin Bow?
To choose a violin bow you can first narrow down your selection by material, price, and general sound requirements. Once you have a choice of a handful, you need to try these bows out to get a real sense of how they sound.
You can either go to a shop or have the bows sent to you by mail, as a loan. Typically you would need to pay a deposit for these when borrowing, which gets refunded at the end, minus postage costs. Another option is to look for second-hand options, just like in the case of buying a violin.
Once you have some bows to try, you will need to have a list of exercises or pieces (or parts of pieces) to play with them, so you can try out various bowing techniques. Some bows will make it easier to play a spiccato, while others will be better at playing long slow notes. You want to find one that is a good balance and allows you to play most types of bowing with as much ease as possible.
How much does a good violin bow cost?
A reasonably good bow for a beginner will cost anything between $100 to $300. A bow for a more advanced player, that has a more subtle sound and more power, will set you back somewhere between $400 to $800, and the top end of the market will be from $800 to $8000.
What is a good violin bow for beginners?
For a beginner, I would recommend a violin bow that costs ca. $100 at least. These bows are an excellent start and won't cost you too much. Usually, they are better than the bow that comes in student starter packs, where you get a bow with your violin.
They might be also better than very old wooden bows, as the weather and wear and tear can have damaged those, making them warped, twisted and out of shape, with old horse hair.
What is the best violin bow for an intermediate player?
For an intermediate player, I would recommend the bows in the mid-price range, up to around $800. Depending on what you're looking for, there are a variety of bows to choose from, some have a more resonant and powerful sound, while others have a more soft and subtle sound.
It is really important to try them out for yourself. Do not be shy, most music shops provide a trial at home service or you can ask for advice at the shop and try many different bows during just one visit.
Why is the violin bow bent?
The modern violin bow is bent and has the characteristic curve in order to make the bow be more responsive, with a better ability to bounce. The curvature is needed for properly executing each of the bowing techniques.
The design of violin bows makes them bend away from the hair. That is, the middle of the wood is closer to the bow, while the ends are further away. When you tighten the hair, it pulls against the wood, and against this curve, or camber. If you over-tighten the hair, it can pull so much that the camber almost disappears. You should avoid this.
Apart from this type of camber, there should be no other bend in the bow. If you look from above, placing the wood of the bow between you and the hair, the bow should look perfectly straight. If it bends left or right, that means it is warped, and this will affect the sound.
Wood warping
Warping happens mostly to wooden violin bows, as a result of mishandling or the effect of weather, but it can also happen to carbon fiber bows. If you place a bow on an uneven surface or store it in a way that puts pressure on it, it can easily warp.
For this reason, it is important to always put your bow away the right way. These include putting it in the case, in the provided slots, hanging it on a peg from the frog end, or placing it on a completely flat, horizontal surface on its side. If you put it in your case, make sure you place it with the wood part at the top and the hair at the bottom, otherwise the weight will be on the hair, which will get stretched.
Also, every time you put your violin away, make sure to unwind the hair until it's slack, (but not so much that the screw comes out), this will let the hair rest and not stretch too much.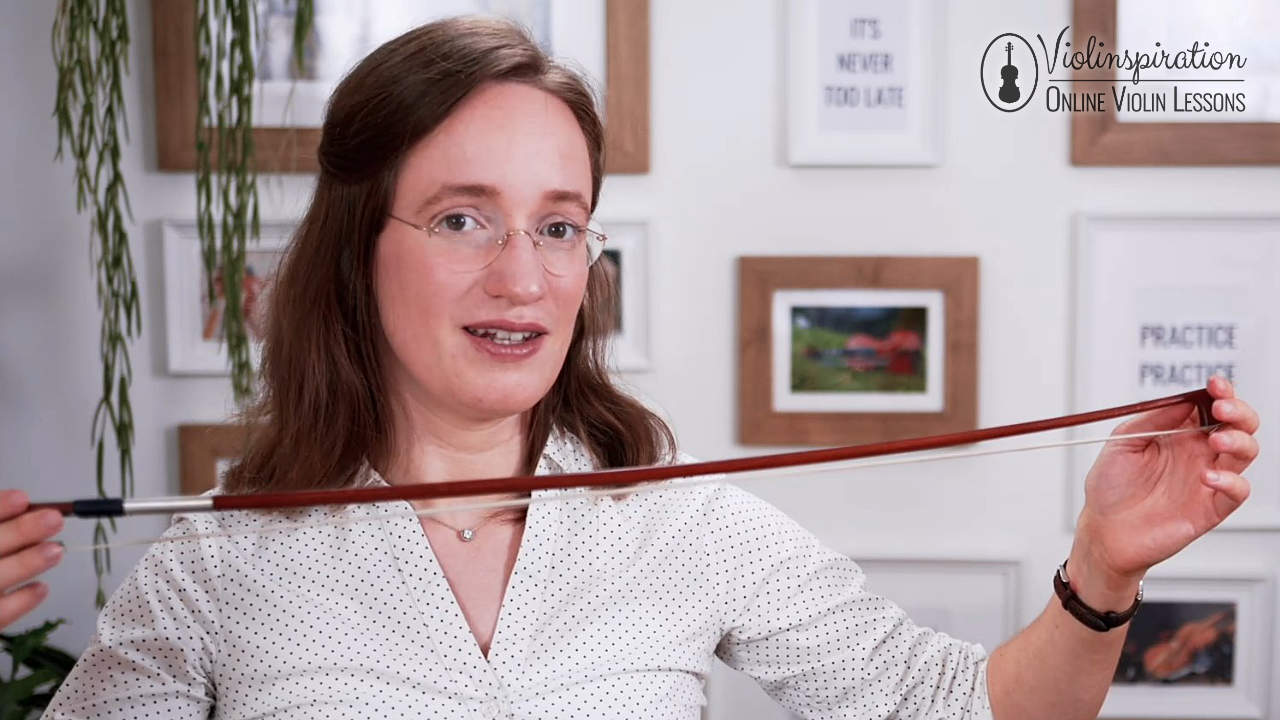 How Often Do I Need to Rosin My Bow?
You should rosin your bow if the sound is dull or flat. A new bow should be rosined a lot at the beginning but later you can put just a little bit of rosin each time you use it or even less often – depending on how much you play and what the sound is.
Putting too much rosin can make your violin sound scratchy and create a lot of rosin dust. However, if you don't have enough rosin on your bow, the bow will skate and slide on the strings, and not much sound will come out of your violin.
So really there is no exact rule you can follow, but you will need to judge whether you need more rosin by the way your bow handles and the sound you are making. After some time this will become quite easy to judge, and until then just do the best you can.
If you absolutely must have a rule, then yes, put on rosin every time you start paying.
What is Better: Round Stick or Octagonal Stick?
Octagonal bows tend to be a little stiffer, while bows with a round stick have a softer, more subtle sound and are more flexible. However, this is not always true and you need to compare the actual models.
There are many other factors affecting the sound, many of which I discuss above, that it is really not possible to make such general statements that will hold up for all bows.
Does the Brand of a Violin Bow Matter?
In general, yes, the brand of a violin bow does matter. There are many great brands and violin bows differ by brand. Different models within one brand have great similarities, with a difference in quality or other factors.
Between brands on the other hand there are huge differences. For example, all Coda bows have a rich, strong, and powerful sound, but have less of a subtle delicate modality. They also have a strange overtone that can be heard sometimes. By contrast the Col Legno series, while not as powerful and robust in feel, has a much subtler sound. Different brands are like different species.
Conclusion
Finding the best violin bow for you is not an easy task, but it's so important as it will affect your sound greatly. As a matter of fact, upgrading your bow is one of the ways of making your cheap violin sound better. And, if you're in a hurry because your bow just broke, I hope the product reviews included in this article help you find a perfect bow for your needs and your budget.
Once you find a bow that works well for you, you will be able to use it for years to come, so investing in one that is the highest quality you can afford is worth it. So take your time deciding what is right for you, and try out a good variety of bows.
When you have upgraded your violin bow, make sure to share how you like it and how it sounds on the Facebook JVA Community group (Julia's Violin Academy members only).