Today I'm sharing Merry Go Round of Life violin sheet music, so you can learn this iconic piece for yourself!
I love Howl's Moving Castle and the theme song, Merry Go Round of Life by Joe Hisaishi, is so beautiful. It sounds so beautiful on the violin, too.
Let's talk a bit about the background of the music and how to play it. Then you can purchase the digital sheet music and start practicing!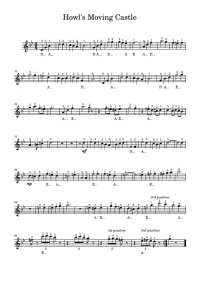 Violin Sheet Music

Howl's Moving Castle – Main Theme:
"Merry Go Round of Life"
Merry Go Round of Life Background
Howl's Moving Castle is a Studio Ghibli film based on a novel by the same name. While the movie is loved by many, the music makes it truly magical.
The soundtrack was written by Joe Hisaishi, a Japanese composer. He's written over 100 film scores, but Howl's Moving Castle is the most successful.
Merry Go Round of Life is the title of the movie's main theme. Just like the title suggests, the music sounds somewhat similar to what you might hear on a carousel. It's also a waltz – a dance written in 3/4 time.
Howl's Moving Castle Violin Sheet Music
To learn the violin part, purchase my arrangement below. In the score, I've written each finger number and string name to help you learn faster.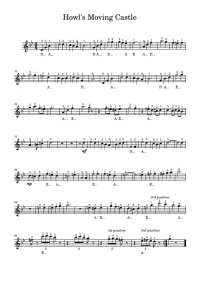 Violin Sheet Music

Howl's Moving Castle – Main Theme:
"Merry Go Round of Life"
How to Play Merry Go Round of Life
In my tutorial above, I go through a quick lesson sharing how I play this piece on the violin. Even as a beginner, you can master my arrangement of this song!
First, listen to the lesson I share at the beginning of the video, and then practice with me! Let me be your guide. I'm happy to help motivate you while you learn this fun violin part!
Key Signature: G Minor
My transcription is written in G Minor, which means there are two flats: B flat and E flat.
But what does this change on the violin? You'll want to use a low first finger to play B flat on the A string. Since E is flat, you'll want to avoid the open E string (unless you see an E natural). Instead, use a low fourth finger on the A string to play E flat. The last thing you'll need to remember is to also place a low first finger on the E string to play F natural.
A great way to prepare yourself for this music is by working on the G Minor scale and arpeggio before looking at the full song. Practicing the scale and arpeggio will help you get to know the finger pattern, and you'll become a bit more comfortable remembering the two flats we find in the score.
Download my free booklet of G Minor warmups here: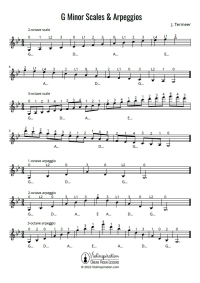 G Minor Scales, Arpeggios
and Bonus Exercises
Accidentals
While we have two flats in the key signature, we'll come across a few accidentals: sharps, naturals, or flats that appear within the music but are not part of the key signature.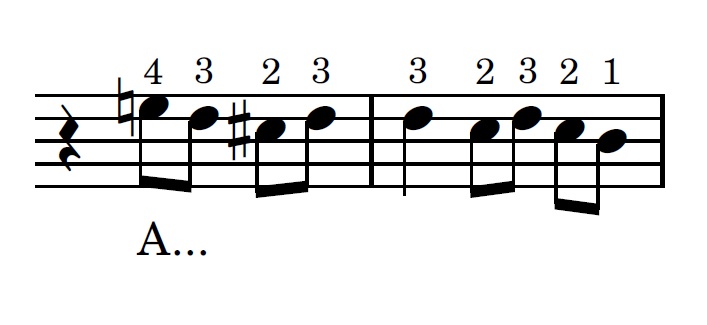 In my transcription, you'll find a C sharp in measure 29. Here, use a high 2 to play the note. In the next measure, it goes back to C natural. This time, play with a low 2.
Another accidental you'll find in the music is E natural. We play this note quite a few times through the solo, but the first time it appears is in measure 11. Here, you can play the open E string, instead of a low 4th finger on the A string.
Tempo
The tempo of Merry Go Round of Life is 150bpm (beats per minute). This means that the tempo of the song is Allegro. Allegro means "quick and lively." That's definitely how I would describe this song!
A great way to practice the tempo of the piece is with a metronome. A metronome keeps a steady beat while you play.
Dynamics
Our music begins soft, but it builds to the end. A pattern I noticed is that the music tends to build and get bigger as the notes get higher, and it dies back as the notes go back down. It's almost like a carousel horse bobbing up and down!
To capture the character and dynamic of the music, use a light bow. Not too much pressure or weight in your right arm – otherwise the notes will sound very heavy, and it disrupts the sweet flow of the song. Keep your right arm moving through the air to create the airy sound this piece calls for.
This song is basically a waltz: a dance in 3/4 time. Waltzes are usually fairly light, with a lilt. Keeping your bow light will help create the sound we're aiming for.
For more of a challenge…
I have a couple of ways you can make this song a bit more difficult if you'd like to challenge yourself.
In measures 27 and 28, there's a fun little chromatic passage that we might want to play in the third position. This helps keep all the notes on just the A string, so everything sounds cleaner.
If you're comfortable playing in the third position, give this a try! Otherwise, you might want to start learning how to play in third position with my other lessons.
Merry Go Round of Life sounds especially beautiful on the violin if you play with vibrato. This will help keep the tone sweet. With vibrato, you can emphasize your favorite notes to make them sound extra special. Learning how to play vibrato can be a long process, so be sure to read my guide for extra help!
Play Merry Go Round of Life with Me
This video is a play-through of my arrangement of Merry Go Round of Life on violin. Feel free to watch this for inspiration, or play along with me! I have a metronome going through the whole performance to help keep you playing on the beat.
Final Note
I hope my tutorial is helpful while you learn this fun violin part! Be sure to purchase my transcription of the piece and download my warmups in G Minor to get started.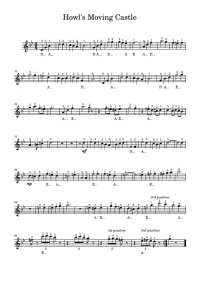 Violin Sheet Music

Howl's Moving Castle – Main Theme:
"Merry Go Round of Life"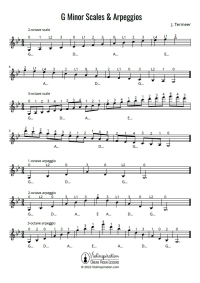 G Minor Scales, Arpeggios
and Bonus Exercises