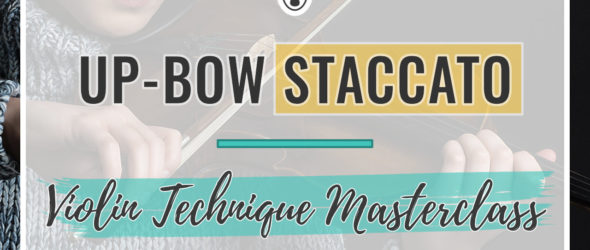 https://violinspiration.com/wp-content/uploads/Up-bow-Staccato-Violin-Technique-Masterclass.jpg
In this article, I explain in detail what is the up-bow staccato, how it differs from flying staccato, teach you how to play it on your violin, provide exercises that will help you master it, and show you a few musical examples.
Let's dive into it!
What is Up-bow Staccato?
An up-bow staccato is a violin bowing technique that consists of a few staccato notes – short, separate, each with a clear "bite". All the notes are played on one stroke starting near the bow tip and finishing near the frog.
A regular staccato is a sharp bow stroke, about half the duration of the written note. It can be played on an up bow or down bow.
When we talk specifically about up-bow staccato, we're talking about several notes on the same bow stroke played very quickly.
While up bow is more common, the same action can be applied to a downwards stroke, then it's called a down bow staccato. It's much more difficult to execute and the quality of the sound is a bit different, thus 'up' is used more often.
Up-bow Staccato vs. Flying Staccato
An up-bow staccato and flying staccato are quite similar techniques but the difference is that notes played as a flying staccato change gradually to become spiccato, which is a bouncing bowing technique.
Up-bow Staccato Sheet Music Notation

In sheet music notation, up-bow staccato is notated as several notes with a dot under a slur sign. Above the first note, or sometimes above all notes, an up-bow sign is added.

A common staccato stroke is symbolized only by a dot above or below the note. It might have an additional up or down bow sign. The up-bow staccato is similar, but there's a legato line and the up-bow symbol.
You should play the notes under the slur line relatively fast, otherwise, it's portato, a less sharp stroke also known as mezzo staccato, and very rarely staccato legato.
How to Learn to Play Up-bow Staccato on a Violin?
Check how to learn this technique in the five steps!
1. Learn staccato stroke
The most important is that you first practice staccato and understand its mechanics.
If you're a beginner, make sure to check out my post Staccato Violin Bowing Technique – A Beginner's Guide with an explanation of this technique and several exercises to practice on your own.
If you're a Julia's Violin Academy student, make sure to check out the Improver Level 3 and watch my videos where I introduce this technique, show you the easiest ways to learn it, and teach you a fun piece to play that uses staccato!
Other bowing techniques also help with learning up-bow staccato. Tremolo improves your wrist bowing and requires quick movements – the skills that you need to play fast staccato on the up bow.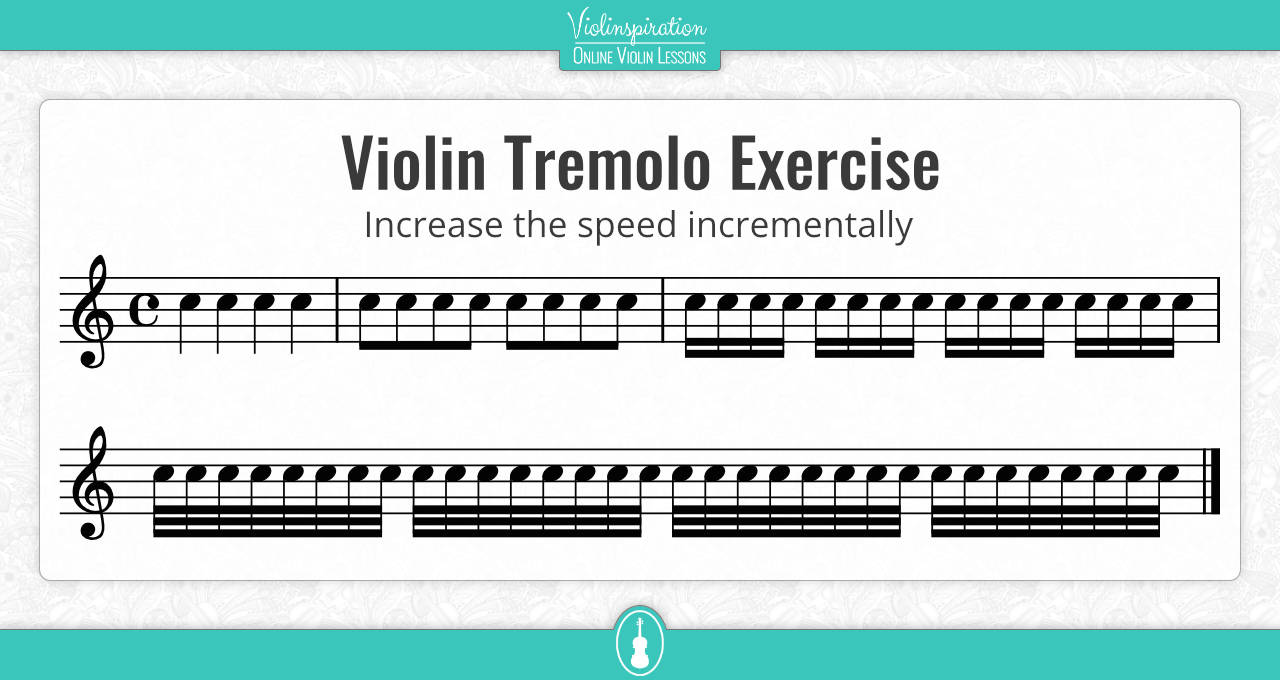 When you're going to play staccato notes, it is helpful to adjust your bow hold and put more weight on the first finger. In order to do that, pronate your right hand a bit.
4. Focus on each stroke
Make sure that you start slowly and focus on each stroke separately, only then combine them together.
Touch the string near the bow tip. Lean your right hand a bit so as to create pressure on the index finger and give a boost to the bow while your hand returns to the playing position. Do that slowly, with a pause in between notes. Use a very short amount of bow for each note. If it goes well, speed it up bit by bit.
5. Convert your tremolo into up-bow staccato
Playing fast up-bow staccato by starting with tremolo and modifying it until it becomes the desired bow stroke:
Start at the tip. Try to do a not-so-fast tremolo to get into a comfortable tempo.
Next, start with an up bow and emphasize each "up" note.
Then, try to eliminate all the down bows.
You'll notice that you put some pressure on the index finger on your right hand to push the bow into the string – that's what we need to play a beautiful up-bow staccato.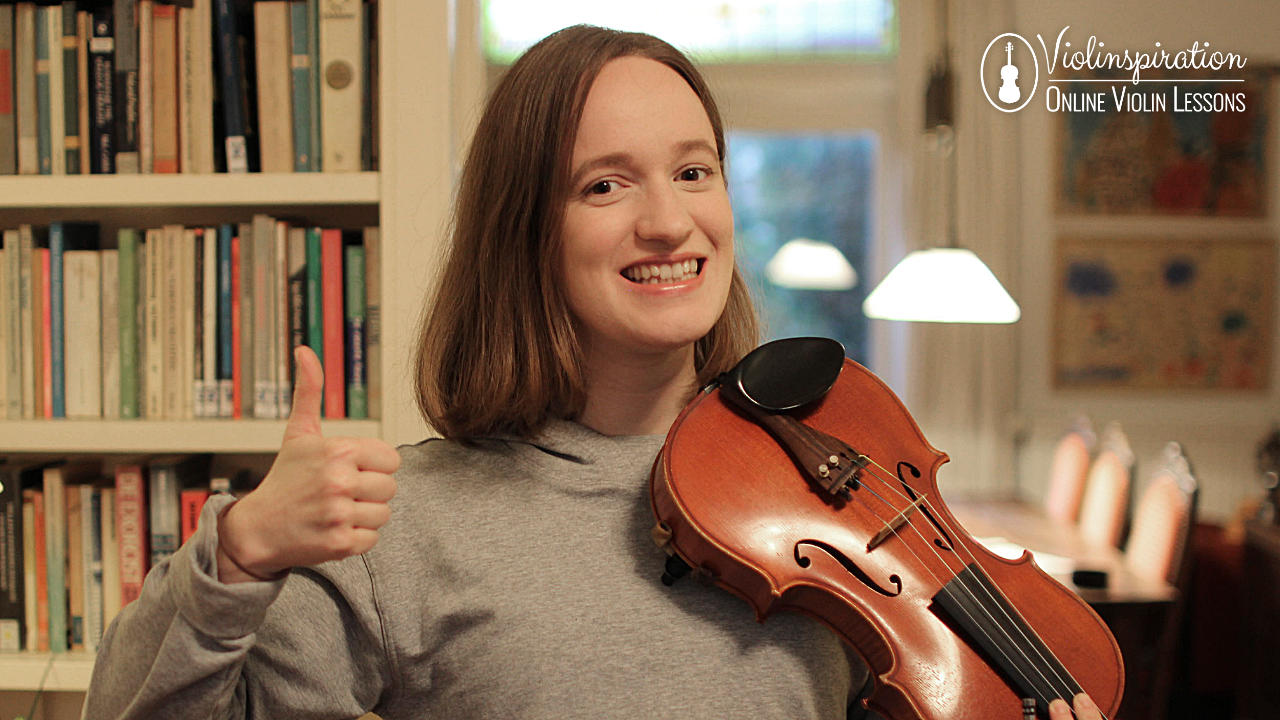 Up-Bow Staccato Exercises
Let's now have a closer look at an etude that will help you develop upbow staccato. A great exercise is Kreutzer's Etude No. 4: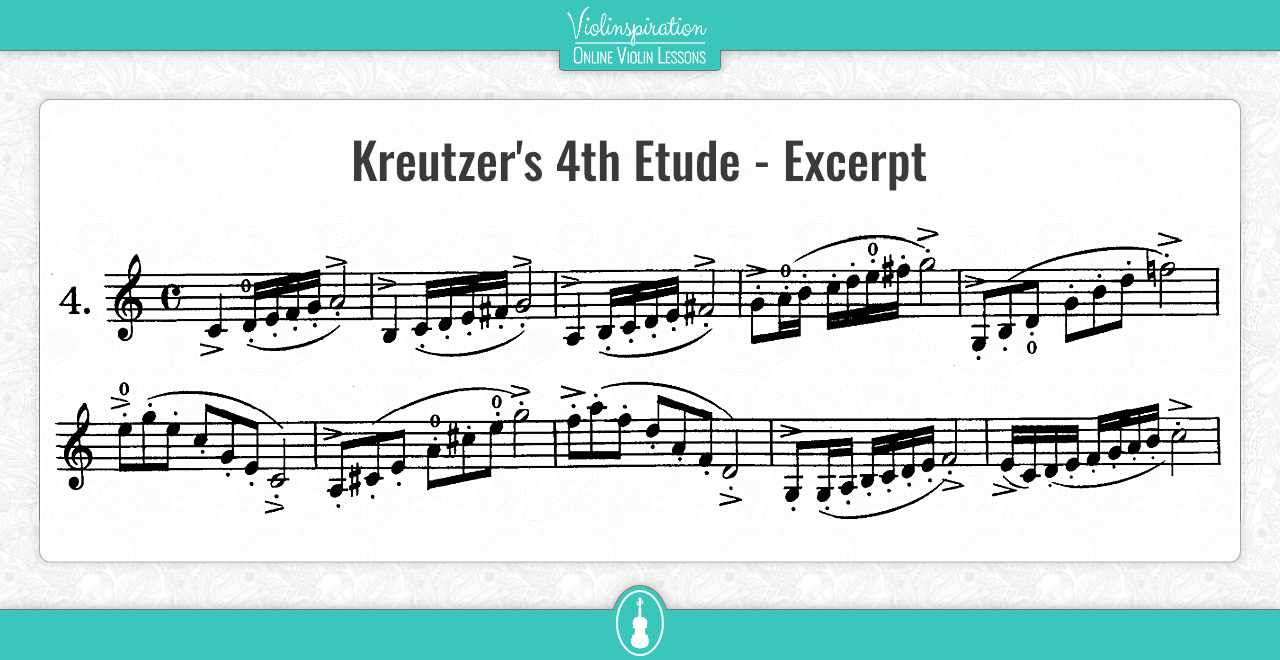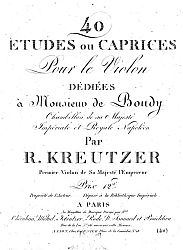 Rodolphe Kreutzer – 40 Études ou caprices
Free Violin Sheet Music
If you're a member of my Academy, listen to how it should sound and follow the playing tips over here.
You can also start by playing scales
or challenge yourself to play a piece with an easy upbow staccato. Click here and scroll down to check all available recordings.
5 Tips for You Up-Bow Staccato Practice
Here are five tips for you to help you with practicing etude no. 4 by Kreutzer:
1. Study the sheet music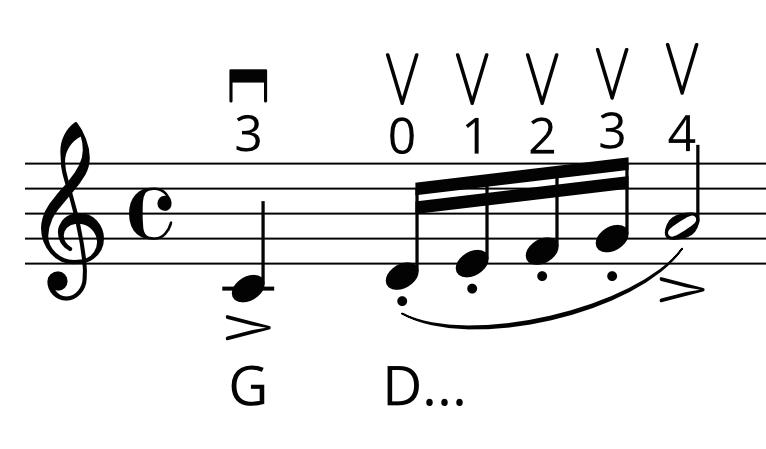 First, read the score – study it without playing.
It starts with a quarter note, then four sixteenth notes, and a half note. The sixteenth notes and half note are all under a legato line with dots, but the half note has an accent too.
2. Learn the notes separately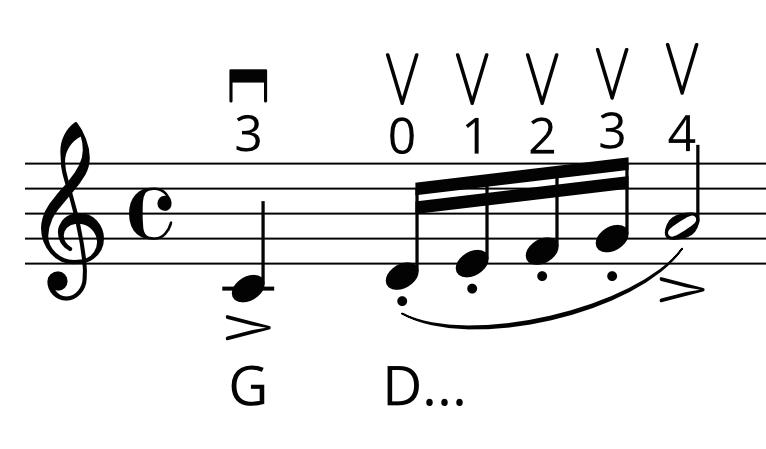 Play the notes separately in the first position without legato or staccato. It is to learn the music text before applying all the other elements.
3. Practice the notes under the slur line
Next, focus on the upbow staccato. Practice only the notes under the legato line, without too much attention to the half note's duration. Apply the necessary pressure and play as slowly as needed so you nail the technique.
4. Apply the correct rhythm
In the next step, try to play the half note as it is written. When you start it, you should be close to the middle part of the bow. If it's difficult, you can study the half notes separately, with an accent.
5. Practice slowly the whole exercise
Finally, start practicing the whole exercise as it is written, though very slowly.
If it's difficult, don't worry if you use too much bow on the half note, as long as you remember to go fast back to where you started.
Each time try to go faster, but if it doesn't work try again slower on a tempo that works for you. Always try to focus on every movement you make and translate them to a faster tempo. It means that all movements should decrease a bit.
You've got this!
Examples of Up-bow Staccato in Violin Repertoire
Get inspired to learn up-bow staccato by listening to these music examples!
Wieniawski – Variations Op. 15
Henryk Wieniawski was a Polish violinist virtuoso, as well as a composer and teacher. He was one of the greatest violinists in history. The Russian bow hold is sometimes called the Wieniawski bow hold, as the very rigid grip he was using allowed him to play what he called "devil's staccato". As expected, staccato strokes play an important role in his repertoire. Check this video where Maxim Vengerov plays Variations on an Original Theme Op. 15. Especially focus from 10:32 onwards.
Kreisler – Schön Rosmarin
Fritz Kreisler was one of the most notable violinists of his day and composed a great repertoire for the instrument. He also composed many music pieces in the style of other earlier composers, and Kreisler at one point revealed that they were his own. Check out this video where Gidon Kremer and Martha Argerich (one of the greatest pianists of all time) perform Schön Rosmarin:
Dinicu – Hora Staccato
Hora Staccato is a virtuosic piece in the style of Romanian traditional music. It was composed by violinist and composer Grigoraș Dinicu. It is often used as an encore. It requires an exceptional use of both up bow and down bow staccato. It is probably the most well-known piece that uses this method.
Final Note
I hope this post helped you learn how to play up-bow staccato on your violin. If you'd like to check out what are other bowing techniques, make sure to download my free bowing cheat sheet!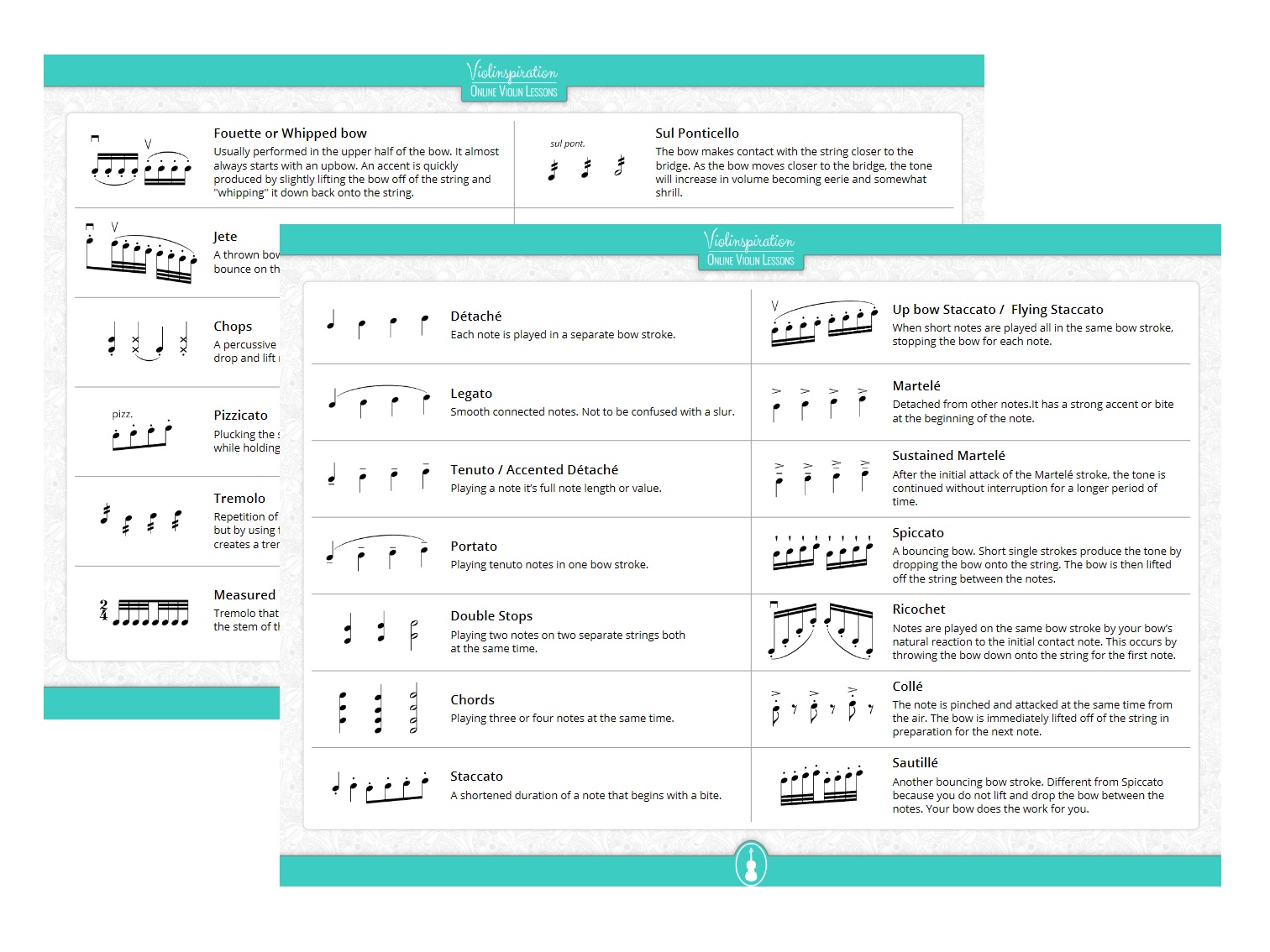 Download Free Bowing Cheat Sheet!
an easy overview of all bowings and signs