Do you want to learn how to play the violin? Perhaps you've dreamed about becoming a great violinist. Are you curious about what you need to know or do to achieve this goal? If so, you've come to the right place. I'm happy to share a list of 35 steps you can take to play the violin and fulfill your dream of progressing from a novice student, to an intermediate player, and finally, a seasoned violinist.
The Right Equipment
If you want to start off your journey on the right foot when learning how to play the violin, begin with the right equipment.
1. Find a Proper Beginner Violin
This is much easier said than done. Given the variety of options out there, selecting the right violin for you can feel overwhelming. Be sure to take your time, as this is an important decision.
The first few years spent learning how to play the violin can be difficult. Thankfully, a high-quality violin will produce a wonderful sound and be easier to play when you embark on this journey—encouraging you and helping with your progress. On the flip side, a violin of lesser quality with a poor sound that is difficult to play can discourage students, who may not even want to play at all because of this!
Know Your Options: Buy or Rent
First, decide if you are going to buy or rent a violin.
Renting a violin is a good idea when:
You are unsure if you will like playing the violin. In this way, you avoid investing too much into the instrument if you ultimately decide that playing the violin is not for you.
You need a violin size of ½ or smaller. As a young student grows and the body is changing, there is a need to increase the violin size on a frequent basis. This can get very expensive if you choose to buy the instrument.
Buying is a good idea because:
Long-term rental instrument fees can add up. It's important to know that you can buy a quality entry-level violin for a cost that rivals about one year of rental fees.
A well-chosen violin will maintain its value. If you buy from a violin shop, most outfitters allow you to trade in your instrument for an upgrade, which can help offset the cost of a new and improved violin.
There are often liabilities for any damage that occurs to a rented instrument.
Many rented instruments are not in the best condition. Common issues include dings and scratches, tape markings or glue on the fingerboard, and so on.
What to look for when buying a violin:
Quality materials and craftsmanship. Hand-crafted violins are more expensive, but a variety of good-quality violins are in fact mass-produced.
The body of your violin should be made with a quality wood.
Check for symmetry and cracks.
Your fingerboard should be made of ebony, and your pegs should not be plastic (unless you choose to use Wittner Finetune pegs).
The strings should press down with ease.
The chin rest should feel comfortable.
Your shoulder rest should encourage good posture, feeling as natural as possible for you!
Listen to how the violin sounds when someone more experienced plays it. Do you LOVE it?
Before buying a violin, also be sure to check out my mini guide: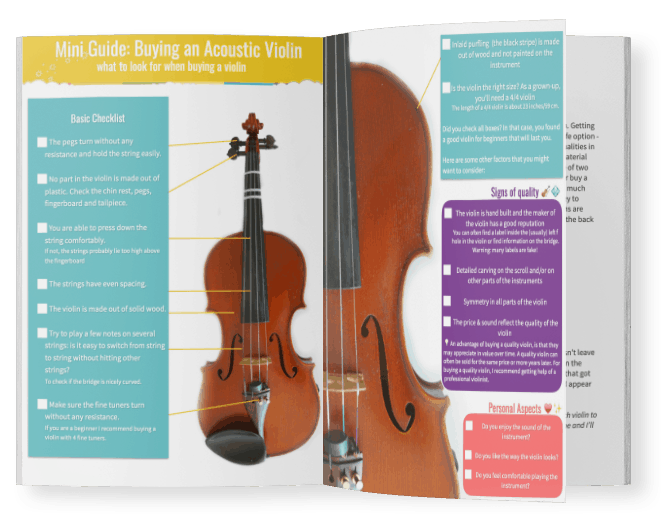 Violin Mini Guide [PDF]

GET IT NOW: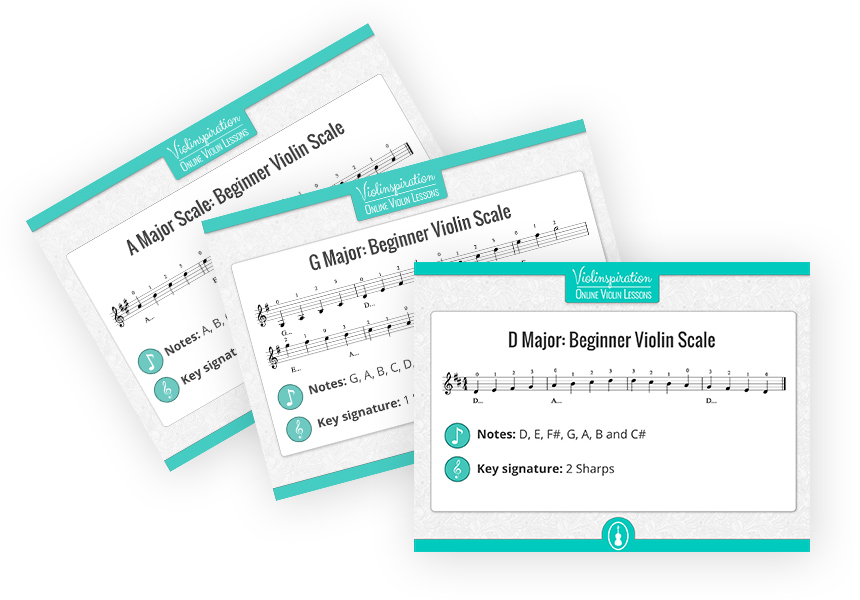 Free Download: 5 Most Common Violin Scales for Beginners

20. Learn All Violin Bowing Techniques
Read my article "All 25 Violin Bowing Techniques with Examples & Symbols" to learn which techniques are used by violinists and how they are notated in the sheet music. Then, watch the video examples.
It will take some time, and remember that you need not master all bowing techniques in the first year of your violin journey. Rather, zero in on one or two at a time and work on them persistently.
This PDF chart will help you learn how to recognize each bowing technique: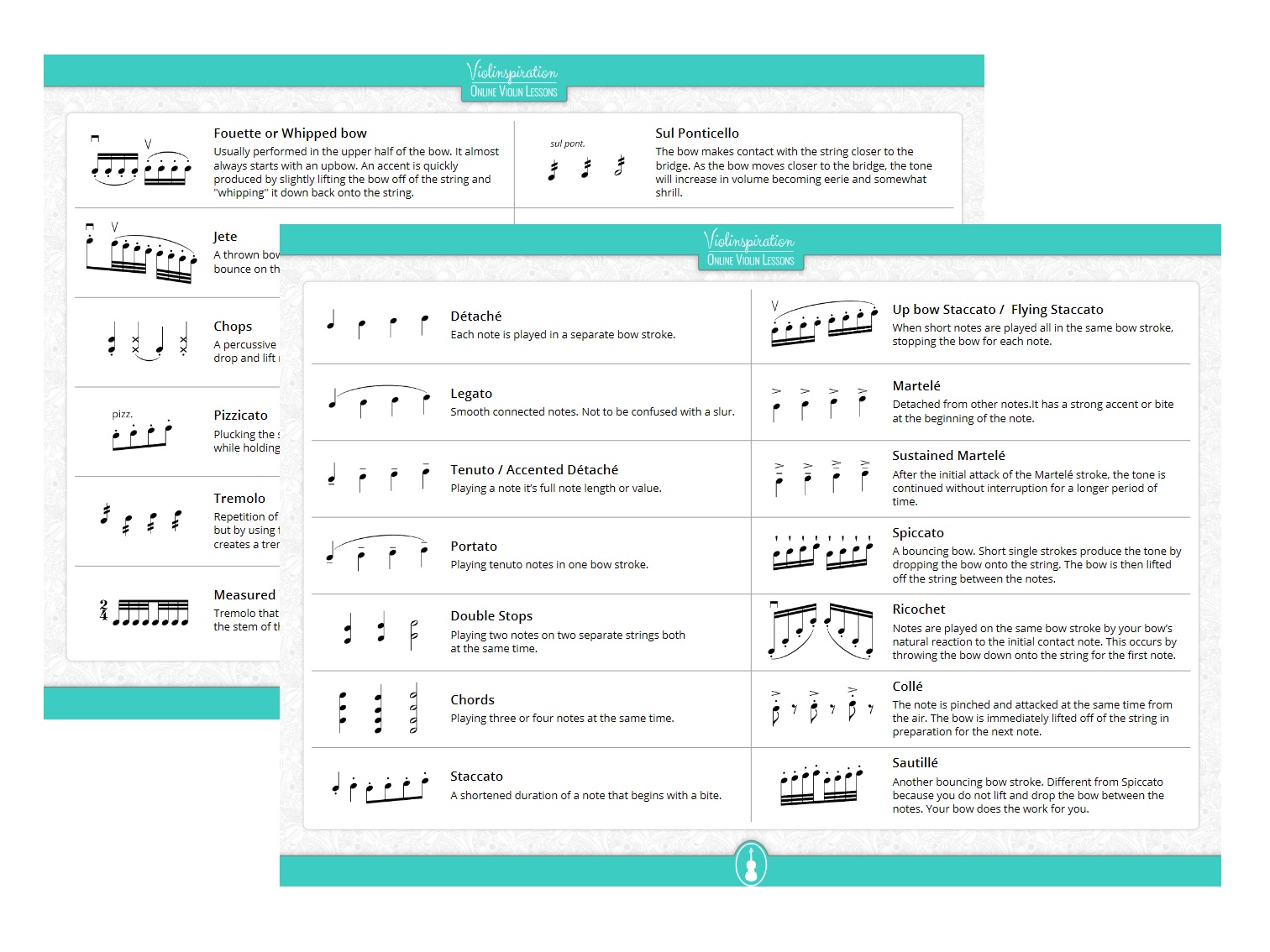 Download Free Bowing Cheat Sheet!

an easy overview of all bowings and signs
21. Learn All Left-Hand Techniques
Your left hand is truly a multitasker when playing the violin. The fingers move up and down vertically, changing positions and sometimes moving horizontally depending on the note you are playing. They cross strings, slide, and vibrate.
Ultimately, you should learn seven left-hand violin techniques:
22. Continually Improve Your Note-Reading Skills
Take your note-reading skills to the next level and learn to understand the musical concepts behind the numbers and beats: opening the doors to execute many different styles of music. You can also learn sight-reading!
Jazz and swing music are at different tempos. Learn more advanced rhythms, go beyond triplets, and learn how to play tuplets. You can hear the composite rhythm in an ensemble. There are syncopation, recurring patterns, and many more advanced rhythms to master.
Add Musicality to Your Playing
Actors bring the words on a script to life when telling a story.
Likewise, musicians bring the notes on a piece of sheet music to life when telling a musical story.
This is musicality. Violinists add musicality to a piece by using phrasing and dynamics.
23. Learn About Dynamics and How to Apply Them
Dynamics is how loud or soft you play a particular note or section of music.
You increase the volume by:
Increasing your bow stroke speed
Increasing the pressure on the bow stroke
Playing closer to the bridge
You decrease the volume by:
Decreasing bow speed
Decreasing bow pressure
Playing closer to the fingerboard
24. Add Musicality to Your Pieces by Learning Phrasing
Phrasing adds musicality to your piece. It separates musical ideas to form musical sentences. A composer who puts his or her notes on paper gives you an idea of how the music should sound. You, the player, makes it your own by deciding how you want to play it.
Listening to how other violinists choose to play the same piece is a great way to learn phrasing. You will be able to hear the subtle differences with respect to altering the tone, tempo, dynamics and articulation.
Track Your Progress
Keep a practice journal, giving you something to look back on and see how far you've progressed. This can serve as great encouragement to all violin students.
25. Write Down Your Practice Goals at the Beginning of Each Week
Write down what you plan to practice, and do your best to stick to it! Always have a plan that is specific and goal-orientated.
If you would like a printable copy of a practice plan to keep track of your practice habits, enjoy a free download here: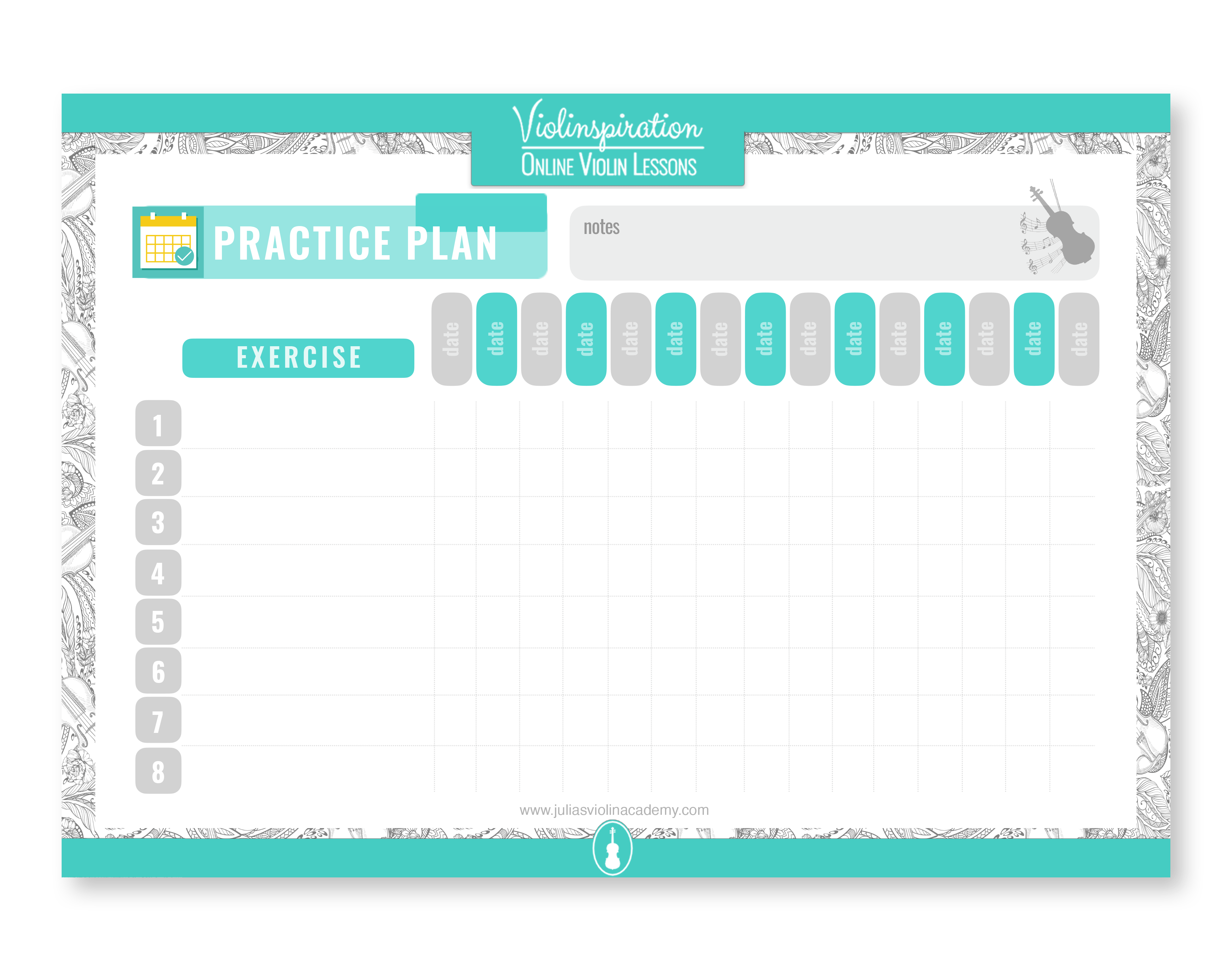 Fillable Practice Plan [PDF]

GET IT NOW:
26. Track Your Violin Progress Throughout the Week
Keep tabs on how your plan is going. Ask yourself: What do I need to work more on? Spend additional time next week improving on those areas. What do I do well? Spend less time next week on that. Add something new.
27. Create a "Dream Goal" List of Songs to Learn in the Future
Dreams inspire us. They motivate us to push ourselves so we can achieve them.
Formulate a list of pieces you ultimately want to play. Entitle the list your "Dream Goals" and keep it out where you can see it. Every time you learn a new technique, you are one step closer to reaching your Dream Goal piece. FACT!
Let other people know about your accomplishments, especially the small ones.
Ok, sure. Your non-violin friends may not appreciate to the full extent, say, what it took for you to master the bow hold. Or that you can skip over a string without hitting it when you bow. What they will appreciate is your excitement when you tell them!
If you are already a member of Julia's Violin Academy, remember to post your video on the community group each Wednesday to obtain feedback from fellow students, gain motivation and support others!
29. Play the Violin for Others
Playing the violin in your room and performing for others are two different things. You have to learn how to perform!
I know the thought of playing for others can sound terrifying, especially when you are a student, but I encourage you to do it anyway. You have your repertoire, and you practice daily. By sharing what you've learned with others, this is how you will learn to perform.
Play for friends and family
Start with those closest to you. Play for family and friends first, the people who know the amount of work you've put into learning the violin. If they are members of your household, they've probably been listening to your progress along the way—hearing you play at both your best and worst—and are sure to support you in your journey.
Play in a recital
Select a piece that is a little easier than what you know you can play. This will balance out any looming nervousness, helping you feel confident in your technique.
At Julia's Violin Academy, we hold a monthly recital for our members on Zoom. Every member at every skill level is welcome to take part. It is a great supportive community and the perfect place to begin performing.
Click here to watch a live public recital performed by my students in 2020:
Have Fun!
Enjoy yourself!
One of the best—if not THE best—piece of advice I received from my violin teacher was to have fun. I focused so much on doing everything correctly, and she could see the tension when I played.
After she instructed me to avoid learning anything new for one month and focus on having fun, it made an incredible difference in my playing. The reason I wanted to learn how to play the violin in the first place was because it sounded pretty—and looked like fun!
30. Join Violin Groups Online
There are many social media groups with like-minded musicians that you can join online. Browse sites like Reddit and Facebook to find the ones you feel fit your interests the best. Check out Meetup. Violinists hailing from all corners of the world offer meetup groups and jam sessions all the time, and there might just be one in your area!
When signing on as a Julia's Violin Academy student, you are welcome to join the Facebook community group (reserved for JVA members). Herein, you can share your thoughts, struggles, wins, memes, and questions: anything and everything related to playing the violin. Here is a little sneak peek from the group for you:
31. Watch Inspirational Films/Documentaries
There are so many inspiring films and documentaries centered around the violin out there.
Mr. Holland's Opus (1995), Music of the Heart (1998) and The Soloist (2009) are based on true events.
A classic like Humoresque (1920) is something you may enjoy, or perhaps They Shall Have Music (1939) starring the famous violinist Jascha Heifetz, if that's more your type.
A documentary about Itzhak Perlman called Itzhak (2017) is also worth watching.
Rounding out my list of recommendations is a must-see (and listen): The Red Violin (1998).
32. Watch Fun Violin Clips on YouTube
You'll enjoy a good laugh when watching fun violin videos on YouTube. The channels I recommend are:
TwoSetViolin: Brett and Eddy combine their knowledge of classical violin training with comedy, creating an enjoyable channel you can get lost watching
Ray Chen: A mixture of fun and professional performances
I highly recommend also following YouTube violin teachers to stay inspired to learn new skills every week. Click here to get to know what are the best YT channels to learn the violin.
While you are at it, make sure to also subscribe to my channel!
33. Play Together with Your Friends
Choose a piece of music appropriate for two or more violins and collaborate with friends.
If you know a pianist or someone who plays guitar, select a piece they can play with you as well.
You can download sheet music for duets here.
34. Play Along in a Folk Jam
Familiarize yourself with popular folk music. Join a folk play-along or jam session where musicians gather in a casual setting and play together. You don't have to know every song and/or play every time: it's fine to listen as much as you play, and your goal is to have fun!
35. Join an Orchestra
Another way you can have fun playing is by joining an orchestra.
There are a variety to choose from, ranging from those in schools to large city-based orchestras. Some towns have local or community orchestras as well.
No matter which one you select, know that each orchestra requires a different level of skill and technique for its members, and auditioning for a chair can be very competitive. Make sure you know the requirements ahead of time so you can prepare accordingly.
A chair assignment in the back row is not something to write off: you have a chair! Every rehearsal and performance affords you an opportunity to improve and have fun. Go for it!
You're a violinist.